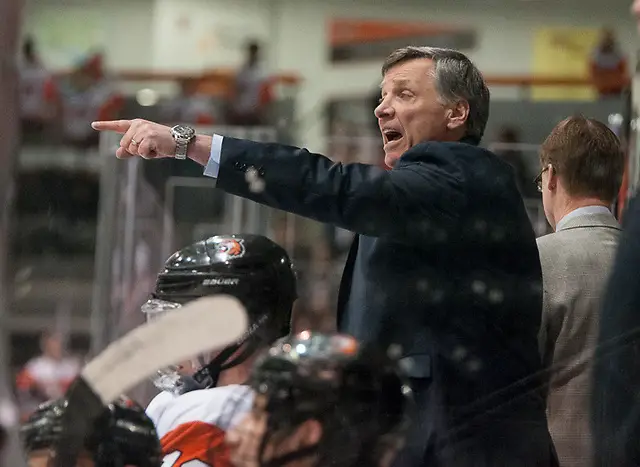 Last Saturday, in just their fourth period of the new season, the Rochester Institute of Technology was already facing a pivotal moment.
The Tigers had suffered a tough loss at UMass Lowell to open the 2018-19 campaign the night before, unable to hold a 1-0 lead in the third period and eventually falling 2-1.
Now the Tigers found themselves down 2-0 in the first period to those same River Hawks. Instead of packing it in, RIT rallied for four consecutive goals to lead 4-2 after two periods.
But UMass Lowell rallied as it had the previous night, and scored a pair of third period goals to tie the game.
This time, RIT was able to flip the script thanks to a goal by Alden Dupuis 46 seconds into the extra period, earning the Tigers a 5-4 win and an opening weekend split.
"I was proud of the guys," said RIT coach Wayne Wilson, in his 20th season behind the Tigers' bench. "Their resolve to fight back, down 2-0 after losing a tough game the night before.
"We might have played a better game the first night. We were more sloppy on Saturday, but I was more proud of our resolve. We had good leadership in the locker room."
RIT also had a good effort in net, something that hurt the Tigers last season, when RIT posted a league-worst .872 save percentage.
Sophomore Logan Drackett started both games, posting a .905 save percentage. Last season, Drackett split time with fellow freshman Ian Andriano and then-junior Christian Short.
None of the three could win the job by establishing a rhythm in net. Wilson says that this year will be different, with the team electing a starter based on pre-season performance.
"(Rotating the goalies) last year became a mess," he said. "Out of camp we wanted to make a decision.
"Coming out of camp (Drackett) played well, got the start and played well. There's often a big jump from freshmen to sophomore year, and Logan took advantage of the opportunity. The other two guys right are behind him. Christian and Ian did a tremendous job over the summer. They're all better."
Up front, Wilson says he's got a deep lineup, led by the line of seniors Erik Brown, Gabe Valenzuela and Abbott Girduckis.
Girduckis had a pair of goals on Saturday, while Velenzuela also scored.
"All had great years last season, their best years," said Wilson. "'Brownie' had the most eye-popping stat (29 goals, tied for second in the nation). We know opponents are going to focus on him. His attracting attention (on Saturday) resulted in a power play where we scored. His linemates are there for him the way he is for them."
Wilson also expects big contributions from his blueliners, led by junior Adam Brubacher (24 points last season).
"We had to rely on this group a lot as freshman and sophomores when we lost (to injury) some all-league and potential All-American players in Brady and Chase Norrish," said Wilson.
"That's paying dividends now."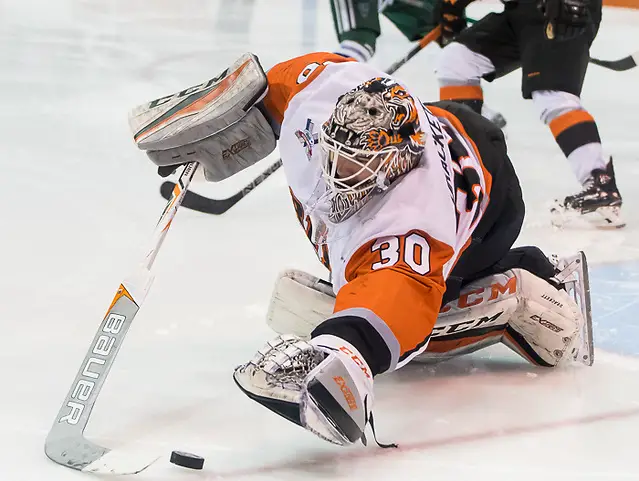 RIT hosts Colgate this Saturday in its annual Brick City Homecoming game at downtown Rochester's Blue Cross Arena. The game has regularly sold out (10,566).
"It's a great environment for us as well as the visiting team," said Wilson. "We've been fortunate to get Michigan, Boston College and Penn State among others. We've had a lot of ties — they're always good games."
Colgate doesn't appear to have missed a beat after the early departure of All-American goaltender Colton Point at the end of last season. Rookie Mitch Benson backstopped the Raiders to a pair of 2-1 wins over New Hampshire last weekend.
Wilson expects a similar kind of game on Saturday,
"(Colgate) is very stingy," he said. "They've got a great line in (Bobby) McMann, (Adam) Dauda and (John) Snodgrass. We've had some really good games with them and expect to have our hands full again."
Wilson and his teams have had a lot to be proud of in his 20-year career at RIT. Moving from Division III to Division I, he's been able to keep a streak alive that dates back to the early 80's – no Tiger team has gone more than four seasons without some kind of title — a regular season, playoff or national championship.
"Those (Division II and Division III) championships in '83 and '85 set the culture, and I've been privileged to keep it going," said Wilson. "We talk about it, talk about what our expectations are. We tell recruits that we expect to win a championship, and can back that up, because players leaving here have been a part of a championship.
"Everyone hopes to win a championship. We expect to win one."
That's what Wilson says keeps him going after 20 seasons.
"I'm always chasing," he said. "What do I expect? Another Frozen Four. I'd love to win a national championship. Those are my aspirations. Are they lofty? Yeah, but 2010 was an incredible accomplishment — and we want to do it again.
"You want to win every game that's in front of you. I say that respectfully because there are so many great teams out there. But playing in a Frozen Four not only raised the bar, it set the bar in terms of what we can achieve. We're trying to live up to that every season."