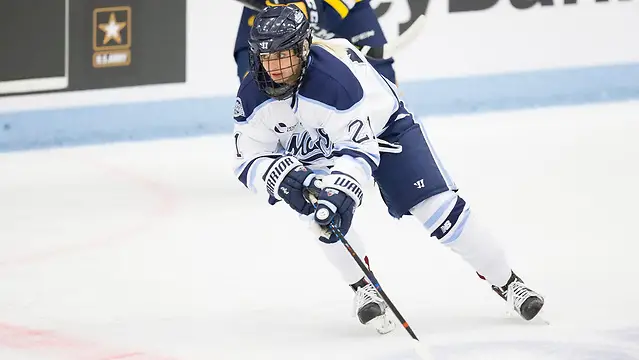 The Maine Black Bears finished the 2016-17 season 10-21-1. Their 6-17-1 conference record was good for ninth place. They did not qualify for the Hockey East tournament.
They were picked to have a similar finish in the 2017-18 season, but instead finished the year with a 19-14-5 record. They finished third in Hockey East after going 11-9-4. They earned a spot in the conference tournament and in beating Boston University in the opening series, not only won their first-ever Hockey East post-season game, but set a new program record for wins in a season.
It was a spectacular turnaround, especially for a team with 16 underclassmen on the roster.
It was also the first sign that the work done by coach Richard Reichenbach and his staff was starting to pay off. Richard, whose wife, Sarah Reichenbach, is one of the team's assistant coaches, took over the head coaching job at Maine for the 2013-14 season, and he's brought a full culture and program change to Orono.
It's not unusual anymore for an NCAA team to have a roster peppered with players from outside the United States. Sixteen of the 23 women on the Black Bears roster are not Americans. What makes Maine so unique, however, is that nine of their players hail from outside North American and are European-born.
In fact, the Black Bears have the highest number of European-born players in NCAA Division I hockey by a large margin –- the next closest are St. Cloud and Vermont with four players each.
This year's Maine roster features three players from Czech Republic in Tereza Vanišová, Vendula Pribylová, and Anna Zíková. Ebba Strandberg, Ida Press, and Celine Tedenby all come to Orono from Sweden. Liga Miljone is from Latvia, Michelle Weis hails from Denmark, and Daria Tereshkina is from Russia.
A rising program without the name recognition or titles of other schools, the Black Bears have found players in nontraditional locations to build a roster that has them competing with the top teams in Hockey East and beyond.
Recruiting European-born players has a number of advantages, said Richard Reichenbach. Initially, he was looking at those players because they play the style of hockey he wants to become the standard at Maine. There's a focus on puck-possession that he thinks transitions well for the Black Bears. They understand the coaching staff's style and vision for the team, he said.
As a general rule, the European-born players that come to play in the U.S. are older than your typical freshman by anywhere from a year to three years. Most of the Europeans on the current Maine roster started with the team at age 19, but rookie Liga Miljone has joined the team as a 21-year-old freshman, bringing life experience a typical first-year player just doesn't have.
Generally, the European players that are looking to come play in the NCAA are players that have spent time with their country's national team, both at the U-18 and senior levels. Many moved away from home at an early age to play hockey, and they bring a wealth of maturity and experience to the Maine locker room. They bring on-ice experience that allows them to transition to the college game more quickly than your typical teenager.
"One of the advantages of recruiting European players is that they play in a league with a lot of senior players, with former and future Olympians, and players who played at the college level before, so their transition, hockey-wise, is a little bit easier," he said.
There are obvious obstacles and difficulties that arise, not the least of which is that many of the European players are unfamiliar with the NCAA and the U.S. college process as a whole, both as students and student-athletes.
Though there can be language barriers, the Reichenbachs have worked to create a culture at Maine where the team feels like family. That closeness means not getting frustrated by communication issues, but working to find ways around them. Helping their teammates acclimate on and off the ice instantly bonds players of all ages and backgrounds.
"When you bring in so many players from so many countries and cultures, there's going to be growing pains just bringing the group together and understanding each other and working together," Richard Reichenbach said. "I think on and off the ice it's made us stronger as a hockey family, just having to learn to work together and appreciate each other and grow as a group."
The European-born players also challenge the coaching staff, but the Reichenbachs have embraced it as a learning opportunity instead of the challenge. Richard said his teaching and coaching style has had to become more visual, both in practice and in recruiting.
Being a team on the ice overcomes any other roadblocks the Black Bears may face, and hockey is universal. Not always being able to rely on verbal cues means the team has improved tremendously at reading each other and knowing where the others are on the ice.
"When you bring in so many players from so many countries and cultures, there's going to be growing pains just bringing the group together and understanding each other and working together," he said. "I think on and off the ice it's made us stronger as a hockey family, just having to learn to work together and appreciate each other and grow as a group. It's definitely a little more challenging, but I think our program is much better off having such a diverse group as we have — for the European players, for the North American players — the experience they have with each other is pretty special."