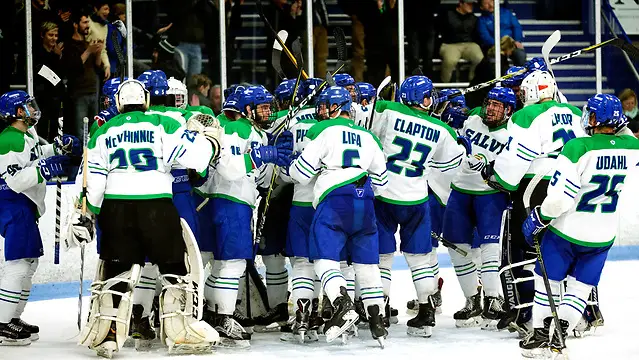 The CCC moved into power conference status last season when three teams (Nichols, Salve Regina, and University of New England) qualified for the NCAA tournament. Salve Regina, despite not winning their conference tournament, advanced to the national championship game, where they fell in double overtime to St. Norbert. The Seahawks return virtually all their roster from last season with a clear focus for coach Zech Klann of returning to the national stage after winning the conference this time around.
The conference is now comprised of eight teams with Johnson & Wales and Suffolk moving into the NEHC this season. The new conference schedule is unbalanced, with teams playing five opponents twice and two conference opponents three times during the regular season.
The Favorite
It is hard to argue with Salve Regina being a favorite to win the conference title this year. Their strength starts in goal with senior Blake Wojtala. The All-American netminder was 20-6-2 with a 1.99 goals-against average and .937 save percentage for the Seahawks last season. Offensively, the Seahawks have seen the departures of Jack Billings and Pat Thompson, but have good depth and experience led by Erik Udahl, Paul Boutoussov, and Danny Eruzione.
The Dark Horses
The University of New England Nor'easters, led by forwards Brady Fleurent, Ryan Bloom, and Dylan Bengston, have proven to have the offensive firepower to compete with any team on any night. Coach Kevin Swallow will be looking for their leadership in pushing this team to a first conference title.
The Endicott Gulls also have a chance to recapture the title they won just a couple of seasons ago. Led by seniors Mark Specia in goal and forwards Ross Olsson, Josh Bowes, Tommy Besinger, and Daniel Kucerovy, R.J. Tolan's team has both the depth and the experience to reclaim the championship.
USCHO Predicted Finish
1) Salve Regina
2) University of New England
3) Endicott
4) Nichols
5) Curry
6) Wentworth
7) Western New England
8) Becker
Players to Watch
Becker: Stephen Wolf — forward; James Wallace — forward
Curry: Mack Heisinger — defense; Zachery White — forward
Endicott: Ross Olsson — forward; Mark Specia — goaltender
Nichols: J.B. Baker — forward; T.J. Roche — defense
Salve Regina: Blake Wojtala — goalie; Danny Eruzione — forward
University of New England: Brady Fleurent — forward; Ryan Bloom — forward
Wentworth: Tim Shea, Jr. — forward; Ethan Weiss — defense
Western New England: Matt O'Dea — forward; Steve Beck — forward
Early November includes home-and-home matchups among Salve Regina, Endicott, and the University of New England in crucial conference games to start the season. No time to waste in garnering crucial points in the standings.