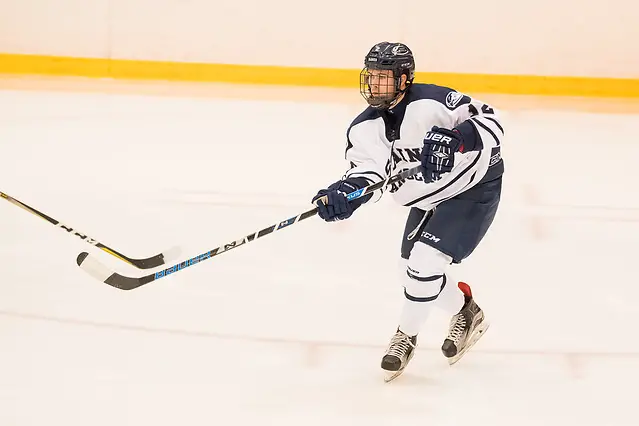 The conference is very competitive, and two programs have developed a significant rivalry in facing each other for the championship several times in recent years. St. Michael's and St. Anselm are likely to continue the rivalry this season, but best not take any other their other league opponents lightly in assuming a place at the top of the standings.
There are a couple of new coaches again this season in the NE-10 and Post, with its revamped roster continues to play a full conference schedule while being an independent.
The Favorite
For coach Damian DiGiulian, this St. Michael's squad may be the team to capture the NE-10 title. They are solid in all three zones, starting with the goaltending tandem of Chris Johnson and Tim Decker. Sam D'Antuono leads a talented and deep group of forwards that includes fellow seniors Nic Hermary and Patrick Doherty. Senior Jack Ouelette is the team captain and leader on the blue line for the Purple Knights.
After opening against Potsdam from the SUNYAC, the Purple Knights will be tested early in NE-10 play with games against Southern New Hampshire, St. Anselm, and Franklin Pierce to close out October and start November.
The Dark Horses
For the second season in a row, the defending champions from St. Anselm face a change behind the bench as Larry Rocha takes over from Jim Tortorella, who has gone back to the D-1 ranks with Harvard. The Hawks have good depth and a solid defensive group led by Jake Grade in front of goaltender Colin Soucy. St. A's has been a fixture come championship weekend, so expect that part of the culture and team goals to be a constant under Rocha's leadership.
USCHO Predicted Finish
1) St. Michael's
2) St. Anselm
3) Southern New Hampshire
4) Assumption
5) Stonehill
6) Franklin Pierce
7) Post*
*Independent playing full conference schedule but not eligible for conference tournament.
Players to Watch
Assumption: Michael Looney —- coach; Peter McDonagh —- forward
Franklin Pierce: Jack Williams — defense; Nicholas Fotiu — forward
Southern New Hampshire: Jared Goudreau — forward; Chris Moquin — forward
Stonehill: William Palmer —- goalie; Cameron Wright — forward
St. Anselm: Larry Rocha —- coach; Bryan Green — forward
St. Michael's: Sam D'Antuono —- forward; Chris Johnson — goalie
The league is very competitive and new coach and alum from the Class of 2012, Michael Looney, takes over a young Assumption squad that may surprise if their strong freshman class of talented forwards starts producing early at the collegiate level.