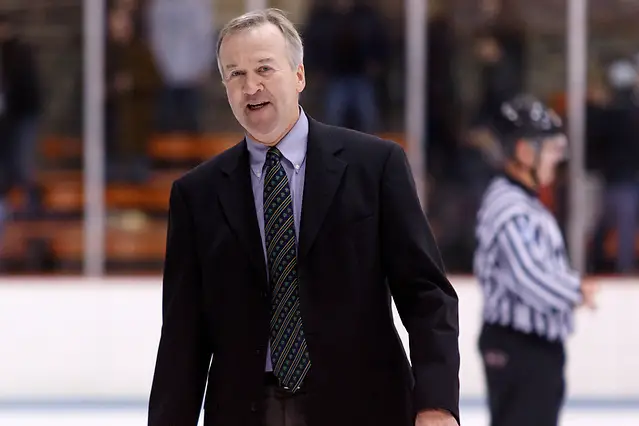 Whether as a player or a coach, Dartmouth hockey has been a big part of Bob Gaudet's life for the better part of the last 40 years.
But his time in Hanover got off to an inauspicious start during his freshman year.
"When I was a JV goalie, I called my dad disgruntled from the payphone in the dorm," said Gaudet. "What he said took me aback – 'play better and show them.' There was none of this calling the coach — he wasn't one of those helicopter parents. He wasn't going to fight my battles but he was going to support me. It was such good advice."
Gaudet, who is entering his 22nd season as the head coach of the Big Green, recalled that moment Sunday during his induction into the New Hampshire Legends of Hockey Hall of Fame, taking particular time to thank his parents for their encouragement throughout his career.
His father, Dan, and mother, Mary, along with his oldest sister Kathy, who Gaudet called "my hero," all made the trip for the event and were among the many family and former teammates in attendance.
His father's advice worked, as Gaudet finished his playing career with a school-record 2,129 saves and helped Dartmouth to an NCAA Frozen Four appearance. After a short professional career, Gaudet spent 1983-88 as an assistant coach for the Big Green, before taking the head coaching job at Brown for nine years.
He returned to Dartmouth as head coach prior to the start of the 1997-98 season.
Gaudet enters this season with 305 wins with the Big Green, three behind the school record held by Eddie Jeremiah.
"Way back when I was coming out of Saugus High School, I was fortunate enough to have the chance to go to Dartmouth. It's just incredible to think the doors that it opened for me in my life," said Gaudet, who met his wife at the school and saw his three children, Joe, Jim, and Kelly, attend Dartmouth. Joe and Jim both played for their father, while Kelly was a goalie in high school and graduated from Dartmouth in 2017.
The connections didn't end there, though.
Former Dartmouth teammate Rich Ryserson was among those inducted into the hall on Sunday, along with former University of New Hampshire goalie Brian Foster, who Gaudet coached on the New England team for USA Hockey. Foster also played junior hockey with Joe Gaudet on the New Hampshire Jr. Monarchs.
Getting a chance to coach both his sons has been one of the highlights for Gaudet. But he also touched on the connections he has built with his players over the years.
"You work with a group of guys and invariably they become friends," Gaudet said of his former players. "You go to weddings, see kids, and have guys come back to help our current team. Being in the midst of [coaching], you lose sight of that."
Former University of New Hampshire coach Dick Umile, a member of the hall of fame himself, was the keynote speaker at Gaudet's induction.
"He was wonderful in his own way," Gaudet said of Umile, who spent 28 years as head coach at UNH and is also a member of the state's hockey hall of fame. "He has such a personality and people just really love him."
Gaudet said having his family and so many people with connections to his hockey career come together helped him pause and reflect back on his career, something he admits is hard to do when getting caught up in the day-to-day routine of coaching.
"I've still got a lot of jump left," Gaudet said, as Dartmouth prepares to open its season Saturday against Harvard. "Hopefully, I can influence and help these kids."