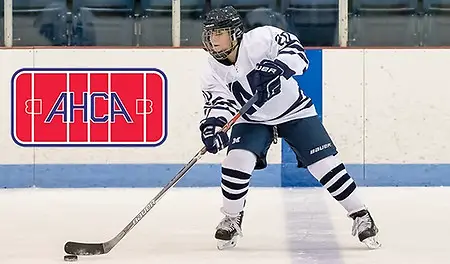 Middlebury has a history of making the NCAA tournament each year, and it would be highly unlikely for them not to make it again. Connecticut College and Amherst will be tough competitors for the conference title against Middlebury and are not expected to go down easy.
The Favorites
Middlebury has branded themselves as a repeating conference champion year after year, and they are without a doubt the NESCAC favorite again. With a strong returning class with Madie Leidt, Jenna Marotta, and Lin Han, they are expected to be a favorite to win the conference.
Leidt, a sophomore, returns from an impressive rookie season where she scored 15 goals and 12 assists, which landed her rookie of the year honors in the NESCAC. The Panthers graduated their top two scoring leaders, putting more responsibility and pressure on Leidt to lead the offensive charge.
Jenna Marotta and Lin Han will continue to lock down the defensive zone for Middlebury. Marotta, a senior defensemen, played a key role in the offense as well last year with two goals and 20 assists. Han, a junior goalie, played 17 games and had a .944 save percentage. Marotta and Han, guided by their coach Bill Mandigo, 2017-2018 NESCAC coach of the year, will be a main contributor to deliver a successful season.
Dark Horse
Amherst has been Middlebury's main opponent for the NESCAC automatic bid to the NCAA tournament. The past couple years Amherst has dropped in the conference standings. Expect them to climb out of the slump and possibly come out with the conference title in hand.
Amherst's all conference honor recipient, defensemen Miriam Eickhoff, will have to step up her game to bolster the defense as the team graduated both of their goalies. Relying on a freshman goalie could leave a gaping hole for Amherst to cover.
Connecticut College has a solid senior group with Elena Gualtieri, last year's team points leader, and Bailey Mertz a junior goalie. Having a strong leadership duo on the ice should make teams think twice about counting Connecticut College out of the race for a conference championship.
USCHO Predicted Order to Finish
1) Middlebury
2) Connecticut College
3) Amherst
4) Bowdoin
5) Williams
6) Hamilton
7) Wesleyan
8) Colby
9) Trinity
Players to Watch
Amherst: Miriam Eickhoff — defense; Jocelyn Hunyadi — forward
Connecticut College: Elena Gualtieri — forward; Bailey Mertz — goalie
Middlebury: Madie Leidt — forward; Jenna Marotta — defense