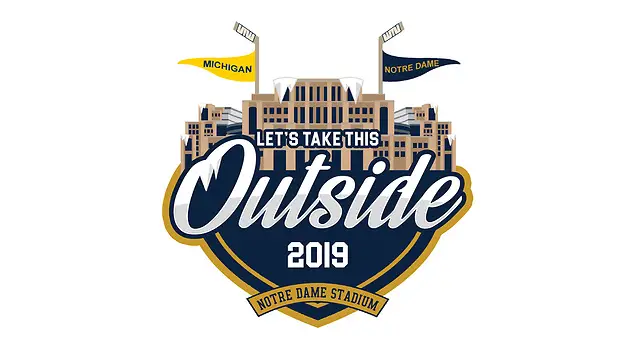 Michigan and Notre Dame will square off in an outdoor game on Saturday, Jan. 5, 2019, at Notre Dame Stadium in South Bend, Ind.
Puck drop is set for 3:30 p.m. EDT on NBCSN.
The Big Ten foes will meet four days following the 2019 Bridgestone NHL Winter Classic at the stadium, featuring the Chicago Blackhawks and Boston Bruins on Jan. 1.
The contest will be the eighth outdoor game for Michigan hockey in the modern era. The Wolverines squared off with Michigan State in the "Cold War" on Oct. 6, 2001, at Spartan Stadium, for the first collegiate game in modern history to be played outdoors. UM took part in the Camp Randall Hockey Classic on Feb. 6, 2010, in Madison, Wisc. The Maize and Blue then hosted MSU in "The Big Chill at the Big House" on Dec. 11, 2010, which set a record for hockey attendance with an official attendance of 104,173.
Michigan also played in outdoor games at Progressive Field (Cleveland) on Jan. 13, 2012, against Ohio State; Comerica Park (Detroit) for two contests as part of the annual Great Lakes Invitational on Dec. 27-28, 2013; and Soldier Field (Chicago) against Michigan State in the "Hockey City Classic" on Feb. 7, 2015.
The Wolverines are 3-3-1 in outdoor games.
The contest will be the third outdoor game in the modern era of Notre Dame hockey. The Irish took a 2-1 decision over Miami on Feb. 18, 2013, at Soldier Field, before falling to Boston College 4-3 a season later at Fenway Park in Boston. Prior to the program first gaining varsity status in 1968, the Irish club hockey team played its games outdoors at South Bend's Howard Park. The original site for hockey at Notre Dame, dating back as far as 1912, was outdoors at the current site of Badin Hall and on Saint Mary's Lake.
Notre Dame and Michigan have met 140 times, with the Wolverines holding a 76-59-5 edge in the series.
Tickets will go on sale at und.com/buytickets starting at 6 p.m. on Nov. 5. Fans who purchase 2019 Bridgestone NHL Winter Classic tickets at NHL.com/WinterClassicTickets using the promo code NDHOCKEY will also have the opportunity to purchase Notre Dame-Michigan tickets before the public sale.