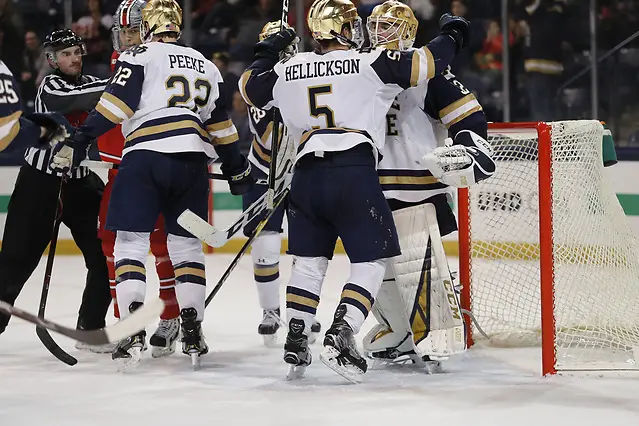 SOUTH BEND, Ind. — Joe Wegwerth stood in the slot for what seemed like an eternity.
Moments before, the puck slipped away from Ohio State and onto Wegwerth's stick. The only thing that stood between Notre Dame's senior winger and his fifth goal of the season was Buckeyes goalie Tommy Nappier.
Nappier squared to the potential shooter quickly. But Wegwerth had too much time. He sized up Nappier, then popped a wrist shot into the net at with just 6:12 left in the third period.
"I did my best not to rush it," Wegwerth said. "I kinda read the play and that's kinda how it developed, where I knew the other guys went to Dylan [Malmquist] and Cal [Burke]. I could kind of walk in as much as I wanted. I took a quick look at the net and kinda knew where I wanted to go with it. You never know with something like that. I was kind of fortunate."
Wegwerth's goal gave the fifth-ranked Irish a 2-1 lead that turned final by the same score. No. 5 Notre Dame salvaged a split with No. 7 Ohio State in each team's first series of the Big Ten campaign.
Ohio State (4-3-1, 1-1-0 Big Ten) won Friday's game 1-0 behind 23 saves from goalie Sean Romeo and a goal from Mason Jobst in the first period.
It looked like the Buckeyes might be poised to sweep after Jobst opened the scoring in Saturday's game with a goal at 3:25 of the second period. Colin Theisen made it a 1-1 game, however, with his third goal of the season about eight and a half minutes later.
Wegwerth then stepped in with the game-winner in the third period.
Joe Wegwerth was named the first ⭐️ of tonight's game after scoring the game-winner with 6:12 to play. #GoIrish☘️ pic.twitter.com/9W6TACth5S

— Notre Dame Hockey (@NDHockey) November 4, 2018
The Saturday win snapped a three-game losing streak for the Notre Dame (4-3-1, 1-1-0) after it last weekend suffered a sweep at the hands of No. 1 Minnesota-Duluth.
"It's been kind of frustrating, honestly," Wegwerth said. "We've been doing some good things. We've been playing well and we just haven't been getting results. Especially (Friday) night, I thought we played a really good game. We kinda did all the things we talked about this week. We just couldn't get a goal. So (Saturday) to win one like this, it feels good for the group. Hopefully we can build on it. Obviously, now we're in the Big Ten season and these points mean so much."
Saturday's victory also marked some history — Notre Dame head coach Jeff Jackson's 300th win with the program. Jackson, now in his 14th season, has an overall record in South Bend of 300-180-55.
Jackson has led the Irish to nine NCAA tournament appearances and four berths to the Frozen Four, including in each of the last two seasons. Twice at Notre Dame he's won the Spencer Penrose Award as national coach of the year — 2007 and 2018.
Eighteen former players of Jackson's at Notre Dame have gone on to play in the NHL. Some of them, notably New York Islanders captain Anders Lee and Colorado Avalanche defenseman Ian Cole, recorded congratulatory messages to Jackson that played on the video board after Saturday's game went final.
"For me, it's about the ride," Jackson said. "It's been such a great ride here at Notre Dame. I had a great life, great experience up at Lake [Superior] State. But this experience has been even better just with the people, our staff, our incredible staff, starting with our strength coach Tony Rolinski and all of my assistant coaches.
"Everybody knows their job. Everybody's bought in. They just create a great environment for the players to buy in. It's been a great 14 years."
Jackson is up to 482 wins total as a college coach. He went 182-52-25 in six season at Lake Superior State from from 1990-96. That run included three straight appearances in the national title game and two championships.
His win total ranks him in the top 10 of current active college coaches. And that's not lost on his current players.
"Nobody deserves it more than him," Wegwerth said. "The guy just pours his entire life into this program. To be able to be coached by somebody like that, that's just done so much for Notre Dame and for college hockey, it's really special to be a part of that. This is probably a game I'll never forget because of that. I just couldn't be happier for him."
How does Jackson plan to celebrate the latest achievement in his storied college coaching career? By getting back to work.
"(I'll) probably watch game film," quipped Jackson.
Around the Nation
Arizona State 4, No. 6 Penn State 3 (OT)
Johnny Walker's breakaway goal in overtime, his 11th goal of the season, gave visiting Arizona State the upset victory over previously unbeaten Penn State, 4-3.
It was Arizona State's first-ever victory over a top 10 team and its first win against a Big Ten opponent.
Penn State rallied from a 3-1 deficit on third-period goals by Evan Barratt and Nate Success, the latter coming with the goaltender pulled for the Nittany Lions.
But Walker, the nation's leading goal scorer, buried his second goal of the night at 1:09 of overtime to earn the upset victory.
Dartmouth 5, No. 15 Quinnipiac 1
Dartmouth knocked off a previously unbeaten Quinnipiac, 5-1, to earn the 400th career victory for veteran head coach Bob Gaudet.
Collin Rutherford, Carl Hesler and Jeffrey Losurdo all posted a goal and an assist for the Big Green. Dartmouth was 2-for-5 on the power play while also registering a shorthanded goal into an empty net.
Coach G.
400 career wins.
307 wins at Dartmouth and one short of the program record held by legend Eddie Jeremiah '30. pic.twitter.com/EOVSK4bBdq

— Dartmouth Hockey (@Dartmouth_MIH) November 4, 2018