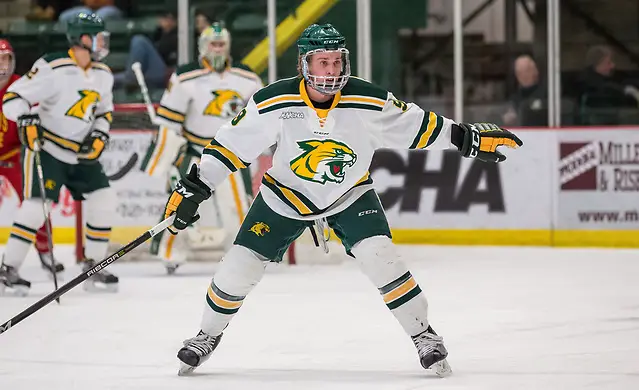 The NCAA men's Division I hockey landscape continues to change.
Arizona State is competing in its fourth season as an NCAA program, and the Sun Devils have three players playing in their home state this season in Johnny Walker, Anthony Croston and Connor Stuart.
However, ASU is not the only team with players coming from non-traditional hockey markets.
Student-athletes from states like California, Texas, Florida and Arizona are making significant impacts for their respective teams. With successful NHL franchises in San Jose, Los Angeles and Anaheim, hockey's popularity has exploded in the state of California. The growth of the sport has led to the state producing many college hockey players playing at both the Division I and Division III levels.
According to carubberhockey.com, 46 players from California are on Division I rosters this season.
Northern Michigan senior Troy Loggins is very familiar with what it's like growing up playing hockey in a non-traditional hockey market. Coming from Huntington Beach, Calif., Loggins said that "growing up playing hockey in Southern California was very different from playing in states like Minnesota, Massachusetts or Michigan."
His introduction to hockey started when he was 5 years old. He was watching a Kings game with his parents and was instantly hooked on the sport.
According to Loggins, "I asked my parents if I could play while watching the Kings game."
Loggins began to play roller hockey, but eventually, he and the majority of his roller hockey team moved into playing ice hockey.
"Growing up, I became an Anaheim Ducks fan and looked up to Ducks coach Randy Carlyle," said Loggins, who played his youth hockey for the Jr. Ducks and California Wave.
Leaving home to further his hockey career, Loggins played junior hockey for the Wenatchee Wild in the NAHL. With a strong season in Wenatchee, Loggins began to receive interest from Northern Michigan, and he committed to the Wildcats before playing one season in the USHL for the Sioux Falls Stampede.
"I committed to Northern Michigan because the team had other Californians on the roster and it was an excellent academic fit for me," said Loggins. "It's only a matter of time before we see an NCAA Division I program in Southern California."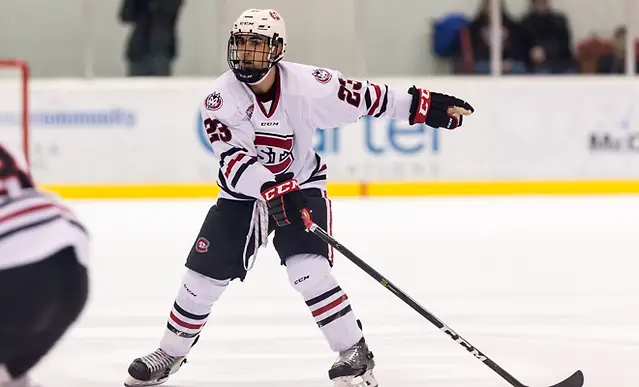 Californians Robby Jackson (Alameda) and Patrick Newell (Thousand Oaks) have been key contributors to the recent success at St. Cloud State. On a roster made up of mostly Minnesotans, these senior roommates have proved that they belong.
Jackson remembers that his father sparked his interest in hockey.
"My dad kind of got me into it," Jackson said. "He got into it as a teenager and when the NHL came out to California, that was big time."
Jackson's parents became avid San Jose Sharks fans and season ticket holders. Jackson went to a school that didn't have hockey.
"At school, it was tough because no one really understood hockey as everyone was into football, baseball or basketball," Jackson said.
Most of his weekends were spent traveling up north or out east playing in hockey tournaments. Jackson played his youth hockey for the Santa Clara Blackhawks and then moved down to Los Angeles at 14 to play for the LA Selects and the Jr. Kings. The USHL was next for Jackson as he moved to the Midwest where he played for the Chicago Steel and briefly for the Dubuque Fighting Saints.
"St. Cloud was one of the first schools that showed interest in me," said Jackson. "Also, I have been interested in broadcasting since I was 15 or 16 years old and since St. Cloud has an excellent Broadcast Communications program and a top tier hockey program, committing to St. Cloud made sense."
As a senior Jackson, hopes to build on a superb 2017-18 season where he led the Huskies in points with 42 on 15 goals and 27 assists.
Newell has also been a critical component in bringing wins to the Huskies program. Like Loggins, Newell started out playing roller hockey.
"I did not want to play hockey," said Newell, who moved onto ice at nine years old with the encouragement of his dad. "My dad just kept pushing."
Newell played other sports until he was about 14 years old.
"At that age, you kind of have to make a decision in California on what you're going to play," Newell said.
He ended up sticking to just hockey.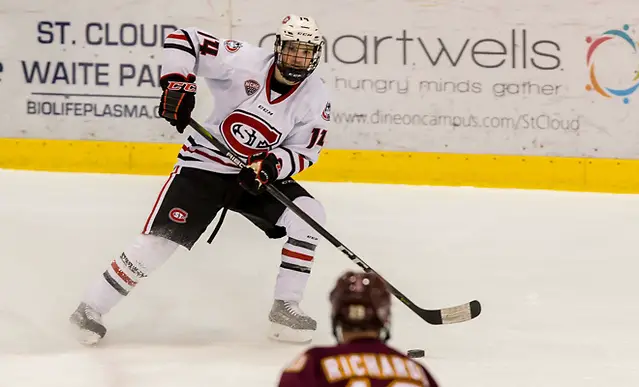 Newell played his youth hockey for the LA Selects and Jr. Kings. His junior year of high school, he went to Alaska to play junior hockey for the NAHL's Fairbanks Ice Dogs. From there, he moved on to the play for the Indiana Ice in the USHL. His final junior stop was with the Penticton Vees in the BCHL.
Like Jackson, Newell was recruited by St. Cloud State.
"They were one of the first schools that showed a real interest and the coaching staff seemed to really believe in me," Newell said.
He then visited the campus and met some of the guys on the team, and said he knew that St. Cloud would be the right fit for him.
Both Newell and Jackson mentioned that they were late bloomers and were appreciative of the St. Cloud coaching staff showing interest in them before other schools did. They both hope to continue developing as players and help the Huskies make a run for the Frozen Four next spring.
California is not the only state producing quality college hockey players.
Sophomore defenseman Brandon Estes from Richardson, Texas, and freshman defender Fletcher Fineman from Lake Worth, Fla., are both playing at Union.
Estes grew up in the football-crazy state of Texas. His parents were huge Dallas Stars fans and Estes was immediately drawn to hockey.
"I was kind of born into it," said Estes.
He started to play hockey soon after he learned to skate at age 4. Estes played AA hockey for the Dallas Penguins and then moved on to play for the U18 AAA Stars Elite team.
Estes played junior hockey an hour from home with the Lone Star Brahmas in the NAHL before moving on to the Youngstown Phantoms in the USHL. On the experience of playing for the Brahmas in his home state, Estes said "it was great the team was right there. It's something that you don't see very often with hockey."
Locally, Estes looked up to former Dallas Stars coach Ken Hitchcock and former Stars defenseman and current Detroit Red Wings blueliner Trevor Daley.
Union started showing interest in Estes at nationals while he was playing on the U18 Stars team.
"I looked them up and saw that they had obviously won that national championship and that was obviously very impressive," Estes said.
He soon received an offer from Union before even playing his first junior hockey game.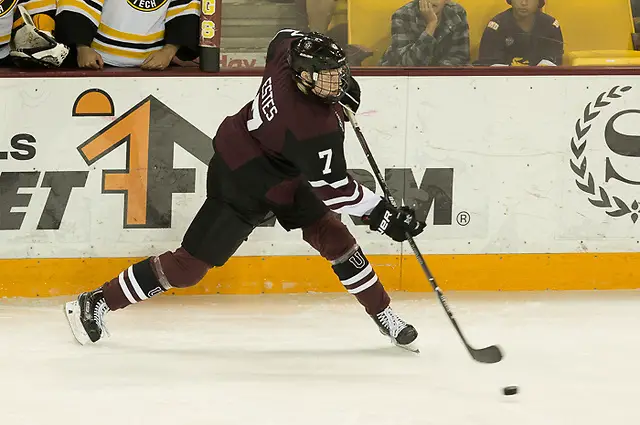 Fineman also came from a non-traditional hockey market in Florida.
"There was actually a rink down the street from my house, probably a five-minute drive," Fineman said.
While attending a birthday party at this rink, Fletcher left the party to watch a high school hockey game playing on the other sheet of ice.
"I fell in love with hockey from there on," he said, adding that he "was instantly hooked on the game."
Fineman played for the Florida Jr. Panthers and the Florida Alliance youth programs. His Florida teams had to travel all over the United States for stiff competition. After Fineman's sophomore year of high school, he moved to play for the Omaha AAA Hockey Club in Nebraska.
"I learned a lot there about how I am as a player and as a person being my first year away from home," said Fineman.
He then moved on to the NAHL, playing for the Springfield Jr. Blues.
Fineman recalled Union showing interest in him before he had played in Omaha.
"The Union coaching staff had seen me at the Select Festival before Omaha, so they had reached out to me," remembered Fineman. "After that, I was fortunate to end up at Union."
Both Estes and Fineman hope that they will eventually see an NCAA hockey program in their respective states.
Colorado College freshman forward Erik Middendorf grew up playing hockey in Arizona, and right from the start, hockey was in his blood.
"My dad grew up in New Jersey, and he played hockey with five of his brothers on the same teams," said Middendorf.
His uncle Max Middendorf went on to a professional hockey playing career, skating in both the NHL and AHL.
According to Middendorf, playing hockey in Arizona was tough at times for him. The competition was lacking, and his teams often had to travel to California or Colorado. Middendorf moved to California to play for the Jr. Kings for a year after which he moved back to Arizona to play for the Jr. Coyotes.
"Hockey started growing more these last couple of years playing in Arizona," Middendorf said. "When I was younger, I went to the Arizona Bobcats U14 games and was able to watch Auston Matthews play."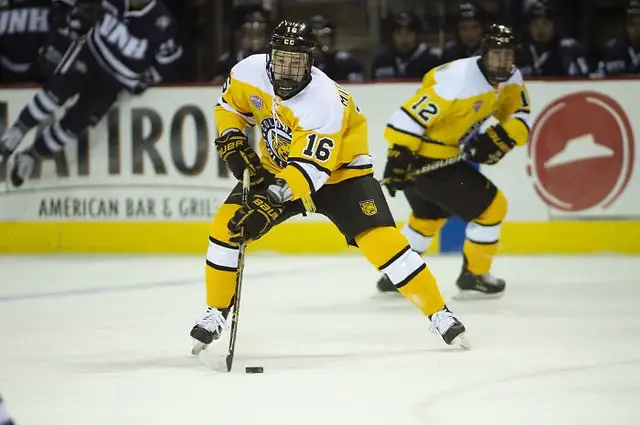 Middendorf was soon was noticed by USA Hockey's National Team Development Program and moved to Michigan.
He then connected with CC while playing at the USA Hockey Select Festivals.
"CC's coach Mike Haviland played with my uncle in the American Hockey League for a year," Middendorf said. "He told me that I played like my uncle."
At 17, Middendorf committed to Denver, but changed his mind and decided that Colorado College would be a better fit.
"Everything happens for a reason, and I am happy to be going to school close to home," Middendorf said.
As an 18-year-old freshman, Middendorf is a huge piece of CC's future. He has played in all eight of the Tigers games so far this season.
With the continuing growth of hockey in the United States and with more players coming out of the Sun Belt states, there is bound be more Division I hockey programs in non-traditional hockey markets soon enough.