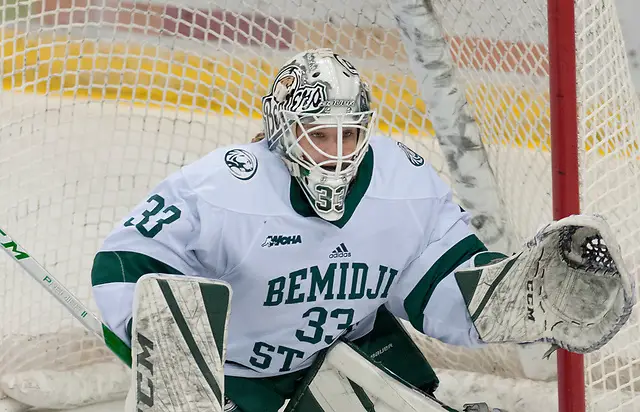 No. 4 Ohio State at Bemidji State
The sophomores led Bemidji on Friday. Sophomore goaltender Kerigan Dowhy made a career-high 38 saves, Lindsey Featherstone scored the first goal, and Clair DeGeorge scored the game-winner to earn the Beavers the 2-1 win, their first of the season. Emma Maltais scored in the third for Ohio State to cut the lead in half, but they could not get another puck past Dowhy. On Saturday, the teams played to a scoreless tie in the first. In the second, the teams traded goals as Abby Halluska struck first, giving Bemidji the 1-0 lead two minutes into the second. Charly Dahlquist answered for Ohio State four minutes later. Paige Beebe put BSU up 90 seconds later, but Maddie Field answered for the Buckeyes and the game was tied at two after two periods had been played. Despite being outshot, 34-27, Bemidji was able to pull away in the third thanks to goals from Haley Mack and Jacqueline Kaasa to earn a 4-2 win and weekend sweep.
No. 6 Northeastern vs. New Hampshire
Freshmen Alina Mueller and Chloe Aurard each recorded a goal and an assist and Brook Hobson also scored to lead Northeastern to a 3-0 win on Friday. It was Aerin Frankel's fourth shutout on the season — good for most in the country. On Saturday, Mueller opened the scoring for Northeastern before Carlee Turner and Maddie Truax tallied New Hampshire's first goals of the weekend. Paige Capistran tied it up for Northeastern before the first period break. Meghara McManus potted the only goal in the second period on a power play to give New Hampshire the 3-2 lead. There were fewer than four minutes left in the game and it looked like New Hampshire might pull off the upset, but Northeastern responded with three goals before the final horn to earn their ninth straight win. Kasidy Anderson, Capistran, and Tessa Ward were the late-game heroes.
No. 7 Cornell at Mercyhurst
On Saturday, Cornell jumped out to a 3-0 lead in the second thanks to a short-handed goal and a power-play goal from Maddie Mills as well as a tally from Pippy Gerace. Mercyhurst responded with a goal right before the second period break and then Sarah Fine reeled off one of the best four-minute stretches of the season as she scored twice and had the primary assist on a goal by Mary Katherine Gialames to put Mercyhurst up 4-3. The Lakers outshot the Big Red, 31-14, but Cornell was able to fight back with a power-play goal by Lenka Serdar to earn the 4-4 tie. Freshman Lindsay Browning made her first start for Cornell and made 27 saves. On Sunday, Marlène Boissonnault had a season-high 30 saves and Sarah McDonald made 18 saves for Mercyhurst as the two teams battled to a 0-0 tie.
No. 10 Colgate at Robert Morris
On Friday, Jessie Eldridge scored twice, and Coralie Larose and Bailey Larson added goals to push Colgate out to a 4-0 lead after two periods. Eldridge became the eighth player in program history to reach 50 goals. Larson joined the 100-point club, but Robert Morris would not go down without a fight. They outshot the Raiders, 14-5 in the final frame, and took advantage of three Colgate penalties to put up three goals in about seven minutes, but it would not be enough as Colgate won, 4-3. On Saturday, Malia Schneider put Colgate up after one period. Natalie Marcuzzi responded for Robert Morris in the second to send the game to the final frame tied 1-1. Eleri MacKay scored less than a minute into the third, and Maggie Lague answered just three minutes later, and this game ended a 2-2 tie.