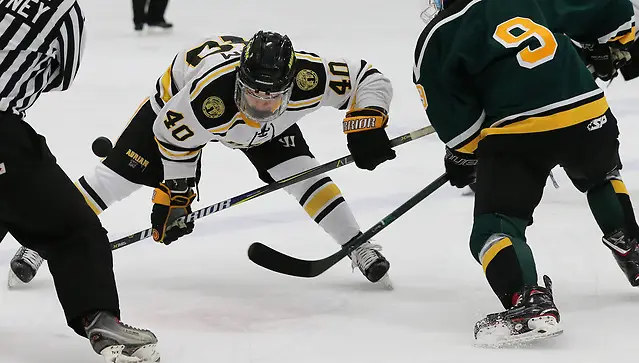 It was matchup worthy of a national title game, and the showdown between two NCHA rivals lived up to the hype as fourth-ranked Adrian managed to overcome a three-goal deficit to edge third-ranked St. Norbert, 4-3, in overtime Saturday night at home.
Bryan Yim delivered the game-tying goal in regulation and then stepped up again with the game-winner in OT less than two minutes into the extra session.
Cory Dunn, who finished his night with a goal and two assists, helped begin the comeback for the Bulldogs, who fell behind 3-0 after two goals by Dominick Sacco and one by Peter Bates. Dunn scored less than two minutes into the third period.
Bryce Van Horn cut the St. Norbert lead to 3-2 with a goal, and Yim then tied the game with less than two minutes to play in regulation. Van Horn, a transfer from Colorado College, also had an assist on the night, and Yim pushed his season goal total to six. Dunn leads the conference in points with three goals and 10 assists.
Kevin Entmaa improved to 5-1 on the year as he made 28 saves. T.J. Black came up with 30 saves for the Green Knights. Adrian is now 5-1 overall and 3-1 in the NCHA.
Sabres hold off Spartans
Marian won a key early-season battle with NCHA rival Aurora, knocking off the Spartans, 4-1, on Saturday. The Sabres, ranked 12th in the nation, limited Aurora to just 18 shots on goal.
Tied at 1-1, Lawson MacDonald scored at the 15:42 mark of the first period to give the Sabres the lead for good. Parker Colley and Yuri Chernichko added to the lead. Conner Blanck gave Marian an early 1-0 lead. The Sabres took a total of 33 shots, and Hunter Vorva pushed his record to 4-0 as he racked up 17 saves. He was particularly tough against the power play, forcing Aurora to go 0-for-9 in that situation.
Marian is now 4-0 overall, with all four of its wins coming in conference play. Aurora fell to 4-2 and is 3-1 in the conference.
Foresters light up the scoreboard
Eight players scored goals as Lake Forest dominated Lawrence, 8-1, Saturday in NCHA action.
Bron Loiselle stood out as he came through with one of those goals and also dished out three assists as the Foresters won their first game of the season.
Loiselle's goal came off the power play, one of four the Foresters scored. The other power-play goals came from Aaron O'Neill, Zach Feldman, and Ryan Kruss, who scored his second goal of the season.
George Argiropoulos stopped 32 shots to win his first game of the year. It's the first game he's played in this season for Lake Forest.
Lake Forest had entered the night having not scored more than three goals in a game this season. The Foresters had been held to just a goal in each of their last two games.
Blugolds win showdown with Tommies
Wisconsin-Eau Claire opened its weekend with a 2-1 win over St. Thomas in a battle of nationally ranked teams. The Blugolds came in ranked No. 10 in the country and used goals by Scott Munro and Steen Cooper to hold off the No. 15 Tommies.
Zach Dyment was sensational in goal as he made a season-high 27 saves. The Blugolds improved to 6-0 with the win and capped the weekend with a 3-1 win over Saint Mary's. Tanner Barnes scored the lone goal for the Tommies.
Blue Devils roll
Wisconsin-Stout scored four consecutive goals to put away Gustavus Adolphus, 4-1, Saturday in a nonconference game. The Blue Devils had four different players score in the win as they improved to 4-2. Among the players scoring was Alex Nagel, who punched in the first goal of his collegiate career. Logan Nelson scored a goal off the power play.
Tommi Ahlgren came through with 19 saves. Wis.-Stout has won its last two games, and Saturday marked the second time this season that it has scored at least four goals in a game.
Auggies sweep Royals
After winning 5-0 Friday in the series opener, Augsburg punctuated its first MIAC series of the season with a 3-1 win over Bethel Saturday. Chandler Madry tallied a goal and an assist to pace the Auggies, who improved to 5-1 overall and are 2-0 in the conference.
Augsburg was outshot, 24-23, but got a solid effort from Daniil Gerasimov, who made 23 saves. He's 4-1 on the season.
Augsburg has been dominant offensively in the early going, outscoring opponents, 22-12. Eleven different players have scored goals, and a total of 17 players have tallied a goal or an assist.
Parker ties record for saves
Noah Parker rose to the occasion for St. Olaf in its 3-2 overtime win over Wisconsin-Superior Saturday night. Parker stopped 51 shots, tying for the most saves in program history. The last to do it was Jude Hull in 2017.
Parker's effort, along with a game-winning goal by Kyle Rimbach, helped the Oles improve to 3-2-1, their best six-game start since the 2011-12 campaign. The Oles have won four of the last six games against the Yellowjackets after going winless in their first eight games of the series.
Rimbach scored off a rebound at the 2:13 mark of OT. Wis.-Superior lost despite holding a 53-20 advantage in shots.
St. Olaf trailed 2-0 before rallying to tie the score and force an extra session.