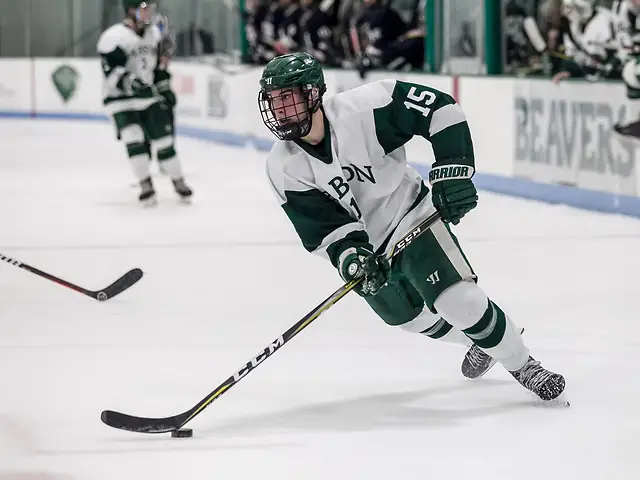 The action has been terrific across all the leagues, and by the looks of the competition in each of the conferences, the races look like they will be heated right into the final weeks of play. This week saw some traditional front runners in the NEHC and SUNYAC make others take notice, while the battle in the CCC looks to be spread among five top teams. Lots of great action to cover from the weekend.
CCC
Contenders Endicott and Nichols played a home-and-home series this weekend with each team taking a win on their home ice for a split of the points. On Friday night, the Bison used two goals from T.J. Roche and four points from Vincent Crivello in a 5-2 win. The Gulls returned the favor on Saturday with a 6-2 win led by two goals from Ricky Carbello and four points from Josh Bowes. Both teams now sit at 3-1-0 in league play.
The series between Curry and Salve Regina saw 21 total goals in a 4-4 tie and 8-5 Seahawks win. John McLean and Paul Boutoussov combined for five goals in the road win.
Independents
Joseph McLeod made 51 saves for Post in a 5-4 win over Westfield State on Thursday night. Five different players scored for Post, while Noah Wild had a three-point night with a goal and two assists.
Goaltender Michael Cerasuolo made 22 saves as Canton downed St. Michael's on Friday night, 2-0. Both teams went a combined 0-9 on the power play as scoring chances were at a premium in the close-checking game.
MASCAC
On Thursday night, the battle between Plymouth State and Fitchburg State went undecided in a 2-2 tie. Despite outshooting the Falcons by a 54-25 margin, the Panthers could not solve Brian McGrath in goal as they went 0-8 with the man advantage. McGrath finished with 52 saves to earn an important road point for Fitchburg State.
NE-10
St. Anselm took a weekend sweep to show their commitment to stay at the top of the conference. On Friday night, the Hawks downed Southern New Hampshire, 5-4, before Saturday's marquee battle with unbeaten Assumption. The Hawks gave up a goal to the visitors early in the first period before reeling off five unanswered goals in the 5-1 win. Dave Almeida scored two goals, including one short-handed, in support of Colin Soucy, who made 21 saves in the win.
NEHC
Both Massachusetts-Boston and Babson made statements of their own this weekend as they recorded four-point weekends with wins over Castleton and Norwich in conference play. On Friday night, the Beacons raced out to a 3-0 lead and then rode the excellent goaltending of Bailey McBurnie to a 4-2 win over the Cadets.
After defeating Castleton, 2-1, behind two goals from sophomore Nick Rosa, Babson capped off the strong weekend with a 5-3 win over Norwich with Nick Rosa again scoring the game-winning goal in the third period.
SUNYAC
In a game dominated by special teams, Plattsburgh built a 3-0 lead and held on for a 3-2 win over Geneseo. The Cardinals were outshot, 40-25, and relied on Jimmy Poreda in goal, who finished with 38 saves and the win. On Saturday, the Cardinals picked up another point in a 1-1 tie with Brockport.
Oswego took down Canton, 6-2, on Friday and used that momentum to their favor in downing Hobart on Saturday night, 4-2. Four different players scored for the Lakers in a tight defensive battle that saw only 37 total shots for both teams. Mitch Emerson's empty-net goal provided the final difference for Oswego.
UCHC
Utica fell 4-3 to Nazareth on Friday night with the home team scoring a goal in the final minute for the upset win. David Powlowski opened the scoring and scored the game-winner on the power play. Goaltender Michael Tilford earned his first win of the season, making 38 saves.
In a crazy game on Friday night, Chatham rallied from a 5-1 deficit to extend the game to overtime. Daniel Cangelosi scored the winning goal at 1:28 of the extra session to give the visitors the 6-5 win. The Cougars outshot the hosts, 60-25.
Three Biscuits
John McLean, Salve Regina: McLean recorded a hat trick in the Seahawks' 8-5 win over Curry on Saturday night.
Nick Rosa, Babson: Rosa scored both goals in a 2-1 win on Friday over Castleton and then added his second game-winning goal of the weekend in a 5-3 win over Norwich.
Austin Romzek, Nazareth: Romzek recorded a three-assist night, including setting up David Powlowski's goal with 45 seconds remaining in regulation for the 4-3 win over Utica.
It is definitely "coach speak," but there are no nights off, and the teams that figure it out quickly are going to earn some critical points that may matter later in the season.