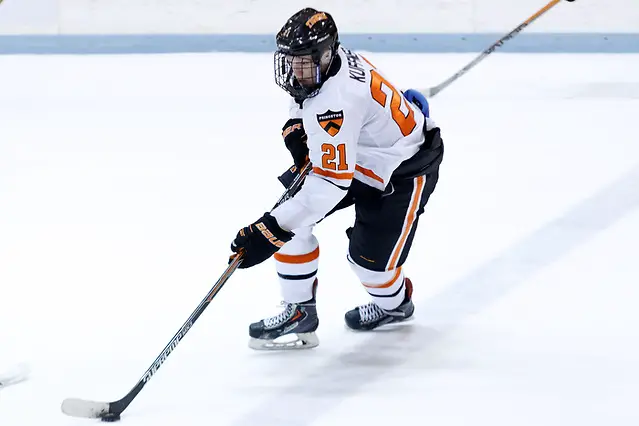 Each week during the season, we look at the big events and big games around Division I men's college hockey in Tuesday Morning Quarterback.
Paula: Jimmy, at the risk of sounding like a broken record, it seems impossible not to start with Arizona State this week.
The Sun Devils swept a solid Michigan State team, are now 9-3-0, and are outscoring opponents 46-26, averaging 3.83 goals per game for eighth in the nation.
Broken record, part two: Penn State bumped up its average goals per game to 5.78 with the 18 goals the Nittany Lions scored in a two-game, home-and-home sweep of Robert Morris. Following Friday's solid 7-2 win, Penn State set a program record for goals in a game with Saturday's 11-6 win. The Nittany Lions outscored the Colonials 5-1 in the second period of that game, with two four-on-four goals scored 17 seconds apart and four of the five goals all coming within a span of under six minutes – and it's a good thing, because who gives up six goals in a game and wins?
Poll voters have noticed. Arizona State hits the poll at No. 18 and Penn State moves up from eighth to No. 5. I know there are other teams to talk about, but it is impossible to ignore these two this week, and I still can't get past an offense so powerful that it can allow six goals and win. I've seen this with some crazy skilled Michigan teams, but allowing nearly three goals per game on average and relying so heavily on offense isn't something that seem sustainable.
Jim: Arizona State is just a great story.
Four years after moving to Division I, this program now battles with the best and more than holds its own. Though I have only seen them on video, they are solid in every aspect of the game. To know this school is succeeding without a conference affiliation or a rink that competes with many of the others in this country is simply amazing.
Penn State's offense feels like a flashback to the early 90s, when goaltenders had smaller pads and considerably less training. Any Guy Gadowsky-coached team likes to shoot the puck, but this team is finishing. And what impresses me most is that this scoring isn't coming from just a couple of players or one big line. The 11 goals on Saturday night came from nine different players.
Speaking of offense, it's early in the season for the Ivies, but two players are scoring at electric rates. Harvard's Adam Fox (two goals, 10 assists) and Princeton's Ryan Kuffner (seven goals, five assists) each have 12 points in their first five games. I looked back to the last two 70-point scorer in college hockey – Boston University's Jack Eichel, who had 71 points in 2014-15 and Michigan's Kyle Connor in 2015-16. Eichel had just nine points in his first five games; Connor had just seven.
It may be difficult for either Fox or Kuffner to keep up a nearly two-and-a-half point per game clip all season, but both have a start to the season that could result in some impressive point totals even with the reduced schedule that Ivies play.
Paula: It's not just Penn State that makes D-I hockey feel a little bit like the score-at-will 1990s. There are some interesting things happening offensively around the country, especially in the Ivies. The points that both Fox and Kuffner are producing this early in the season are impressive. Kuffner, of course, had 29 goals in 36 games last season and a total of 52 points, so seven goals in the first five games of his senior year shows that he may be on track to match or better that.
Fox, a junior defenseman, netted six goals in each of his first two seasons and he had a ton of assists in each of those years as well. His consistency – especially on the power play – puts him in a position to have a career year as well.
Both Harvard and Princeton are averaging 4.20 goals per game through five games, tying them for second with St. Cloud, who has done so through 10. Sticking with the Ivies, though, and just looking at goal production through five games, other promising starts include Dartmouth's Quin Foreman, Harvard's Reilly Walsh, Princeton's Derek Topatigh and Yale's Joe Snively, all of whom have four goals in five games.
But let's not overlook that team tied with Harvard and Princeton for second place offensively. Through the first 10 games of the season, St. Cloud is 9-1-0 and just completed a two-game sweep of Denver, two 4-3 games in which the Huskies had to come from behind to win. St. Cloud scored five of its eight goals in the second periods of those games, and seven different players accounted for those eight goals.
The Huskies are impressive defensively, allowing 1.80 goals per game through 10 games, and their combined special teams are fourth in the nation as well. With the shiny, flashy goals scoring and interesting storylines surrounding other teams and leagues, it's easy to forget just how good the NCHC is.
The Huskies are undefeated in conference play through four games – and their second in the polls behind Minnesota-Duluth, who is 8-1-1. These two teams don't even play each other until January and they end their regular-season conference play facing off.
Jim: What impresses me the most about St. Cloud is its ability to win in every way possible.
They began the season with a few wide-margin victories. And after their only loss, a comeback victory for Northeastern in Boston, St. Cloud has proven its ability to rally.
They have trailed in each of their last four games – all wins – and in three of those four games trailed by two goals. That ability to never say die is a good sign (though I'm guessing coach Brett Larson would prefer faster starts).
Over in Hockey East, we may have seen the best series of the young season when Massachusetts swept Providence. Both games followed the exact same script. UMass started fast and grabbed a 2-0 lead in the first. Providence rallied to tie the game, in the third period in Thursday's opener and in the second on Saturday. Both nights, the Friars had all the momentum only to have the Minutemen score game-winning goals through traffic late in regulation.
UMass moved up to fourth in the USCHO.com poll, which is the highest in the program's history. Having watched both of this weekend's games, I do believe that UMass is the real deal.
Paula: That split with a good Ohio State team and the sweep of Providence are convincing enough to say that Massachusetts is for real this year.
We've watched in recent seasons what a good first half can do for the confidence of a team that wasn't expected to do well. The Minutemen were picked sixth in the Hockey East preseason poll and they're undefeated through five conference games, lead the nation in combined special teams and are fourth nationally through nine games in scoring margin. They finish the first half of the season with a schedule that is very favorable, too.
Jim: Yes, UMass actually closes out 2018 with five of their seven games out of the conference and the two Hockey East games are against New Hampshire and Connecticut, which have a combined three wins in conference play.
Those games, as we know, can often be the toughest to get up for, so that's as big a challenge as this Providence series was.
Before closing, wanted to make a note of something that took place this past weekend that hasn't happened for a while.
Dartmouth goaltender Adrian Clark made 31 saves on Saturday to shutout Yale. It was the first time the Big Green have shutout the Bulldogs since 1979, nearly 40 seasons. Ironically, that 1979 game featured two goaltenders who were present last Saturday. Dartmouth coach Bob Gaudet and his team shutout Yale coach Keith Allain, with Allain allowing the only goal in a 1-0 shutout. Some 39 years later, that kind of came full circle.