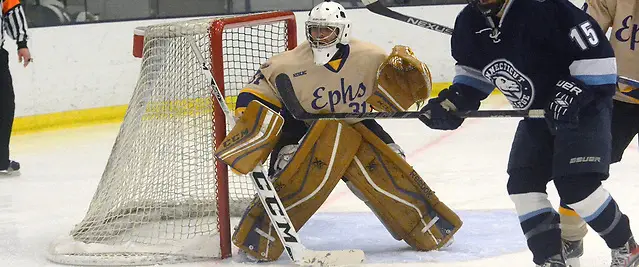 After stepping away from his post as coach at Williams last season for a one-year sabbatical, Bill Kangas has returned to the program and has found himself refreshed, renewed, enlightened, and ready to enjoy the game he loves with a great group of players this season.
"It is great to be back," exclaimed Kangas. "I missed it! I learned a lot, and it was enlightening in so many ways. It took a while to really comprehend that I wasn't working. Actually, it took about two months to decompress. I didn't go to the office or watch any games in person except the Brockport game, where I thought my son would be playing. He was out due to injury. I did connect with the team in the spring because I wanted to get to know some of the younger guys and reconnect with the juniors. I really enjoyed the time away and being part of D-I and NHL practices, in their coaches' meetings and seeing some of the different ways people in our game are changing, teaching, conditioning, and game prep. It was a great opportunity to learn and ask questions, but no doubt, I missed being with the team and was super excited to get going this season."
Kangas returns to a new group this year,21 but a similar formula that has worked for the program over his many years at Williams. A core group of seniors lead a young Ephs squad that continues a tradition of "passing the torch" to the next class and raising the expectations for leadership and contributions from everyone on the roster.
"Each class has passed the torch," noted Kangas. "The seniors expect everyone to take a leadership role and contribute and help facilitate that journey. It is a process for the team, and that's the fun part in seeing it evolve. There are certainly bumps in the road, but everyone needs to get through it to get better. This group of seniors has experienced all those things and now gets to be the role models for the rest of our team. Guys like Keanu Hilaire and Connor Meike don't show up much on a score sheet form their defense position, but they do so much to lead by example and be there for teammates when needed. They have been through those struggles and ups-and-downs and make it a point to build that team-first and team-together approach."
Last weekend, Kangas and the Ephs opened their season on the road in Maine against NESCAC rivals Bowdoin and Colby. Led by Marcus Mollica's hat trick, Williams downed the Polar Bears on Friday night before coming back from a 3-1 deficit to down the Mules, 4-3, with Mollica scoring the game-winning goal.
"As I get older, I don't remember all I used to," joked Kangas. "I believe in all my years that may have been our first sweep in Maine. That was a big weekend, and I liked how we got out early in the Bowdoin game and then found a way to come back against Colby the next day. Good experience to build on and a great weekend for kids like Marcus and Michael [Pinios]."
Mollica and Pinios, both seniors, had very good weekends for the Ephs. Mollica scored five times in the first two games, while Pinios stopped 46 of 50 shots to pick up both wins.
"Marcus has progressed and assumed a bigger role," stated Kangas. "He has always had a great release and shot. He now has a complete game and is shooting more. It gets contagious when the first one and then the next one goes in — it builds confidence, and he has that right now."
"Michael has been through a lot here going all the way back to our national tournament appearance," said Kangas. "He has gone through those bumps in the road and worked through them. These are the examples our seniors set for the rest of the team, and everyone can see the progress and development as well as the work put in to get there."
This weekend finds the Ephs traveling on Saturday to face No. 13 Babson before their home opener on Sunday against No. 4 Geneseo.
"Two great programs and great coaches who I have known as friends for a long time," said Kangas. "Right now, the team has today and tomorrow off to spend important time with friends and family for Thanksgiving. We are focused on having a great practice on Friday when they come back. Everything in life is about a balance of the personal with everything else. Last year was important for me in recognizing that I want to grow and be better not only as a coach, but as a family man. I also focused on getting healthier and breaking some of those habits and routines we all get into. I have time to spend with my grandkids (already on skates) and really enjoy being able to coach this group and pay attention to the personal stuff — like Thanksgiving."
Two-ranked teams will be a good barometer for the young Ephs, and their coach is excited for the challenge, but first things first: pass the turkey.