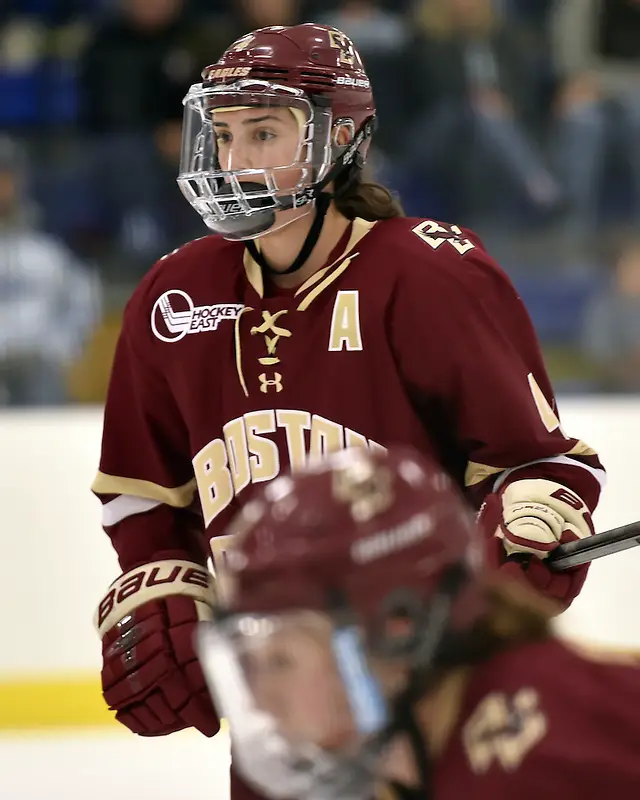 It's normal, I think, to want to make the thing you love better — to be the best it can be. The trap, of course, is not to spend so much time pushing forward that you overlook the advances that have been made or forget to appreciate the status quo. That's not something I'm great at, so in the grand tradition of American Thanksgiving, here's my totally cliché but definitely needed appreciation for the wonderful strides that have been made this year.
In women's hockey, it feels like there's always a fight to be had for better coverage, more respect, equal facilities, or any number of other ways the sport gets disrespected. This year, I want to take some time to be appreciative of how far things have come. Tomorrow, we'll get back to pushing for all the things our teams and players deserve.
It's actually been an amazing year for women's hockey. The Frozen Four was broadcast nationwide on the Big Ten Network. Daryl Watts became the first-ever freshman to win the Patty Kazmaier Award. The Pyeongchang gold-medal game was one of the most talked about events of the Olympics, and Team USA did a media tour that brought massive amounts of attention to the players and the sport.
Eleven women currently playing in the NCAA were named to Olympic centralization rosters for the U.S. and Canada. Colgate's Livia Altman and St. Cloud State's Janine Alder played for Switzerland. Mercyhurst's Emma Nuutinen won bronze with Finland.
Five Americans, Minnesota's Kelly Pannek, Minnesota Duluth's Maddie Rooney and Sidney Morin, and Boston College's Cayla Barnes, Megan Keller and Kali Flanagan, won gold medals and have returned to the ice for their respective universities. Wisconsin's Emily Clark took home silver.
The gold-medal game itself was the most-watched midnight-hour program in NBC Sports Network's history. That was even more impressive because that night's prime-time coverage had some of the lowest viewership of the entire Olympics. The past two women's Olympic gold-medal games have had some of the highest viewership numbers — as they should — and being able to quote those statistics and show how popular it is when presented correctly and given the proper support help prove why women's hockey can and should be televised more often.
Watching women's hockey has become easier than ever. More college teams have streams available for free or through ESPN+, which is reasonable. There are plenty of paid streams out there, but college hockey has become more easily watched. The WCHA partnered with FloHockey to provide a single streaming service. While there's still a cost, not having to subscribe to a number of different services to watch a whole conference is a step in a good direction. The Four Nations tournament, which was held in Saskatoon, had free streaming as well as partnerships with TSN and NHL.com, bringing high-quality broadcasts or streams of the games to a large audience.
There was an undercurrent of fear across all of women's hockey when North Dakota shuttered their program two years ago as we worried more schools might take their lead and do the same thing. Not only has that not happened, but LIU-Brooklyn has announced they're adding women's hockey, the New England Women's Hockey Alliance will form, and Northern Michigan has announced they're looking into the feasibility of adding a women's hockey program. Holy Cross made the jump to Division I this year, joining Hockey East. I myself have been skeptical and concerned about expansion, but as was pointed out to me, after the shuttering of North Dakota's women's program, any move toward growing the game and not contracting is a good thing. In addition, all of those moves individually are great, but taken together show that women's college hockey is stronger than ever.
The NWHL expanded to include the Minnesota Whitecaps, making professional women's hockey a more nationwide sport and not just localized to the East Coast. Both the NWHL and CWHL have improved their streaming options, making it even easier to be a fan.
Last season, two programs, Colgate and Ohio State, made their first-ever appearance in the Frozen Four, and we had our first-ever national championship game without a team from the WCHA. I suppose that's not great news for Midwestern fans, but it does show that gaps are closing, parity is increasing, and any team really does have a shot to make a run.
So far this year, there's been a ton of upsets, and that's something that's not only fun for fans, but says great things about the strength and quality of hockey being played right now.
We've had Brown earning their first win over a ranked team in more than a dozen years and Yale earning their first-ever win over a top-three team. Merrimack, a team that's in their fourth year as a Division I team, has had their best start in program history. Northeastern has also accumulated the best Hockey East start in program history. And it's only week 10.
There's been so much to appreciate and be grateful for, and we're not even halfway through the season. Here's to more upsets, televised games, breakout players, and program firsts. Here's hoping more folks discover this amazing game, increasing attendance and giving these student-athletes the support and attention they deserve.
Be safe, everyone. See you at the rink on Friday!