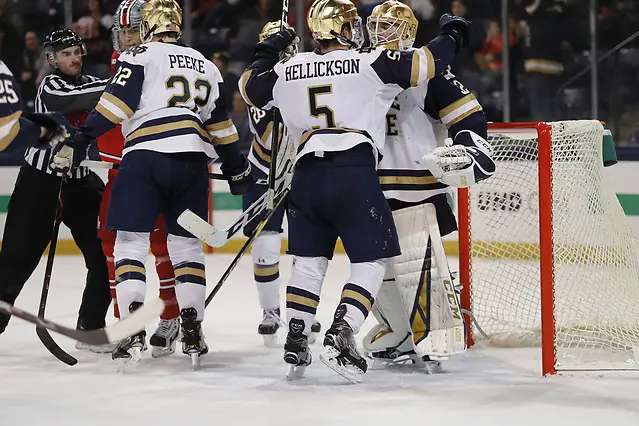 As we approach the meaty part of Big Ten conference play, it's difficult to get a read on how the season will progress.
Picked by coaches to finish atop the conference standings, Ohio State is 3-1-0 with the best win percentage to start B1G play. Notre Dame isn't far off with its record of 4-2-0 followed by three teams at .500 in league play.
While it's too early to come to any kind of conclusions about B1G play based on league competition so far – as few as two games have been played by three B1G teams – results in overall play may indicate a mixed bag of a season for Big Ten teams.
After leading all Division I conference in win percentage (.694) in 2017-18, the Big Ten is 30-20-3 (.594) in interconference play so far this season, a number that is skewed by Penn State's (9-2-0) and Ohio State's (8-3-0) overall records. Seven months after placing three teams in the Frozen Four field, the Big Ten looks as though it's as fallible – or as competitive – as everyone else.
"That's what it's going to be all year long in the Big Ten, probably," said Notre Dame coach Jeff Jackson. The Fighting Irish went into East Lansing last weekend and earned two wins against Michigan State, a 3-1 victory with an empty-net goal Friday and Saturday's 2-1 decision.
"I don't know if there are any weak links around the league," said Jackson. "Michigan State plays hard. They're a challenging team, especially at home."
"As far as big lines go, the Khodorenko line is as good as there is probably in the conference," said Jackson, referring to the line of juniors Taro Hirose and Patrick Khodorenko plus sophomore Mitchell Lewandowski, a trio that clicked all year for Michigan State last season and which has combined for 15 goals in 10 games this year.
"Every team is going to bring its challenges," said Jackson. "Some teams are younger than other teams. And we're a little bit young this year with nine freshmen. It's going to be a long and interesting year."
For the Fighting Irish, it seems as though every recent year has been a transition year of some kind. Jackson is coaching Notre Dame in its third conference in six years. The Irish captured the last-ever CCHA playoff championship at the end of the 2012-13 season, joined Hockey East for four seasons and became a member of the Big Ten at the start of the 2017-18 campaign. They bookended their last conference transition with back-to-back Frozen Four appearances, representing HEA in 2017 and B1G Hockey in 2018.
This year brings new changes and challenges for the Fighting Irish, who lost Jake Evans and Jordan Gross to graduation and Andrew Oglevie to the pro ranks, three players responsible for 38 of Notre Dame's 117 goals, including 16 power-play goals, nine by Oglevie.
"Last year, we had a real solid year," said Jackson. "We had a veteran team, a veteran defense, good goaltending, and we had enough scoring, you know, timely scoring, so last year was probably a little bit of an anomaly for us for our first year in the league."
Some numbers for Notre Dame aren't much different so far compared to 2017-18. After a dozen games last year, the Irish were 8-3-1 while they're 7-4-1 now, and they're doing better so compared to last year's final numbers offensively and defensively. At the end of last season, Notre Dame was tied for 25th in scoring (2.92 goals per game) and is currently 21st (3.17). The Irish were ninth in goals allowed per game last season (2.17) while they're seventh now (1.92).
Also, Notre Dame is sitting very pretty with junior goaltender Cale Morris returning in net. Morris, winner of the 2018 Mike Richter Award, has a 2.00 goals-against average and .934 save percentage, numbers that differ only slightly from last year's stats (1.94 GAA, .944 SV%). Morris is 5-4-1 this season, though, but that may be part of the growing pains that accompany playing behind a young team. Eight freshmen skaters have seen time in the Notre Dame lineup this season, with forwards Jake Pivonka (0-4-4) and Alex Steeves (2-2-4) leading rookies in scoring. None of the freshmen has produced on the power play yet.
"I said for us, I want to wait until Christmas to see where we are," said Jackson. "We have gotten better, but there are certain parts of our game, especially on power play and our penalty kill has been inconsistent. We're still searching to replace the guys that we lost from the power play and PK. That's going to take some time. You've got freshmen playing. We've got a whole freshman line on the power play, so it's just a matter of guys grasping their roles and running with them."
The numbers for special teams are especially telling. Last year, Notre Dame finished first in the nation for combined special teams, with a seventh-best power play (23.7) and second-best penalty kill (89.4). This year, the Irish are tied for 36th on the power play (17.0) and tied for 29th on the penalty kill (82.2). That's a combined special teams that's 33rd in the nation.
In spite of what Notre Dame's lost, the Irish are returning many skilled players that now have Frozen Four experience, and some of the veterans are on track for career seasons. Sophomore forward Colin Theisen has four goals in 12 games after netting six in 40 games as a freshman. Junior Cal Burke has seven goals in 12 games, including three on the power play. Last year, he had 14 in 38 with a single power-play goal.
And senior forward Joe Wegwerth may become Notre Dame's story of the year; through the first 12 games of the season, Wegwerth has already matched his career-high seven goals he scored in 33 games as a sophomore, and with two power-play goals, he is one shy of a career high.
Unquestionably, there are many other teams in Division I hockey that would swap a few circumstances with the Fighting Irish but maintaining the level that Notre Dame has achieved in recent years while transitioning is still a challenging task. It is something that many programs that have reached a certain level of success have cycled through, many times. And because the Big Ten saw quite a bit of success last season, said Jackson, it is a challenge shared by several teams in the league – and that could be something that contributes to the conference's parity this year.
"If you think about some of the players that we lost, you think of what Michigan lost, you think of some of the good teams in the hunt," said Jackson. "The only team that really didn't was Ohio State, so it balances things out."
It's not surprising, then, that the Big Ten overall play is a little more down to earth this season than it was a year ago, and the first two months of play may very well predict how the rest of the season progresses.
"That could be the way it is by the end of the year," said Jackson. "The teams that maybe get a sweep here and there are the ones that are going to be at the top of the standings."