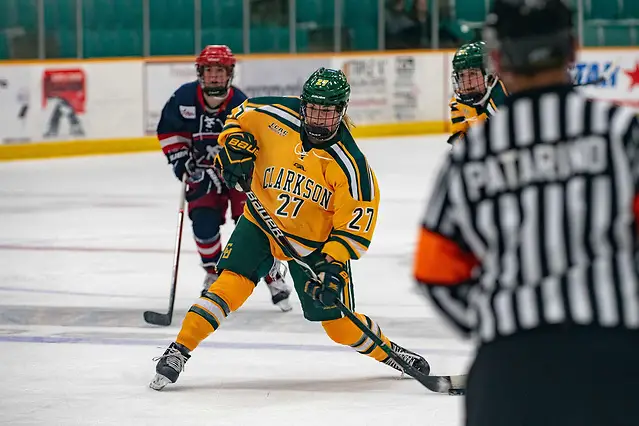 I had a pretty good week last week, going 22-5-6 (.757), while Nicole was 19-8-6 (.666). I've now increased my lead on Nicole on the season to six games, as I am 111-39-22 (.726) while Nicole is 105-45-22 (.674).
This week includes some Thanksgiving tournaments, so let's see how we do.
Friday-Saturday, Nov. 23-24
Minnesota State at Lindenwood
Candace: The Mavericks have been better than expected so far. Minnesota State 3-2, 3-2
Nicole: I think these two split. I'll take Lindenwood in game one though. Lindenwood 3-1, Minnesota State 2-0
No. 7 Cornell at Robert Morris
Candace: The Big Red have the most potential for upside in the ECAC. Cornell 2-1, 3-2
Nicole: This should be a sweep for Cornell. Cornell 2-1, 3-1
Minnesota Duluth at No. 3 Clarkson
Candace: At home, I don't see the Golden Knights falling in this one. Clarkson 3-1, 4-2
Nicole: My instincts haven't been great so far, so I'm going to pick a flyer here and say UMD gets a win. These two split. Minnesota Duluth 4-3, Clarkson 3-1
Harvard at No. 1 Wisconsin
Candace: The Badgers are off and running, and won't be stopped unless it's in conference. Wisconsin 3-1, 3-1
Nicole: I expect Wisconsin to sweep at home. Wisconsin 4-1, 3-1
Nutmeg Classic
Connecticut at Quinnipiac
Candace: This will be low scoring. I'll take the Huskies. Connecticut 2-1
Nicole: I'll take Connecticut to win. Connecticut 2-1.
No. 9 Providence at Yale
Candace: Yale scored an impressive win over Clarkson last weekend, but Providence has been more consistent. Providence 3-2
Nicole: Providence wins. Providence 3-0
Windjammer
No. 2 Minnesota at No. 8 St. Lawrence
Candace: The Saints are dangerous, but I like the Gophers to sneak through. Minnesota 3-2
Nicole: Minnesota wins. Minnesota 4-2
Syracuse at Vermont
Candace: I still don't have a handle on either team, so I'll go with home ice. Vermont 2-1
Nicole: Vermont wins. Vermont 2-1
Saturday, Nov. 24
No. 4 Boston College at Holy Cross
Candace: Holy Cross might keep it closer, but they won't win. Boston College 5-0
Nicole: BC won 7-0 last time, so I guess I'll pick them to repeat that feat. Boston College 7-0
Saturday-Sunday, Nov. 24-25
Dartmouth at Maine
Candace: I like the Black Bears to get back on track. Maine 2-1, 3-1
Nicole: I expect Maine to win this one. Maine 2-1, 2-1
Rensselaer at New Hampshire
Candace: This is a tough one to pick. Neither team has been consistent, but Rensselaer has the better start. New Hampshire 2-1, Rensselaer 2-1
Nicole: I think these two will split. New Hampshire 2-1, Rensselaer 3-2
Monday, Nov. 26
Mercyhurst at Union
Candace: I like the Lakers in this one. Mercyhurst 3-1
Nicole: Mercyhurst wins. Mercyhurst 4-1
Tuesday, Nov. 27
No. 4 Boston College vs No. 5 Northeastern
Candace: The Huskies have been the more consistent team, but I am going to pick BC until proven otherwise. Boston College 3-2
Nicole: I'm also going to pick Northeastern at home here. Northeastern 4-3
Boston University at Brown
Candace: I think the Terriers are still sneaking up on people. Boston University 3-1
Nicole: I'll take BU to win. Boston University 2-1