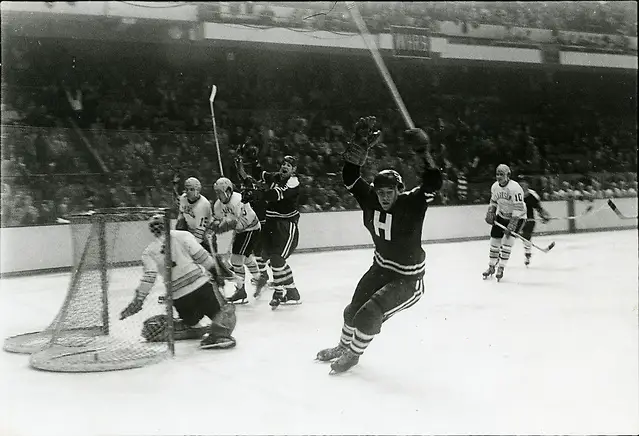 A mere 48 years after being immortalized on the silver screen, a great Ivy League rivalry is coming to Broadway.
No. 15 Cornell faces Harvard in the fourth biennial Frozen Apple Saturday night at Madison Square Garden.
It is the first time the teams will meet in New York City since they split the first two games they played, in 1910 and 1911, at the old St. Nicholas Rink on West 66th Street, across Columbus Ave. from the present site of Lincoln Center for the Performing Arts.
In 1970, they faced off for the Ivy title in one of the highest-grossing Hollywood films of all time.
"Love Story" starred Ali MacGraw and Ryan O'Neal. Others in supporting roles included John Marley, Ray Milland, Katharine Balfour, Tommy Lee Jones – and future (and present) Hockey East commissioner Joe Bertagna, Harvard class of 1973.
Much of the filming was done on location at Harvard, including Donald C. Watson Rink, which in the late 1970s was renovated and renamed the Bright-Landry Hockey Center. The rink was used to depict two games, Dartmouth at Harvard and Harvard at Cornell, the latter match ostensibly in Ithaca.
On the ice were many local players along with some from Harvard and other schools. Goalies Bruce Durno, Mike LoPresti, and freshman Bertagna, just 17, were three of the real Crimson players.
"Bruce (Durno) played both the Dartmouth and Cornell goalies," Bertagna recalled. "Mike (LoPresti) and I played the Harvard goalie for both games with the same jersey and mask. The one inconsistency was that I caught with my left hand and Mike caught with his right.
"They hired about 150 extras to play the fans, and they were moved around depending on where the action was. They were given green scarves to wear for the Dartmouth game and red ones for the Cornell game."
While being in a feature film was exciting, Bertagna also found it a bit tedious.
"We had to do each scene maybe six or seven times," he said. "In an eight-hour day, they'd shoot only a few scenes."
Another real college player in the film was Boston University all-American Mike Hyndman, who played Big Red captain Francis LaPierre. It was a fight between LaPierre and protagonist Oliver Barrett IV (O'Neal) that earned Barrett a bloody face and a five-minute major penalty that led to Cornell's winning score.
But the power-play goal was not, as today's fans chant, "all his (Bertagna's) fault!" LoPresti was in the crease for that one.
"I gave up a few game-winners to Cornell," Bertagna said. "But in real life, not in the movies."
LaPierre's implied French-Canadian heritage caused some consternation for Bertagna and his Crimson teammates.
"They (Cornell) had a bunch of Canadian kids on the team, but they were mostly from Ontario and spoke English," he said.
Other notable figures in the film included future US Hockey Hall of Famers Bob Cleary (also a member of the 1960 US Olympic gold medal-winning squad) and Bill Riley, Sr., who played the referees.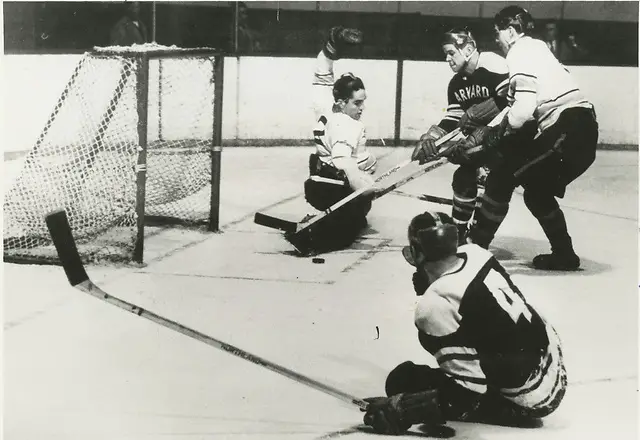 O'Neal's stunt double on the ice was none other than future Harvard men's head coach Bill Cleary (Bob's brother), who guided the Crimson to the 1989 NCAA championship. According to Bertagna, Cleary wore a special helmet with a wig attached to simulate O'Neal's long hair.
A native of Arlington, Mass., Bertagna spent 15 years as the ECAC's primary hockey administrator before becoming Hockey East commissioner in 1997. He was the first coach of Harvard women's hockey (1977-79), the Boston Bruins' goalie coach for seven seasons, and he coached the goalies on the US men's national team at the 1991 Canada Cup and the 1994 Olympics in Norway.
He has run Bertagna's Goalie Schools since 1974 and has written numerous books on goaltending, as well as a pictorial history of Harvard University athletics. He is a member of the ECAC and Massachusetts Hockey Halls of Fame.
With all he has accomplished since then, Bertagna's role in the film is a lasting memory that has followed him for nearly half a century. It has impacted his life in some amusing ways.
"Living in the room below mine in college was Benazir Bhutto (Radcliffe '73 and future prime minister of Pakistan who was assassinated in 2007), so we became friends." he said. "While she was visiting Washington as prime minister, she invited me to a black tie affair. So I rented a tux and attended.
"Vice President and Mrs. (Dan) Quayle were there, and she introduced me to them as 'the guy who played goalie in Love Story.' I thought that if that's what I'm remembered for, I'm in trouble."
Saturday's match will be the 153rd meeting of Harvard (2-3-2) and Cornell (5-3), with the Big Red holding a 76-65-11 all-time edge. It is the sixth time they will play on NHL ice. Cornell won three of five games in ECAC tournament play at Boston Garden between 1969 and 1989, before the tourney moved on to Lake Placid, NY, Albany, NY, Atlantic City, NJ, and back to Lake Placid.
Both schools' coaches have their teams excited and ready to roll at MSG.
"We are very excited to continue the tradition of The Frozen Apple with our rival Harvard." said Mike Schafer, the Jay R. Bloom '77 Head Coach of Men's Hockey at Cornell. "The games at Lynah Rink have historically been unbelievable sporting events. But given the stage, this game will be one that people will talk about for years to come."
"We are looking forward to our return to Madison Square Garden for what should be another memorable experience for our student-athletes," said Ted Donato, the Robert D. Ziff '88 Head Coach for Harvard Men's Ice Hockey. "For Harvard men's ice hockey, playing our rival Cornell in one of the most historic hockey venues in the world is clearly something we're excited to be a part of."
Cornell is unbeaten in Frozen Apple play, having defeated Michigan in 2012, Penn State in 2014, and New Hampshire in 2016.