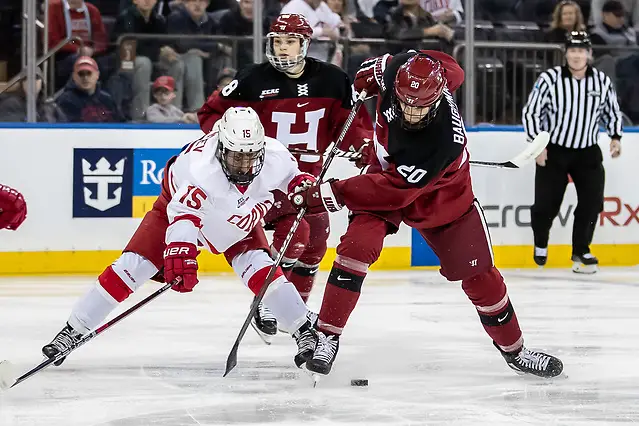 NEW YORK — Harvard was ready for prime time in New York City and Cornell wasn't.
The Crimson skated past the Big Red, 4-1, in the bi-annual Frozen Apple Saturday night at Madison Square Garden. After Cornell freshman Liam Motley scored his first collegiate goal at 6:55 of the first period, the game was all Harvard.
"It was a really special moment to get that, especially here at Madison Square Garden," Motley said. "But it was unfortunate that we didn't play our best game tonight."
Henry Bowlby scored twice for the Crimson, including the go-ahead goal at 9:46 of the second period. He beat Matthew Galajda to the goalie's right off a crossing feed from Casey Dornbach, who had assists on Harvard's first three goals.
"I've got a great linemate, Dornbach; I've been playing with him for years, and I grew up with him, so playing together for a long time definitely helped set that one up," Bowlby said. "(Jack) Drury made a nice breakout pass to Dornbach, and we had a two-on-one. I went to the back post and he laid a nice pass in there and I was able to put it in the net."
The speed of Bowlby, who was returning after missing several games due to injury, and the other Crimson skaters stood out in marked contrast to the Big Red effort.
"I think it was the stage, and my linemates in general were just helping me," he said. "It felt good to get back in the swing of things. My line moved the puck well, and I was fortunate to bury the goals."
Another Crimson hero was goalie Michael Lackey, who made 30 saves. He and his teammates played as if they were energized by the setting.
"I think going into the game, everyone knew how special it was to play at Madison Square Garden," Lackey said. "We got a lot of good energy from that, which helped pump me up. During the game, you're kind of focused on getting that win. But toward the end, taking a step back, looking around and seeing all the Cornell fans, it was definitely a sight.
"It's always tough going down 1-0, especially early in the game, but I don't think we were down mentally. We had a lot of positive talk in the locker room between periods, and we really bought in and developed some momentum."
Harvard coach Ted Donato was surprised that Cornell, known as a strong forechecking team, never seemed to get that part of its game going.
"We used our speed to get back to some pucks throughout the game," he said. "Michael Lackey did a nice job of getting some stops back there that allowed our defense to make some solid plays. We worked a lot on trying to break the puck out (of the defensive zone). Some of our (defensive) guys were tremendous tonight, especially John Marino, Adam Fox, Jacob Olson, and Adam Baughman."
At the other end of the spectrum, Big Red coach Mike Schafer had few positive things to say about his team's effort. Cornell was missing four of its top players due to injury, including top defensemen Alex Green and Brendan Smith, but he would not use that as an excuse for lackadaisical play.
"They (Harvard) played well, and they used their speed to take advantage of us, especially in transition," he said. "I didn't think we played well. We were pressing a lot with our two best-skating defensemen out, but that's no excuse for the lack of passion I saw tonight. Maybe it was nerves with a lot of freshmen and sophomores out there, but they just didn't handle this environment very well."
The win was the first for Harvard (3-3-2) in four tries at MSG. The Crimson lost to Yale in 2014 and 2015, and Quinnipiac in 2016 in the Rivalry on Ice series. It was Harvard's first win over the Big Red since the ECAC Tournament final on March 18, 2017.
Cornell (5-4) lost for the first time in the Frozen Apple series after wins over Michigan in 2012, Penn State in 2014, and New Hampshire in 2016.
Saturday night's game was a non-conference match for the ECAC and Ivy League rivals. They will meet in ECAC play on December 1 in Cambridge and January 18, 2019 in Ithaca.