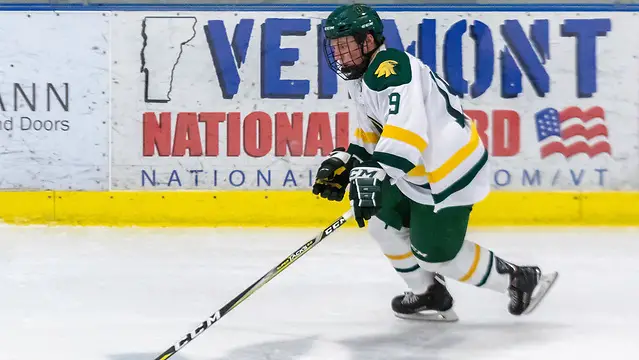 Coach Brian Dickinson can't remember a start to a season like this for any Brockport team in the past, but is clearly both a bit surprised and delighted with the team's 7-1-1 start to the 2018-19 season. What is even more impressive is the 6-0-1 mark on the road for a team that is still finding its identity on the ice.
"This has certainly been the best start for a team here in my memory," said Dickinson. "I haven't been able to confirm with our sports information group about it being the best start ever, but no one else around the program can remember our getting out of the gate so quickly. It's great for the team and maybe a little bit surprising considering what we graduated last spring. We knew we had two quality goaltenders and a strong defensive group coming back. The question was how we were replacing some of the offensive firepower that graduated, and so far, the young guys have stepped up and the depth has given us balance."
One freshman who has stepped up has been Mitchell Parsons, who currently leads the Golden Eagles in scoring with 10 points in his first nine games, including five goals. Parsons also has three power-play goals on the young season, and he has found a home on a line with captain Connor Hutchins and has adjusted to the college game quickly.
"Mitchell is a unique guy," noted Dickinson. "He is a very confident kid. He has great vision and is very quick and has been a terrific complement to Connor on that line. Connor approached me after preseason skates to talk about who he would like to see on his line, and he very quickly brought up Mitchell as a guy that he thought be a good fit. They have gelled nicely, and that was so obvious on a big goal last weekend at Castleton where Connor quickly transitioned the puck into the offensive zone and Mitchell knew exactly where to go for the pass and buried the puck for a big goal that gave us a 2-0 lead in the second period of that game. They have been very effective together, and it is great to see a freshman stepping up to contribute offensively so early in the season."
While the young guns have been a pleasant surprise for Dickinson, so too has been the play of a senior who has transformed his game this season to backstop Brockport to a stingy 1.32 goals-against average per game. Jake Moore had seen limited action in his previous two seasons playing behind Matt Schneider in goal. This season, the senior has been lights out in his first half-dozen starts with a .969 save percentage and a ridiculous 0.82 goals-against average.
"Jake has been a work in progress over his career," stated Dickinson. "He played in the USHL at an early age and probably had visions of being a D-I goaltender. That didn't come to fruition, and he came here and split time with Matt, who ultimately took the starting job. He has done some terrific work on his psyche with our sports psychologist and has translated that into being a very confident and quiet and steady netminder on the ice. He is always in the right position and has played outstanding for us since his first start of the season, where he shutout King's. He was exceptionally good at Plattsburgh, where he gave us a chance to win in a tough place and preserved a tie with a last-minute save on a breakaway. It is great to see him in this place and playing so well and being so comfortable on the ice."
Brockport has flourished on the road so far this season, having played just two of the first nine games on home ice. The young Golden Eagles have come together in their time away from campus, and that has created a tight group off the ice as well. The road to the semester break sees two more challenging road contests starting with perennial SUNYAC power Oswego on Friday night.
"Friday is another great test for this team against another tough opponent," said Dickinson. "Oswego has a great facility, always a big crowd, the Jumbotron, and it will be their annual Teddy Bear Toss event. It will be a different experience on a big 200 by 90 sheet, but I know our guys will be ready to play. I think our speed will help us, and hopefully we can limit their grade A chances and take advantage of any power plays we get. If we keep it close, we will have an opportunity to pick up a win in the third period. It should be a great game."
Brockport wraps up the semester with Cortland at home on Saturday before the final weekend at Geneseo and home against independent Anna Maria.