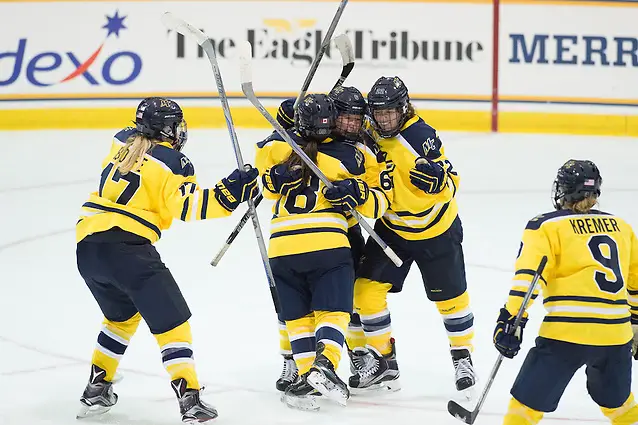 The Merrimack women's hockey team started competing as a Division I program in the 2015-16 season. Just a year later, they qualified for the Hockey East playoffs. There were setbacks last season, but with the inaugural class of players competing in their senior season, the Warriors currently sit in fourth place in their conference. They're in the top 10 of the PairWise and have just three losses and one of the best goalies in the country.
It's a good place to be for any program, much less one that's in its fourth year of competition. Expansion has been a huge topic of discussion this season, so it seems only right to talk about starting a program from scratch with Merrimack coach Erin Hamlen, who has more or less created a blueprint for how to build a program and find success early on.
Without a doubt, Hamlen said the most important key to finding success sooner rather than later is resources. Her team would not be where it is right now if Merrimack hadn't provided her, and then her staff and the student-athletes, with massive amounts of support, both financial and institutional. If a university isn't prepared to do that, they shouldn't be looking at adding a team or moving from one level to another, she said.
At Merrimack, that meant starting to build the program two years before they'd first take the ice as a Division I team. According to Hamlen, she also had tremendous support and complete buy-in from both University President Christopher Hopey and Athletic Director Jeremy Gibson.
Hamlen had a full roster's worth of scholarships available from the get-go, and she and another staff member were on the road, recruiting players two years before they began competing in the NCAA. There was significant financial support given immediately, not only supporting the coaching staff, but in the recruiting and scholarship budget that Hamlen said allowed her to build a full roster quicker and with more talented players than if she had started with just a few scholarships and worked up to a full roster's worth over time.
From a coach's perspective, and depending on the day, building a program from the ground up is both a fabulous clean slate and a huge risk with no guidelines. Hamlen said she had many, many spreadsheets to help keep organized and focused on the hundreds of tasks that needed to be accomplished, both short- and long-term.
"You have to be a little more strategic in your recruiting when you're a new program. You can't necessarily always get those elite players, so you go after a different level. And that level could be just as good by the time they hit their third year of college hockey," said Hamlen.
Her history of goaltending, development, scouting, and mentoring put her in a good position to spot who those players are and convince them to build something brand-new with her. Many of those players are now the Warriors' seniors, and Hamlen feels a bit like she's a senior right there with them, having grown and matured over the course of their first few seasons.
"I firmly believe that the way Merrimack allowed me to build this program was truly the best way and the way that has made our program successful in a short period of time," she said. "If we only had a year, we wouldn't be in the place we are right now. A year to build a program is a challenge. It's doable, but it takes a lot of longer to get to a competitive state. … To start from scratch and not have the ability to recruit two years out, it would have been a 15-year program by the time we got on track."
All of that not only set the Warriors up to be successful early on, but also put them in a position to build for the future.
Hamlen is arguably the perfect person to have taken on a brand-new team. She led Division III University of New England through their inaugural season and did the same for the CWHL Boston Blades during their first season. Before that, she served as a mentor to Team China and Team Japan, helping them improve their development programs at the U-18 level, and worked with USA Hockey as a goaltending scout and coach. That all came after she was the starting goaltender for Team USA from 1992-97 and 1999-2000, earning USA Hockey Women's Player of the Year honors in 1994.
Though she says she never wants to do it again, her background made her uniquely prepared for the challenge of building the Merrimack program from the ground up.
"This is one of the hardest things I've ever done," she said. "It's not for the faint of heart. I'm stubborn. I'm demanding. I have a lot of qualities that probably helped at the beginning. And then I hired the right people. It takes someone who doesn't accept 'no' a lot, but also is able to take some risks and really just put themselves out there and not be afraid of what might happen if things don't go well. I made a thousand mistakes. Ultimately, when you do more right than wrong and when you do the right thing by the athlete, things work out."
Having gone through the process herself, Hamlen is concerned about the number of new programs over the past few years and possible future expansion.
"It depends on what you want in the end," said Hamlen. "If you want to be a successful program that's going to win hockey games within the first five or six years, this is how you do it. There's a blueprint now, and I think we created that blueprint. It's not a credit to me, it's a credit to our school and what Merrimack has done to really provide me with what I needed to get it done. I would like to see programs expand only if they got a similar level of support as we did, where we knew we could be competitive with what we were given in terms of time and resources."