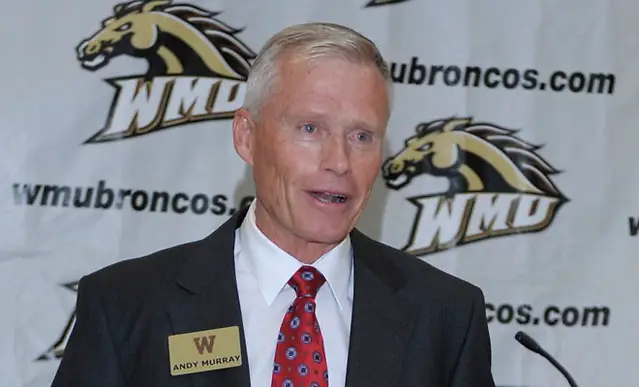 Considering Western Michigan has won three of its last four games, it's easy to wonder whether the Broncos' bye weekend over Thanksgiving came at a bad time.
That doesn't have to be the case, though, and it doesn't appear so here.
More than a week removed from Western's first-ever road sweep of then-No. 11 North Dakota, Broncos coach Andy Murray spoke Monday about his team's practices between returning from Grand Forks and starting to prepare for this weekend's home series against nonconference foe Niagara.
WMU's players got time off over the recent holiday before practicing last weekend and this Monday.
"We're mandated to give them a day off (Tuesday) under NCAA rules, which we'll do, and we'll come back, so we'll have had eight practices and certainly this week our practices have been structured in terms of playing our opponent this weekend, the things that they do and things we certainly want to utilize on our side of the game," Murray said.
"Some great energy in practice, some real hard work (and) also worked on some things that we hadn't had time to work on for a few weeks with our busy game schedule.
"We're excited about the opportunity to play again and obviously we set a standard for the way that we want to play at North Dakota, and the responsibility of the players now and the coaching staff is to make sure this team plays to standard."
Some standard.
After splitting at home with Omaha on Nov. 9-10, Western won 2-0 at UND on Nov. 16 despite being outshot 32-19. Josh Passolt and Colt Conrad scored two third-period goals 5:59 apart on assists from Hugh McGing, and after making 28 saves over the first two periods, senior goaltender Trevor Gorsuch made four more in the third to cap his second shutout of both the season and his collegiate career.
WMU was outshot again in the rematch, 32-26, but scored six consecutive goals in a 6-2 win. Passolt had another good night as his two goals bumped his season total to seven, one fewer than he scored in 35 games as a freshman in 2017-18.
Conrad came up big again and earned the NCAA's No. 2 star of the week spot as a result. His empty-netter in the weekend opener gave Western the upper hand in its series at Ralph Engelstad Arena before he recorded a career-high five points (one goal, four assists) in the rematch. He was also named the NCHC's offensive player of the week.
That sweep bumped WMU to 6-6-0, and while nobody will say the Broncos are their own finished product at this point, they could be on many more radars soon. Strong showings this weekend wouldn't hurt against a Niagara team (7-6-1) for which Murray wasn't short on praise.
"Coach (Jason) Lammers has done a great job with the Niagara program," Murray said. "He's got the type of players in there now that he wanted. They play a very structured game where they don't get caught below the puck. I'm really impressed with that.
"Very quick on transition. They've got some balanced numbers over their offensive units. They've got three lines that put up points and certainly an energy line on their fourth line and it looks like a veteran line they start every game off with that gives them some defensive stability.
"They're a formidable opponent and they've had a great season. They've been rolling and happened to lose their last game against Army, but up to that point, they'd been playing really good hockey and we're expecting a very stiff challenge."