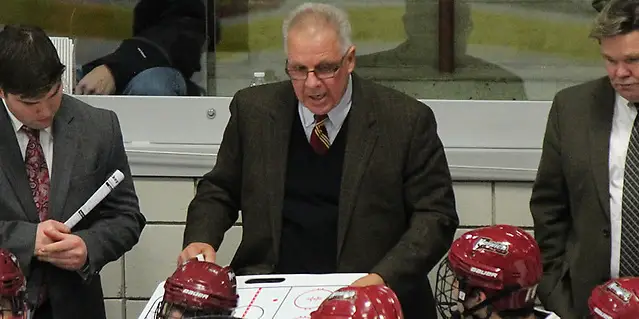 Coming up on Dec. 7, Paul Flanagan and Mike McShane will be recognized as the newest Legends of Appleton, joining inaugural inductees Brian McFarlane and the late Bill Torrey, who were honored last October.
The Legends of Appleton program was launched by St. Lawrence in the fall of 2017 to celebrate inductees for their play, commitment and impact on the St. Lawrence hockey programs and on the hockey world.
Born and raised in Canton, N.Y., Flanagan attended every Saints game he could and dreamed of one day playing for the team.
He not only had the opportunity to play for the Saints, but also served as a captain during his senior season in 1979-80.
After graduation, Flanagan worked as a teacher and coach at Canton Central School for six years before Joe Marsh offered him a job as an assistant coach with the Saints, who were fresh of a run to the national championship game.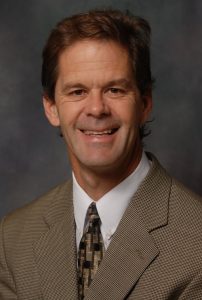 He spent 11 seasons as an assistant for the men's program before taking over as the head coach of the women's hockey program for the 1999-2000 season.
In his first year, the Saints went 18-15-1, before exploding in Year 2 for 24 wins, advancing to the inaugural women's Frozen Four and finishing as runner-up in the national championship game. That 2000-01 women's hockey team was inducted into the St. Lawrence Athletic Hall of Fame in 2017.
Flanagan guided the Saints to five straight NCAA tournaments from 2004 to 2008, including four straight Frozen Fours from 2004 to 2007 and finished with a record of 230-83-24 at St. Lawrence.
He left after the 2007-08 season to start the Division I women's program at Syracuse, where he still coaches today.
For McShane, after inheriting a team that had finished the previous year at 6-26, he finished the 1980-81 season 15-16-2. The Saints then qualified for the ECAC playoffs in the second year and went on to reach the NCAA tournament in his third season after finishing with 23 wins.
In his five seasons with the Saints, McShane posted a 93-65-6 record. He also left behind his successor, Marsh, and several classes that were instrumental in the Saints' run to the 1988 national championship game and won back-to-back ECAC tournaments in 1988 and 1989.
After a nine-year stint as head coach at Providence, McShane moved to Norwich, where he had remarkable and sustained success. In 23 years under McShane, the Cadets won four national championships, 17 consecutive NEHC regular-season titles (1999-2015) and 19 overall, earned 16 NCAA tournament appearances and reached 12 Frozen Fours. McShane was named NEHC Coach of the Year 11 times and is the winningest coach in Norwich history with a record of 497-130-38.
McShane retired from coaching following the 2017-18 season.
The induction ceremony for Flanagan and McShane will take place in conjunction with the women's and men's hockey games against Clarkson at Appleton Arena on Dec. 7. The women's game begins at 3 p.m. EST with the men's game against the Golden Knights following at 7 p.m. Flanagan and McShane will be formally recognized with an on-ice ceremony in between the first and second periods of the men's game.