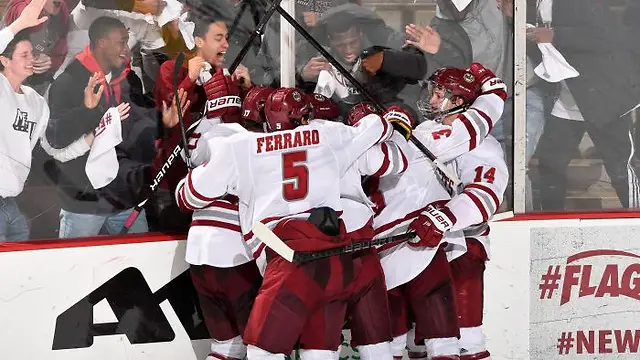 AMHERST, Mass. — It took a while for Massachusetts to give the home crowd something to cheer about Saturday night, but when it did, the Mullins Center erupted.
The top-ranked Minutemen scored three third-period goals to beat No. 8 Quinnipiac 3-1 before a crowd of 8,412. The attendance was a new program record and the first time in 18 years that the Mullins Center sold out for a hockey game – and the first time UMass hosted a game as the No. 1 ranked team in the country.
"It was something special — you kind of got goose bumps walking out there and seeing all those people with the white towels," said UMass senior Ivan Chukarov, whose first goal of the season tied the game early in the third. "It was a sight to see. It was something that we hadn't been used to in a while."
Jacob Pritchard scored the game-winning goal for the Minuteman later in the period. That goal was set up by an aggressive play from Philip Lagunov, who forced a turnover behind Quinnipiac goalie Keith Petruzzelli (37 saves) and then found Pritchard near the crease at 8:37 to send the crowd into an uproar.
Here's how we took the lead courtesy of @jpritch91

Currently still 2-1 with 7:43 to go in the third#NewMass | #Flagship 🚩 pic.twitter.com/DNH9Fg9vXz

— UMass Hockey (@UMassHockey) December 9, 2018
"That's great college hockey and it's great to see it in this building with 8,000 people," Massachusetts coach Greg Carvel said. "It doesn't get any better than this. You beat a really good team at home in front of a full house. I'm just real happy for my kids. They deserve all of the good things that are happening to them."
Bobby Trivigno capped the scoring with an empty-net goal at 19:34.
Chukarov's goal snapped a five-period scoreless streak for the Minutemen, who were shut out at Quinnipiac Friday, and couldn't score in the first two periods Friday despite throwing a barrage of shots at Petruzzelli and the Bobcats defense.
"It was a bit frustrating because we hadn't scored a goal in five periods, but I think we felt like momentum was coming our way," Pritchard said.
Carvel said the message on the bench was positive despite the lengthy goal drought.
"We kept telling our players just keep pounding the rock, keep going to the net and eventually it will break," said Carvel.
Chase Priskie gave Quinnipiac a 1-0 lead at 8:24 in the second period, snapping a shot from the left circle past Matt Murray (27 saves) with the Bobcats on the power play.
But that was all that Quinnipiac could muster, as it had trouble establishing a presence in the offensive zone.
"We had no 'O' zone time at all," Bobcats coach Rand Pecknold said. "There was a lot of panic in our game through the neutral zone, we'd just throw it away and change. We need to play offense."
Despite the setback, the Bobcats enter the holiday break with a 14-3-0 record after winning 16 games all of last season.
"We're a young team and a lot of that youth is kind of permeating upward, so at times we've got a lot of panic in our game, and we had that tonight," Pecknold said.
The loss means that Pecknold will head into the holiday break with 499 career wins. The Bobcats open the second half of the season Dec. 29 against Colgate.
Massachusetts ends its first half Tuesday against Yale at the Mullins Center.
"That's a huge bonus," Carvel said of getting a win in front of the record-setting crowd. "You finally get them out and you want them to come back. That was a really entertaining game. I hope that the fans respect how good of a team we just beat and how hard it is to beat them."
No. 2 St. Cloud State 7, Omaha 1
Blake Lizotte scored twice to lead SCSU to a sweep over Omaha.
Robby Jackson, Patrick Newell, Jack Ahcan, Easton Brodzinski and Kevin Fitzgerald also scored and David Hrenak finished with 20 saves.
No. 3 Minnesota State 6, Alaska Anchorage 0
Marc Michaelis potted two goals and added an assist as the Mavericks swept the Seawolves.
Dryden McKay made 12 saves for the shutout.
No. 4 Minnesota Duluth 1, Western Michigan 1
Hugh McGing scored for WMU, while Noah Cates tallies for UMD.
Trevor Gorsuch made 38 stops for the Broncos; Hunter Shepard 22 for the Bulldogs.
No. 9 Penn State 9, No. 5 Notre Dame 1
Alex Limoges and Alec Marsh each scored two goals as the Nittany Lions hung nine unanswered goals on the Fighting Irish after Cam Morrison opened the scoring for Notre Dame 3:35 into the first period.
Peyton Jones stopped 26 shots for Penn State to gain the series split.