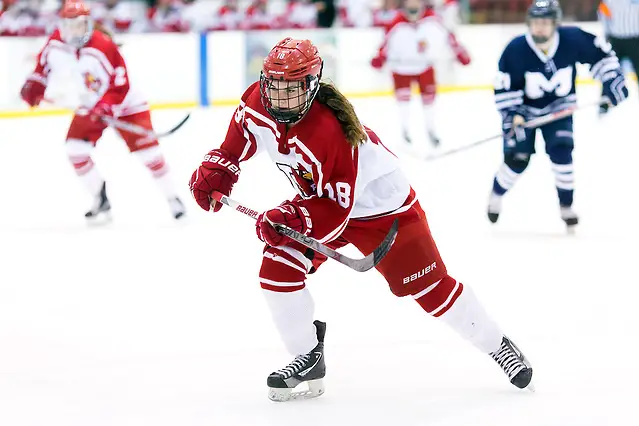 No. 2 Plattsburgh State versus Trinity: Plattsburgh State 5-0
This weekend, Plattsburgh demonstrated again why they are ranked first defensively. The Cardinals are extremely hard to score against. If Plattsburgh continues to play as well as they have been, they should remain ranked second. Without a doubt, the Cardinals will be waiting in the wings for No. 1 Adrian to make a mistake so they can take the first-place ranking.
Lake Forest versus Aurora: Lake Forest 7-0
The Foresters got a chance to make up for the two ties against Aurora a few weeks ago, and that is exactly what they did. Lake Forest played their most consistent game this year, scoring equally among all three periods. The Foresters are headed into their winter break on a positive note, which should carry them into the second half of the year when they take on Colby and Bowdoin.
No. 3 Elmira versus Amherst: Elmira 2-1; No. 3 Elmira versus Williams: Williams 4-2
Elmira had close games with two NESCAC opponents, Amherst and Williams. The Soaring Eagles barely came out with the victory against Amherst and were not as lucky against Williams. Elmira has struggled in games since the Panther/Cardinal Classic and has yet to get their feet back under them. The loss to Williams could bump Elmira down to fourth or fifth in the rankings.
No. 5 Wisconsin-River Falls versus No. 9 Gustavus Adolphus: Wisconsin-River Falls 4-0
Wisconsin-River Falls defeated Gustavus for a second time this season in the Gusties' home rink. However, this time the game wasn't as close as their earlier win. Wisconsin-River Falls deserves to continue to move up in the rankings. If they beat St. Thomas on Wednesday Dec. 12, without a doubt they should be ranked in the top three.
Connecticut College versus Manhattanville: Connecticut College 3-0
Manhattanville has been hot lately, but could not continue their undefeated streak as Connecticut College handed them their first loss of the year this past Saturday. Connecticut College has come close to defeating two ranked teams earlier this year, demonstrating that they are not to be taken lightly. Both teams are doing well in their respective conferences, which should make playoffs extremely entertaining.