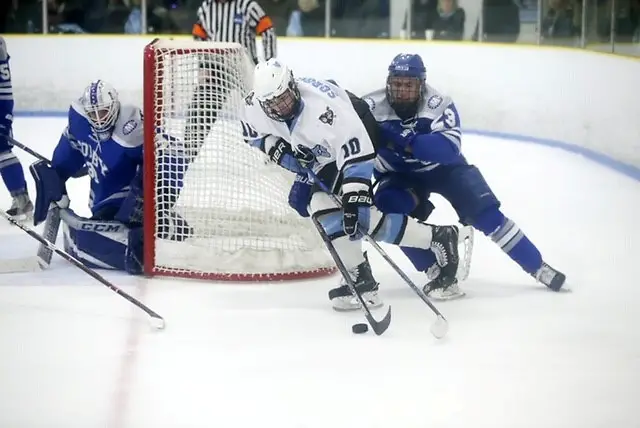 Well, if you were a ranked team in the East other than Geneseo and Oswego, it wasn't a particularly good weekend for most. Plymouth State, Salve Regina, Fredonia, Massachusetts-Boston, Trinity, and Hobart all suffered losses this weekend, once again proving the depth and talent across the region. Here are some of the surprising highlights from the weekend.
CCC
No. 5 Salve Regina traveled west to play a two-game set at No. 7 Adrian, and the Seahawks were swept by 2-0 and 6-3 scores. Kevin Entmaa outdueled Blake Wojtala in goal with a 40-save shutout on Friday, while Dino Balsamo recorded a hat trick in Saturday's win for the Bulldogs.
Endicott traveled to No. 13 Plymouth State on Thursday, and the Gulls knocked the Panthers from the ranks of the unbeaten with a convincing 8-2 win. Ross Olsson and Daniel Kucerovy each picked up four points, and Josh Bowes added a pair of goals in the win. After trailing 2-1 at the end of the first period, Endicott scored seven unanswered goals.
Curry added to the upset parade by taking down No. 4 Massachusetts-Boston, 4-2. Zachery White scored twice, and Justin Ketola made 25 saves in the win that moved Curry to 6-4-2 on the season.
Independents
Canton downed No. 14 Fredonia, 4-2, on Friday as Jake Mayette opened and closed the scoring for the Kangaroos in the upset. On Saturday, the teams skated to a 1-1 overtime tie. Todd Schauss and Sean David traded goals in the second period for the only scoring as the Roos dropped the Blue Devils to 8-2-2 on the season.
Anna Maria was also in action over the weekend, suffering a 4-0 loss at Brockport. The Golden Eagles needed two goals from Ethan Solat early in the third period to break open a tight game that saw shots favoring the home team, 32-16.
MASCAC
It was a tough week for the MASCAC schools in nonconference play with Massachusetts-Dartmouth being the bright spot in a 5-3 win over Franklin Pierce on Tuesday night. The Corsairs overcame 2-0 and 3-2 deficits, with Eric Bolden netting the game-winner and Jonathan Ruiz adding insurance with a late empty-net goal.
NE-10
Despite being outshot, 40-22, Stonehill defeated Wesleyan 4-3 in overtime, with Ryan Meade picking up the game-winner in extra time. Jack Hall posted a goal and two assists, while teammate Cameron Wright added a goal and assist. Goaltender Chase McKay made 37 saves to earn his first win of the season.
NEHC
No. 12 Hobart fell victim on Friday to Michael Levine's 45 saves as Suffolk downed the Statesmen, 5-2. Mikhail Bryan led the Rams' offense with two goals and two assists, while Tommy Bishop (two goals) and Jack Kelly each added three points in Suffolk's second NEHC win of the season.
New England College outshot Norwich, 50-30, margin but eked out a 2-1 win over the Cadets on Saturday. Connor Inger and Nikita Pintusov scored for the Pilgrims, while Anthony Pupplo made 29 saves for the win.
NESCAC
Williams moved to the top of the conference standings with wins over Amherst and Hamilton. Wyatt Glover scored a pair of goals in Friday's 4-2 over the Mammoths. On Saturday, Tyler Scott and Max Fuld scored late to break open a tight defensive battle and help Cosimo Lazzarino to his first win of the season for the Ephs.
Tufts downed Bowdoin on Friday, 6-1, with forward Tyler Scroggins assisting on five Jumbos goals. On Saturday, the offense went quiet as Colby completed their weekend sweep in style with a 2-0 win over Tufts. Goaltender Andrew Tucci picked up his second shutout in as many nights after blanking Connecticut College on Friday, 8-0.
SUNYAC
Geneseo, behind Devin McDonald's third consecutive shutout, downed Brockport to stay atop the conference standings. Conlan Keenan picked up two goals to give him 12 on the season for the Knights.
Oswego swept games from Potsdam and Plattsburgh, with Josh Zizek leading the offense for the Lakers. On Friday, Zizek recorded a hat trick and added an assist in a 5-2 win over the Bears. On Saturday he picked up two assists in a 4-0 win over the Cardinals.
"I thought both teams played well," said Oswego coach Ed Gosek. "I thought Plattsburgh played extremely hard, and it was a smart game. They didn't give you a helluva lot — you had to earn everything you got. I thought the same way. I thought the chances we gave them, they had to earn. It wasn't like there were a lot of blatant mistakes by either team. I thought it was a tight checking game. I thought it was as complete a 60 minutes we have played all year."
UCHC
Utica moved to the top of the conference standings with a two-win weekend. In a great game decided by special teams, the Pioneers battled Wilkes to a 1-1 draw through 56 minutes of play as Regen Cavanaugh and Tyler Barrows traded power-play goals. Cavanaugh wasn't done on the night, as he scored his second of the game with the man advantage and just four seconds remaining on the clock for the 2-1 win. On Saturday, Gregg Burmaster scored a pair of goals, and Sean Dickson picked up the shutout in a 3-0 win over King's.
On Sunday, Manhattanville knocked off No. 10 Trinity, 3-2. Matt Lippa, Braeden Cross, and Cory Anderson gave the Valiants a 3-1 lead that Tyler Feaver made stand up for the win. Feaver made 22 saves, and Manhattanville moved to 7-2-2 on the season.
Three Biscuits
Josh Zizek, Oswego: Zizek scored a hat trick and added an assist in the Lakers' 5-2 win over Cortland on Friday. He also added a pair of assists for a six-point weekend in Saturday's 4-0 win over Plattsburgh.
Tyler Scroggins, Tufts: Scroggins had a hand in almost every Tufts goal, picking up five assists in the Jumbos' 6-1 win over Bowdoin on Friday.
Adam Tracey, Wentworth: Tracey picked up five points with three goals and two assists in the Leopards, 6-3 win over St. Anselm on Friday night.
With just a very few games remaining on the schedule in December, teams now have a bit of a break for finals, the holidays, and getting ready for a big second-half.
Thanks to Russell Jaslow for game coverage and quotes from the Plattsburgh versus Oswego game.