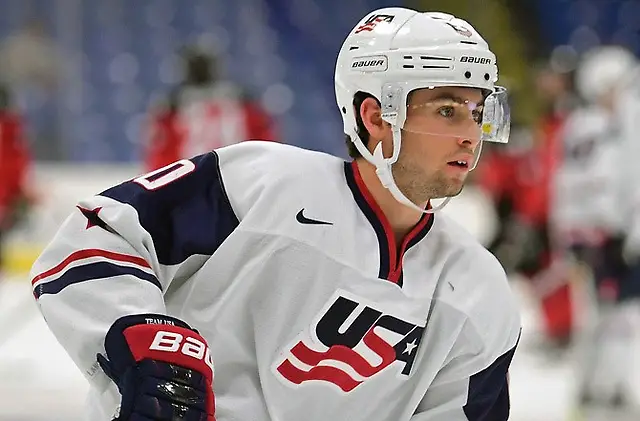 It's that time of the year where the best junior-aged players suit up for their countries at the IIHF World Junior Championship, which will take place in Vancouver and Victoria, British Columbia, from Dec. 26 to Jan. 5.
Here's what to watch for at the event when it comes to the NCAA connections:
1. Will Barratt's hot start continue at the international level?
It's been quite the season for Penn State sophomore forward Evan Barratt, who has 29 points at the holiday break. Will that continue at the World Juniors or with the firepower on the American roster, will he be asked to take more of a defensive role? He was on the top line for the Americans' first exhibition game against Russia, but Team USA didn't dress players who played in last year's WJC.
2. Anderson, Samberg bring championship pedigree to American blue line
It's often said that defense wins championships and the Americans have two defensemen who were a part of Minnesota Duluth's title run last spring in Mikey Anderson and Dylan Samberg. They are both returning players for Team USA as they were in last year's tournament in Buffalo. Anderson has three goals and four assists in 16 games this season for the Bulldogs. He had one assist in seven games at the WJC last year. Samberg has two goals and four points in 15 games. He was solid last year at this event with a goal and three helpers in seven contests.
Minnesota Duluth leads all college programs with three players on the team as Noah Cates is one of the 13 forwards named to the team
3. Can Commonwealth Ave rivals reignite their chemistry?
In a short tournament, chemistry is ultra important as coaches try to pair up current teammates or players that have played together in the past. For Team USA, it will be putting Boston University's Joel Farabee and Boston College's Oliver Wahlstrom together on a scoring line. The two lit it up in the spring at the IIHF World Under-18 Championship. Wahlstrom had seven goals and two assists while Farabee had four goals and four assists. They were centered by Jack Hughes.
All four Beanpot schools are represented on Team USA's roster.
4. No USA vs. Canada game in group play
For the first time in a long time, the traditional New Year's Eve matchup between the two North American powers will not take place as the Canadians, with their gold medal win a year ago, is placed in Group A in Vancouver. The Americans, who finished with the bronze medal in Buffalo, is in group B in Victoria. This year, Canada will take on Russia on New Year's Eve while the Americans will take on Finland.
5. Hughes looks to cement No. 1 status for 2019 NHL Draft
Team USA will be led by 17-year-old forward Jack Hughes – the younger brother of Michigan defenseman Quinn Hughes, who will also be on Team USA. The younger Hughes is projected to go No. 1 in next year's NHL draft. College hockey fans may not get the opportunity for the younger Hughes to suit up for their favorite college team as he looks to be the first player to go straight from USA Hockey's National Team Development Program to the NHL. This season, he has been a point-per-game player with the NTDP versus Division I schools with two goals and 11 assists in eight games. In all competitions (college, USHL and international games), he has 10 goals and 38 assists in 25 games.
6. BU's Bowers, Denver's Mitchell to suit up for Canadians
This a great tidbit from BU's SID Brian Kelly as Shane Bowers becomes the first Boston University forward to wear the maple leaf. The other three Terriers to suit up for Canada at the WJC have been defenseman Adrian Aucoin (1993), Brendan Hickey (2016) and Dante Fabbro (2017, 2018). Bowers has five goals and eight assists in 15 games for the Terriers this season. In pre-tournament games, he centered the fourth line with Joseph Veleno and MacKenzie Entwistle on his wings.
Defenseman Ian Mitchell is on the third pairing with Ty Smith. With the Pioneers, Mitchell has two goals and nine helpers in 14 games.
It's the third straight year that Canada has two or more NCAA players on the roster.
7. UConn playing Czech-mate
The Czech Republic will have a Connecticut flavor to its roster with UConn's leading scorer Jáchym Kondelík (goal, 13 assists) on the team. UConn goaltender Tomas Vomacka, who recently wore the Czech Republic sweater at the World Junior A Challenge, wasn't named to the WJC team. The Czechs also have UConn recruit Matej Blümel, who has 14 goals and 17 assists with the USHL's Waterloo Black Hawks, and one-time Miami recruit Matej Pekar on the team. They will be led by a couple players who have played in the AHL this year in Filip Zadina, Martin Kaut and Martin Necas.
8. Finland boasts college flavor on its roster
Two freshman forwards – Sampo Ranta of Minnesota and Aarne Talvitie of Penn State – look be impact forwards for Finland. Ranta has four goals and three assists for the Golden Gophers in 15 games while Talvitie has five goals and 11 assists in 17 games for the Nittany Lions. One-time Boston College recruit Eeli Tolvanen is expected to be one of Finland's go-to guys along with Aleksi Heponiemi, Rasmus Kupari and Kaapo Kakko. UMass goalie Filip Lindberg is one of three goalies vying for playing time as he's 3-2 with a 1.99 GAA and a .925 save percentage with the Minutemen this season.
9. St. Ivany, Madden, Miller play their way onto Team USA
Yale's Jack St. Ivany, Northeastern's Tyler Madden and Wisconsin's K'Andre Miller were three players that weren't invited to the Summer Showcase event in Kamloops, British Columbia, in late July and early August to evaluate potential players for the American team.
With the Bulldogs this season, St. Ivany has two goals and six assists in 12 games.
He will be joined by teammate Phil Kemp on the blue line.
Madden is Northeastern's second leading scorer this season with six goals and nine assists in 15 games. Northeastern teammate Cayden Primeau will be one of the three American goalies.
This isn't the first time St. Ivany and Madden have put on the USA sweater as both were teammates at last season's World Junior A Challenge.
Miller has been outstanding for Wisconsin as the freshman defender has four goals and 13 assists in 18 games for the Badgers.
10. Colgate gets to see a future Raider
Offense has been hard to come by for Colgate this season as the Raiders are tied for last in goals with Alaska Anchorage. Each team has just 19 goals this season.
For Colgate, the team brass will be paying attention to Switzerland as incoming freshman Matthew Verboon is expected to suit up for the Swiss. Verboon has been playing in the BCHL this season with the Salmon Arm Silverbacks and has 13 goals and 16 assists in 31 games in his first year in North America. This will be the second time he has donned the Swiss sweater as he was on the World Under-18s team last spring.