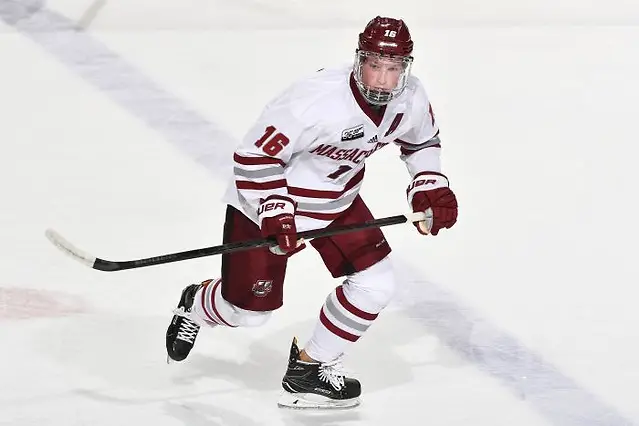 We've reached the halfway point in the Hockey East season, so what better time to look back at some of the biggest surprises from the first half across the league:
1. UMass
This needs no more than a one-word title. Sure, many thought that this year's UMass team that returned both Cale Makar and Mario Ferraro along with a handful of other talents would be a strong competitor. But I dare anyone to raise their hands if in September you believed this team would be the top team in the USCHO PairWise Rankings come the holiday break.
Put your hands down, you liars.
Honestly, I'm not ever sure head coach Greg Carvel believed this could happen. After a weekend sweep of Providence in November, Carvel said his team didn't deserve a No. 1 national ranking. When the Minutemen finally did creep up to the top spot in the USCHO.com poll, it was short-lived as UMass split with Quinnipiac the following week.
The optimism around the program, though, is well-deserved. Crowds at the Mullins Center have been electric, and that should continue.
But even I'll be a little cautiously optimistic for the Minutemen. UMass won a lot of close games that could've gone either way. They also had a unique schedule in November and December and didn't have to play games on consecutive days until the Quinnipiac series. That will change come January when they play every single Friday and Saturday night.
Still, this is the Hockey East feel-good story of the first half. And the folks in Amherst hope it keeps going.
2. Boston College, Boston University combined 0-9 start to the season
Maybe we knew there could be some growing pains at Boston University as the Terriers had to get used to a first-year head coach in Albie O'Connell. And possibly like last year, Boston College needed some time to gel (though not graduating a senior last year leaves little excuse).
But it was still surprising to see two of the league's perennial powers – BC and BU – to combine to start the season 0-9.
BC feels like it is getting its legs under it heading to the break. The Eagles were 6-1-2 after their 0-5 start. But BU still seems to be struggling with a 6-8-2 mark (though 5-5-2 in Hockey East places them right in the middle of the pack).
Both teams still have a lot to prove in the second half (and a lot of work to do to earn an NCAA bid), but expect both to be more competitive when they return from break.
3. Northeastern's reload and refresh allows Huskies to remain dominant
When you lose arguablly the best offensive trio in college hockey all in one offseason like Northeastern did with the graduation of Nolan Stevens and Dylan Sikura and the early departure of Hobey Baker winner Adam Gaudette, it's justifiable for pundits to lower their expectations.
But the Huskies proved each and every one of those pundits wrong in the first half, finding ways to score goals and win games while posting a 10-3-1 mark overall and a 6-1-1 record in Hockey East.
The one silver lining entering the year was the return of Cayden Primeau in net and, to date, he's delivered with a 2.39 GAA and a .918 save percentage.
The Huskies still have the toughest part of their schedule ahead of them, include two weekends in mid-January that will feature series against UMass and Providence.
4. The nonconference woes
I am beating a bit of a dead horse here as my colleague Dave Hendrickson bemoaned the ongoing struggles of Hockey East against nonconference opponents in one of the last columns of the first half.
But I think this dead horse might need one more kick.
First, there is a little bit of good news. A few nonconference wins late in the first half climbs Hockey East's record above .500 (.507 to be specific). And there will be a good number of opportunities for member clubs to succeed in the opening week back as many are involved in nonconference games which, if won, could help the league significantly.
But to be at this point again, a season after struggling to get over .500 (.514) against the other conferences, makes it difficult to support the claims I hear from coaches around the conference often: that Hockey East is the best conference in the nation.
It's going to take a few more wins against the other leagues – and maybe another national title – to substantiate that claim.
5. Goal-scoring woes
This hasn't exactly been an offensively explosive year-to-date for Hockey East teams. In fact, just three out of the 11 teams (Northeastern, Massachusetts and Providence) ranked in the top 20 for scoring nationally.
Conversely, two teams – Vermont and Merrimack – rank in the bottom nine in goal scoring.
You can say this is because of goaltending, and that has some merit as six of the 11 Hockey East teams are in the top 20 defensively.
But when eight of the 11 Hockey East teams are averaging less than three goals a game in all games — not just Hockey East games — there seems to a need for more offense.