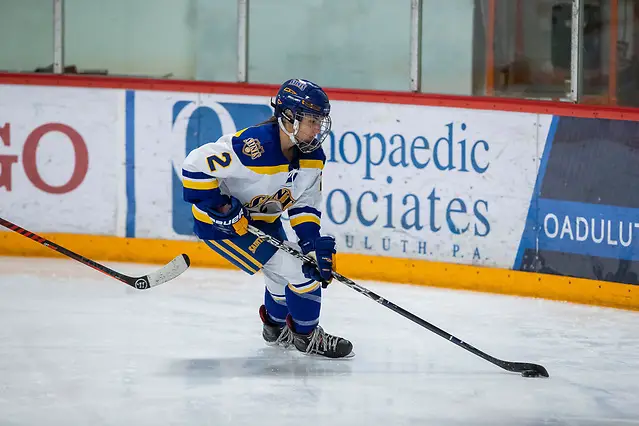 For the first half of the season, six teams from the West currently occupy spots in the top 10 rankings. Adrian has been ranked first since their trip out east, where they defeated two ranked teams. St. Thomas has been stellar defensively and remains undefeated. Wisconsin-Eau Claire, Gustavus Adolphus, and Hamline are very similar teams, and each time they have played each other it has gone to overtime, with one exception. Other teams are in the cusp of breaking into the top 10 and could take a spot from any one of these three teams.
MIAC
One could argue that this conference is one of the toughest in West. The MIAC currently has three members ranked in the top 10. Goals are hard to score against teams in this conference, especially St. Thomas. The Tommies have allowed five goals in 11 games, which is why they are second defensively in the country. Not the conference favorite in the season preview, St. Thomas has proven to be the top team to beat. Goaltender Mackenzie Torpy has been stellar for the Tommies. In 10 games, she has recorded a .31 goals-against average and .98 save percentage. Her efforts could help St. Thomas potentially be ranked in the top four at some point in the second half.
Gustavus Adolphus was predicted to be a top team in the MIAC. The Gusties have been playing well; however, they have not lived up to early expectations. They have played five games against ranked opponents and have only been able to come away with one victory. The Gusties will need to step it up in order to stay ranked. Amanda DiNella in her senior season has a 1.6 goals-against average and a .93 save percentage in 11 games. DiNella has been a main reason why the Gusties are still ranked.
The expected favorite from the season preview was Hamline. This team lost a lot of talent and is still trying to compensate. Hamline has defeated two ranked opponents and will not compete again against a high-caliber team until the end of the year. Bre Simon was an important player last year for the Pipers, scoring 31 goals. This year, Simon has taken on the scoring role again, leading not only her team but the country as well with her 2.1 points per game average.
Augsburg has struggled in the first half of the season. The Auggies had their opportunities where they could have upset ranked opponents and just weren't able to capitalize. The Auggies have not matched their preseason expectations. Hopefully, they can come back strong for the second half of the season. Despite having a slow start to their season, junior defenseman Nikki Nightengale is having her best season yet. Nightengale has scored six goals and assisted on three in 12 games.
Concordia (Minn.) is having a good start to its season despite playing in one of the toughest conferences. A key player for their team that they can credit for the successful start is defenseman Callie Fagerstrom. The sophomore has scored five goals and assisted on five in 13 games. With her help, the Cobbers could potentially climb in the MIAC standings. The MIAC is always a roller coaster to the end, and everyone will be watching again this year.
NCHA
The NCHA is different from past years. Newer teams to the conference are getting better, and past top teams have new head coaches with different styles. In the season preview, Adrian was predicted to be the top team in the conference, and they have met that expectation and more. The Bulldogs are ranked first overall in the country. Two seniors are having a great start to their season, which has contributed to Adrian's success. Forward Tory Harshman has scored seven goals and assisted on six. Her 1.1 points per game leads her team. Defenseman Shelly Czarnowczan is performing as the top defenseman for the Bulldogs with four goals and six assists in the first half. Adrian has a few tough games ahead against ranked opponents who will be looking to take the first-place ranking.
Lake Forest currently sits second in the NCHA standings. However, they have yet to play top performers such as Adrian and St. Scholastica. The Foresters are in for a tough second half of their season with much stronger opponents compared to who they have played so far. They will need to buckle down and work hard to remain second or vie for the conference title.
St. Scholastica is having a decent start to its season. The second semester will be a good test for the Saints as they play St. Thomas and Lake Forest. The Saints have great potential to land second in the standings at the end of the year if they can defeat the Foresters. In order for them to land first, they would need Adrian to lose at least three games. Rachel Anderson has already surpassed her rookie season in points and is leading the NCHA in points. Anderson has six goals and 14 assists in 12 games.
Adrian and Lake Forest have usually made the race for the conference title a toss-up; now with St. Scholastica in the mix, anything is possible.
WIAC
Although the WIAC is small with only four teams, it's extremely competitive. Two teams from this conference occupy spots in the top 10 rankings. Wisconsin-River Falls and Wisconsin-Eau Claire currently sit at number four and nine respectively.
Wisconsin-River Falls was predicted to be the conference favorite in the season preview, and they have yet to disappoint. The Falcons sit on top in the standings and defeated 2018 WIAC champions Wisconsin-Eau Claire. These two will meet again at the end of the regular season to determine who will claim the regular season WIAC crown. After a tremendous rookie season, Callie Hoff is having a strong sophomore year. She has scored 10 goals in 10 games and is the main driver behind this team's offense.
The predicted dark horse of the WIAC, Wisconsin-Superior, has been struggling and will need to pick up the pace if they want a shot at upsetting a top opponent during the playoffs.
Wisconsin-Eau Claire took a few losses that I bet they wish they could take back. Nevertheless, they are playing well and should be a contender to win the WIAC again. Three players for Wisconsin-Eau Claire have been playing well and deserve to be acknowledged. Forwards Elizabeth Bauer and Courtney Wittig have been great for the Blugolds. Bauer has a 1.6 points per game average and a key game-winning goal against Wisconsin-Superior. Wittig has had no trouble finding the back of the net. The senior has scored 11 goals and assisted on six in the past 12 games. Defensively, Holly Turnbull has been coming up huge for Wisconsin-Eau Claire. The senior and Wisconsin native scored four goals and assisted on 10 others. The Blugolds will need to continue playing well as they search for another bid to the NCAA tournament.
Midseason standout players*
Forwards: Bre Simon, Hamline; Rachel Anderson, St. Scholastica; Callie Hoff, Wisconsin-River Falls; Tory Harshman, Adrian; Courtney Wittig, Wisconsin-Eau Claire; Elizabeth Bauer, Wisconsin-Eau Claire
Defense: Holly Turnbull, Wisconsin-Eau Claire; Shelly Czarnowczan, Adrian; Nikki Nightengale, Augsburg; Callie Fagerstrom, Concordia (Minn.)
Goalies: Mackenzie Torpy, St. Thomas; Amanda DiNella, Gustavus Adolphus
* This is not an award or prediction of future awards.