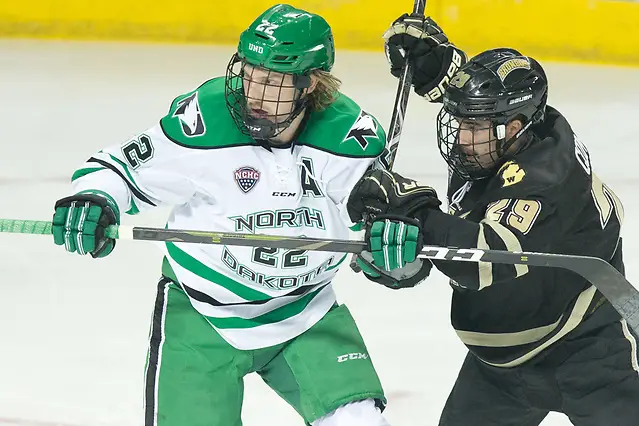 Before getting into team reviews, there is something worth noting about what has been arguably the best conference in college hockey since its inception: parity.
The coaches always make noise about how hard it is to sweep weekend series, but it truly is this season.
Aside from league-leading St. Cloud State, most teams are hovering near the .500 mark, with Western Michigan and Minnesota Duluth going 4-3-1 and Denver and Miami at .500 with 4-4 and 3-3-2 records, respectively. North Dakota is a smidge under .500 at 3-5.
It will make the second half a barn-burner.
Colorado College
Both Matthew and I expected more out of Colorado College than a middling 7-9-1 overall record and 2-5-1 record in conference.
Yes, four of those losses are to the top two teams in Minnesota Duluth and St. Cloud, but CC squandered leads in both St. Cloud games and wasn't in either Minnesota Duluth game. CC has been the picture of inconsistency, as shown by their three-game losing streaking going into the break, which includes a 2-1 loss to Vermont and getting swept by Arizona State. (Side note: Shout out to the ASU social media for epically trolling me on Twitter after said sweep.)
The Tigers are just not getting the scoring expected from their top line, and while Alex Leclerc is having his best season statistically, he is not stealing games for CC when needed.
We're going to say CC has been a disappointing surprise for the first half.
Denver
Denver is, ironically, the opposite of their in-state rivals.
With all their off-season losses, not much was expected of the Pioneers. Denver played most of its 14 first-half games at home, and that certainly helped, but Denver has been helped by two pleasant surprises: a much-better-than expected offense, which averages 3.36 goals per game, and the play of sophomore netminder Devin Cooley, who wasn't expected to be the starter but essentially stole the role with his play after freshman Filip Larsson went down in preseason with an injury.
Denver has been paced offensively by senior Jarid Lukosevicius and highly touted freshman Emilio Petersen. Liam Finlay has in particular lifted his game, tripling his point production from his sophomore campaign.
The Pioneers start the second half with four road games, and will have to better their 2-3-1 road performance from the first half.
Miami
Miami appeared to have taken the NCHC's preseason polls personally.
The RedHawks were listed last in the league's preseason media poll and was eighth on both of USCHO's NCHC columnists' lists. That was easy to justify considering Miami finished last season seven points adrift at the bottom of the conference standings, but coach Enrico Blasi's squad began its new campaign strongly, winning seven of MU's first nine games.
Miami hasn't had the toughest nonconference schedule, however — then-No. 4 Providence was the only ranked team the RedHawks faced before splitting with No. 11 North Dakota in the second weekend of November — and a tougher recent slate has seen MU fall back.
Miami has not won in 65 minutes' worth of hockey in its last four games, although three of those games did go to overtime and the RedHawks won in a shootout in their last game before the holiday break against No. 1 St. Cloud State.
The RedHawks will have their work cut out for them in January, especially against No. 10 Providence, No. 17 Western Michigan and No. 4 Minnesota Duluth on consecutive weekends. How they come out of that stretch, as well as a home series with Colorado College to end the month, could go a long way to determine whether Miami drops in the standings or remains competitive for a home-ice playoff spot.
Minnesota Duluth
When you return the entire defense and starting netminder from a national championship winning team, big things are expected, and the Bulldogs have certainly lived up to those expectations in their own end, posting the fourth-best team defense nationally and the top-rated penalty kill.
Duluth makes it very unpleasant for teams to attack. One surprise for Duluth has been its offense, which has improved over last season. Scott Perunovich has shown no signs of a sophomore slump, bettering his rookie of the year scoring with a 1.12 points per game average, while senior Parker Mackay is just under that at a point a game.
Duluth will be one of the favorites come the postseason.
North Dakota
North Dakota sophomore forward and Nashville Predators draft pick Grant Mismash has long been on USA Hockey's radar, having played in two IIHF World U18 Championships and helping lead the U.S. to U18 gold in 2017. However, he has been left off of both of Team USA's last two World Junior Championship rosters.
Last year's snub was perhaps more of a surprise, given that Mismash had 14 points in his first 17 games for UND. His production dropped off after that (eight points in UND's last 21 games), but so did much of the rest of the Fighting Hawks as they failed to grab a NCAA tournament spot for the first time since George W. Bush's second year in the White House.
Mismash's numbers have rebounded somewhat in the first half of this season (.53 points per game) despite what has been an up-and-down start for the Hawks. After opening the season with back-to-back splits against Bemidji State and Minnesota State, UND won its next five games before losing three straight.
More recently, though, UND is 4-2 in its last six games. Mismash had five points (two goals, three assists) in that stretch, and the Hawks are hoping that he'll use his second World Junior snub as fuel in the second half of the season.
That would be a welcome sight for a UND team that currently sits in sixth place in the NCHC.
Omaha
Omaha hopes the most disappointing part of its season is in the Mavericks' rear-view mirror.
A 6-3 home win over Miami on Nov. 3 snapped Omaha's 0-6-1 start to the season, the worst in program history. UNO did face a tough first-half schedule, including one nonconference set against then-No. 2 Notre Dame and two against an Arizona State team that is 14-6 overall and 4-2 against NCHC opponents.
All but two of UNO's games thus far were against teams currently ranked 18th or higher in higher in the PairWise Rankings. Three outright wins and a shootout victory in consecutive November games provided glimpses of what the Mavericks want to accomplish, but they're 0-3 in their last three outings and have been outscored 15-4 in that span.
There's still lots of time for UNO to turn its season around, but that won't be easy. After hosting Alaska Anchorage on Dec. 29 and Dec. 31, UNO's entire remaining schedule is made up of currently-ranked opponents.
St. Cloud State
St. Cloud State stormed through the first half of the season with a 13-1-2 record, earning the top spot in the polls at the break and sitting at second in the PairWise.
The Huskies are bidding to become the second team to repeat as Penrose Cup champions (North Dakota did it in the league's second and third season), and also become the first team to capture three league titles. St. Cloud had one of the best offenses in the country last season, so it's no surprise that they are second in scoring at the break.
What is a surprise has been the team's defensive performance. Last season, the Huskies were 16th defensively, giving up 2.52 goals per game, and 31st on the PK, succeeding at only 81 percent. This year, St. Cloud is third in team defense at the break, giving up only 1.81 goals per game, and is second on the PK, succeeding at 89.66 percent.
Western Michigan
A big reason Western Michigan sits in second place in the NCHC has been the play of senior goaltender Trevor Gorsuch.
Gorsuch's numbers are much improved so far this season. After conceding an average of 3.03 goals in 11 games in 2016-17 and 3.55 in four games last year, his GAA through 11 games this season sits at 2.13 and he boasts a .927 save percentage.
Western is 6-1-1 with a shootout win since Gorsuch claimed the Broncos' No. 1 spot starting with a 7-2 win Nov. 9 against Omaha. WMU would be a low-seeded team in the NCAA tournament if that began this week, but the Broncos could climb higher in the PairWise if Gorsuch maintains his good recent form.