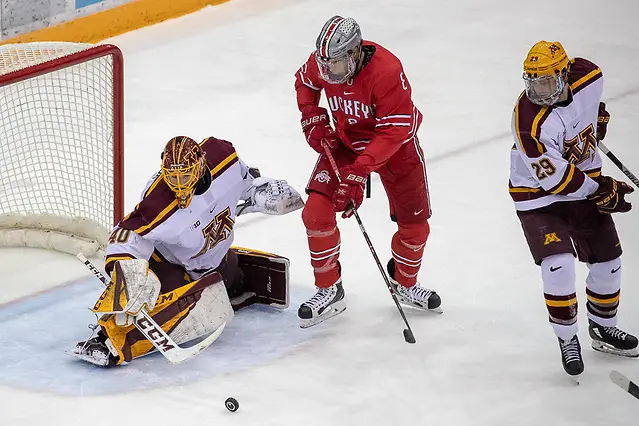 Happy holidays, everyone!
As we recover from midseason feasting, let's take stock of the first half and look at a few things that have surprised us about Big Ten hockey so far.
1. Wisconsin is one of the four teams above .500
Wisconsin hockey is experiencing something of a renaissance, and the Badgers' youthful roster has a lot to do with that.
At the start of the season, the Big Ten coaches poll had the Badgers finishing in sixth place, just above Michigan State. Wisconsin finished sixth in 2017-18 with eight B1G wins and seemingly little momentum, wrapping up the regular season with four straight losses and bowing out of the conference playoffs with two losses to Michigan.
This year, Wisconsin finished the first half 4-3-3-1 in conference play, tied with Ohio State in points (16) at the top of the B1G standings. In the six games leading up to the midseason break, Wisconsin went 3-0-3-1 with freshman goaltender Daniel Lebedeff (2.52 GAA, .911 SV%) in net for five of those six contests.
Seven other newcomers having played in all 18 games this season and the Badgers are led in scoring by freshman defenseman K'Andre Miller (4-13—17), who is 12th nationally for points among all D-I defensemen. Those seven freshmen combined account for 18 of Wisconsin's 57 overall goals.
One of the five sophomores who have also played in all 18 games for Wisconsin this season, Sean Dhooghe, leads the team in goals with nine, six on the power play. Dhooghe had six goals in 37 games last season.
2. That dreaded "P" word
In a seven-team league, it wouldn't be unusual for two distinct tiers to emerge by midseason, but that's not exactly what we're seeing in Big Ten hockey. While the Badgers and Buckeyes are perched on the top of the standings with 16 point each, each team has one fewer win than Notre Dame has and the Irish have 15 points, followed by Michigan and Minnesota with 12 points each – and only one of those teams is above .500.
But the teams below .500 – Michigan, Penn State and Michigan State – really can beat anyone on any given night.
It's parity time in the Big Ten, and this is not what I thought we'd be looking at in midseason. With the veteran team that the Buckeyes return and the stellar goaltending of Notre Dame's Cale Morris, I expected both Ohio State and Notre Dame to pull away a little more distinctly at the start of B1G conference play.
Ohio State's two conferences losses came to Notre Dame and Penn State. Wisconsin lost twice to Ohio State and once to Minnesota. Notre Dame lost to Ohio State, Michigan and Penn State. Minnesota's two conference loss were to Michigan State and Wisconsin. Penn State is a game under .500. With eight points, the league's last-place team trails the league's first-place teams by eight measly points.
It would be disingenuous to suggest that the league is wide open for the taking, but it is possible to see several teams battle for the regular-season title and any team play spoiler in the playoffs.
3. This is a league that likes to tie
Part of the relative equilibrium in the standings at midseason has to do with the number of ties played so far this season. Notre Dame is the only B1G team yet to play to a tie at the end of 65 minutes in conference play this season. Michigan has four ties, within the Wolverines' last five home games. Wisconsin and Minnesota each have three. The Golden Gophers and Buckeyes skated to two 2-2 ties Nov. 30-Dec. 1. It's nutty.
The surprising thing about the number of ties – and the parity in the league as well – is that each team is seems to be dissimilarly gifted this season. The Badgers are strong offensively but their defense is suspect. The Golden Gophers are having a difficult time finding the net. The Buckeyes have a tight defense, but a mediocre penalty kill. The ties so far don't seem to be the result of evenly matched play as much as strategic exploitation of opponent weaknesses. We're seeing some crafty coaching this season.
One really great thing about the ties is the three-on-three hockey for the extra point. It works for the NHL. Why wouldn't it work in the NCAA? It's exciting and fans seem to love it, even if a goal scored during that span isn't technically a game-winner.
4. Penn State's offense is outrageous
The Nittany Lions finished the 2017-18 season third nationally in scoring, averaging 3.63 goals per game. At midseason, Penn State leads the nation offensively, averaging 5.22 goals per game.
It appears that scoring is inflated at midseason among the top 10 teams overall, but for the Nittany Lions to hold onto that statistic heading into January is surprising.
With 13 goals so far, Penn State sophomore Evan Barratt is second only to Arizona State's Johnny Walker in overall goals scored this season, and Barratt (13-16—29) is second nationally in points per game. Barratt had 11 goals in 32 games last season.
Sophomore Alex Limoges had seven goals in 37 games last year; this season he has 10 in 18. Junior Nikita Pavlychev has 10 goals in 18 games after scoring nine in 35 last season. Junior Nate Sucese – who had a great season for the Nittany Lions last year with 14 goals in 36 games – is well on his way to repeating, with eight goals so far. In all, Penn State has 14 players with at least three goals and three more players with a goal apiece.
5. Michigan State's KHL line is for real
The nickname comes for the first letter of each player's last name, not from connection to the Russian professional league. Michigan State juniors Patrick Khodorenko and Taro Hirose and sophomore Mitchell Lewandowski have been a formidable trio since they were first put together last season, and they've returned with just as much chemistry and even smarter, more mature defensive play to make them as good a line as any in D-I men's hockey.
Combined, the three have 23 of Michigan State's 42 overall goals, over half of the team's goal production. Hirose is third nationally in points per game and third in assists per game. Khodorenko is tied for ninth in goals per game and tied for sixth in power-play goals per game. Lewandowski and Hirose each have two game-winning goals.
The Spartans may be in last place – and they may finish there – but this line puts them in every game and makes the entire conference a more interesting place.