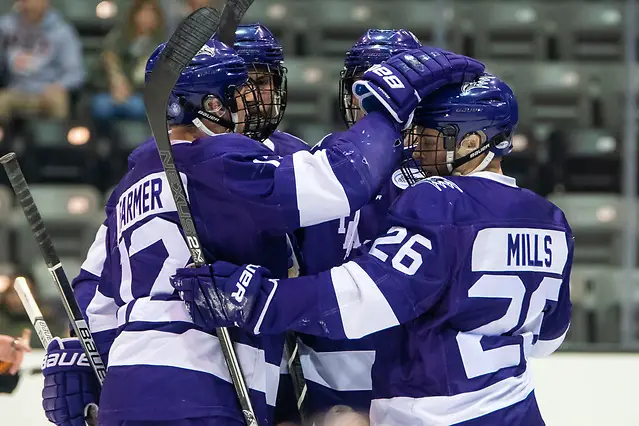 Winter break began a little over a week ago, allowing us to take a quick refocus through the holiday season.
With the first half now complete, let's take a look back at some of the moments in Atlantic Hockey that surprised us and took our breath away:
1. AIC is for real
It's a little bit of eastern bias, but how could you not love what the Yellow Jackets accomplished in the first two months of the year? They tied for second place with Niagara and Army West Point but have two league games in hand, and their .625 winning percentage is one of only two teams over the .600 mark. They also won four in a row down the stretch to vault into the national picture, gaining votes in the USCHO poll for the second time in program history.
It probably shouldn't be a surprise. AIC posted back-to-back shutouts against Air Force, outscoring the Falcons by a 9-0 margin, and it entered the season as one of the league's most attractive "sleeper" picks (making them not a sleeper at all). But the level of dominance, from a plus-13 league goal differential to the way the team closes out opponents (7-1 when leading or tied after two periods) is simply incredible.
I might be selling myself out for AIC at this point, but it will be really interesting to see how it translates to the second half. The Yellow Jackets' home schedule is at the mercy of the MassMutual Center, and it gives them a distinct home-ice advantage which translated to a 4-0-1 record in the first half. Visiting teams will need to adjust to early-afternoon starts, which could position AIC for a legitimate run at a first-round bye and potential top seed.
2. Niagara's November
Niagara opened November with a 2-4-0 record that included two conference splits against AIC and Air Force. By the time the month ended, the Purple Eagles were 7-6-1 overall with a 7-4-1 conference record that launched them to the top of Atlantic Hockey.
Losses to Robert Morris and Army West Point book-ended a 5-0-1 stretch where the team pounded opponents, 30-17. They scored 14 goals in a weekend against archrival Canisius and dropped a nine-spot on the Golden Griffins in a wild, three-goal victory.
The first half ended with a 1-5-0 record and an 8-4 loss at RIT, but it's hard to take away from the team's overall performance. Four of those last six games were against nonleague opponents, and though Niagara split with Colgate, the entire Atlantic Hockey roster struggled to win any games against outside competition.
There's still a question mark for the second half. Niagara was 7-2-1 at the beginning of December in conference play last year and earned a national ranking. It won two games the rest of the season. There's reason to believe this year will be different, but that still serves as a warning.
3. Nonconference struggles
Atlantic Hockey's recent years tout the league's growth and parity, and every year gets tougher to win games on any given night. There's still an issue with winning non-conference games with any kind of consistency, though, which will likely result in the conference earning only its automatic qualifier to the national tournament.
The league went 9-30-3 in the first half against the other hockey conferences, and no team won more than two games. RIT and Mercyhurst were the only teams with multiple wins, and the Tigers were the only team at .500 with a 2-2 record. That likely translates to the harsh reality where only the conference tournament champion qualifies.
For what it's worth, there are silver linings. Seven of the league's 11 teams have a non-conference win, and only two teams went through the first half losing every out-of-league game. Robert Morris and Bentley both had signature wins against No. 10 Bowling Green and Boston College, both of whom are power players in their leagues. There are still two dozen games left, too, so there's opportunity to at least pick off some wins and earn momentum heading down the home stretch.
4. We're really doing this again, aren't we?
Every team enters the second half of the season no more than one weekend's worth of work away from another team. Everyone is within striking distance of another tier; Bentley and Holy Cross are currently 10th and 11th in the standings but remain in position to move into home ice or a bye position, which stands in stark contrast with some of the other conferences.
Teams will always want a favorable draw, which puts a critical premium on winning games on every night, but the league's regular season is never guaranteed an easy road. Air Force was 3-7-2 at the break last season and finished fifth before going on a run to Rochester. That was the same spot where RIT finished when it won it all in 2016.
Robert Morris remains the gold standard from what happened in 2014. It went 2-12-2 before New Year's Eve and went 11-4-3 in the second half, going from 12th to fifth in the process. The Colonials then lost one game in the postseason and won the Atlantic Hockey title.
5. So. Much. Parity.
Numbers always seem to have a way of evening themselves out, and it takes a closer look to determine just how much parity exists in Atlantic Hockey. Nationally, half of the teams are in the bottom half of scoring, and seven teams are at or below 40th in scoring defense. Overall, the AHA is scoring at over a half-goal less than it's allowing, with a 2.48 goals average contrasting against overall goals against.
But when nonleague play is removed, the league is virtually dead-even. Conference teams average 2.93 goals per game and are allowing 2.91 goals per game in just Atlantic Hockey games. The 11 teams average an 82.5 percent penalty kill success rate, which would place fifth among individual teams.
The only outlier statistic is on the power play, where the league averages a 17.2 percent success rate. That would be fourth and is skewed because Army West Point's 28.8 percent in league games is part of a near-30 percent overall rate ranking third best in the nation.