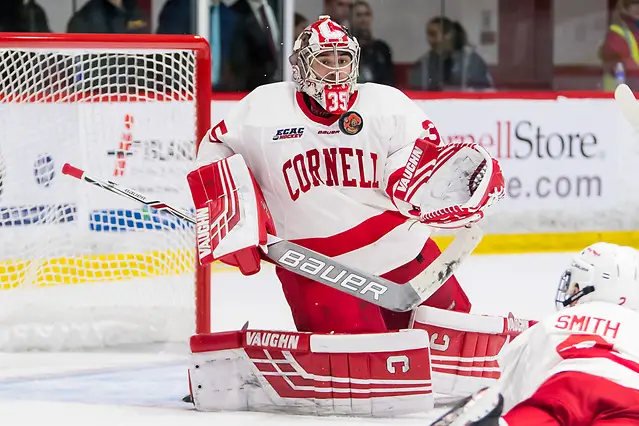 The unofficial first half of the hockey season is over and teams will slowly be resuming play within the coming week.
The schedule for the next two months is almost exclusively conference games for ECAC Hockey teams, meaning there is a lot still to be decided in the league standings.
With that being said, here are some observations from the first several months of play.
Defending champions scuffling
It hasn't been the greatest first half for Cornell, the league's defending regular-season champion, and Princeton, the league's defending playoff champion.
The Big Red was one of the more dominant teams in the country last season, not just ECAC Hockey. Much of that success was due to remarkable health and consistency – Cornell lost just 10 man-games to injury last season from its top seven defensemen. However, the Big Red has been decimated by injuries this season and has already lost 16 man-games to its defensemen this season.
Injuries have hit Cornell throughout the entire lineup as well. Goalie Matthew Galajda was out for the team's final two games of the first half, while forwards Jeff Malott and Brendan Locke also missed time.
With all that considered, Cornell's 6-5-0 record through the first half of the season is impressive. The Big Red are also 4-2-0 in league play, including a 2-1 win over Harvard to close the first half.
"It was one of the grittiest wins I've been a part of as a head coach for a long time, 24 years," Cornell coach Mike Schafer said following that game. "To see these guys, with our top two centers out and [leading scorer] Mitch Vanderlaan played on one leg today… Guys that are key contributors to our hockey team that are out. The guys stepped up."
As for Princeton, the Tigers enter the second half looking for more scoring depth through its lineup. The top line of Ryan Kuffner, Alex Riche, and Max Véronneau has combined for 18 of the team's 34 goals this season. The Tigers ended the first half on a bright note, scoring twice in the third period against Penn State en route to a 4-4 tie on Dec. 15.
Princeton is currently 3-8-1; it's worth noting that the Tigers weren't above .500 after the opening week of the season last year until Feb. 9.
Quinnipiac, Yale back on top
It wasn't that long ago that the Bobcats and Bulldogs were among the top teams in ECAC Hockey.
However, entering this year Yale hadn't made the NCAA tournament for three straight seasons, while Quinnipiac had missed the tournament two years in a row.
That looks like it may change come March, as both teams had a strong first half. Quinnipiac is currently third in the PairWise rankings, while Yale is on the bubble at No. 16.
Quinnipiac has a large freshman class that has brought some energy to the team, but the Bobcats are getting plenty of contributions from their veteran players as well. Senior defenseman Chase Priskie leads the team with 12 goals, while sophomore Odeen Tufto is building on an impressive freshman season with an even better one this year.
The Bobcats have plenty of capable veterans on defense and that's helped goalies Andrew Shortridge and Keith Petruzzelli get off to good starts. Petruzzelli overcame some early November struggles to finish the first half on a high note, while Shortridge has three shutouts and a .966 save percentage in six games this year.
Goaltending and depth have been an important part of the Bulldogs' success as well. Senior Joe Snively is an immensely talented player who seems to keep on putting up numbers without a lot of fanfare.
He's done that again so far this season, but Yale has had several other players produce as well, giving the team a deeper lineup. Sophomore Kevin O'Neill has had a solid season, while defensemen Phil Kemp and Jack St. Ivany were selected to Team USA's roster as a part of the IIHF World Junior Championship, which began the day after Christmas.
Like the Bobcats, Yale has used a platoon in net, with senior Sam Tucker and junior Corbin Kaczperski splitting time. The duo did the same last year, but their combined production has been better thus far this season.
Dartmouth's weird season
Dartmouth finished its first two months of play with a 4-6-1 record, which seems unremarkable on the surface. However, it's been an interesting season for the Big Green.
Dartmouth is 4-0-0 against teams above .500 and 0-6-1 against teams below .500. The Big Green are also 3-0-0 when they are outshot and 1-5-1 when they are outshot by their opponent.
The good news for Dartmouth is that the club sits third in ECAC Hockey despite being tied with Harvard for the second fewest league games played. Much of that is due to junior goalie Adrian Clark, who has a .927 save percentage in league play.