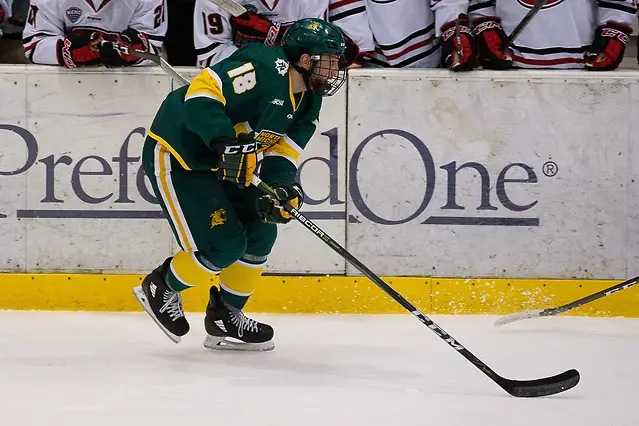 At the midway point of the season, it looks like business as usual atop the WCHA standings.
But believe it or not, there are teams trending up and down that have caught us by surprise.
Let's take a look:
1. The entire Upper Peninsula
If you talk to Michigan Tech coach Joe Shawhan, he's not surprised in the slightest with how well his Huskies are playing – first in the WCHA with a one-point lead in the standings over Bowling Green.
The second-year coach had a full offseason and a fantastic preseason readying them for this push. To him, it'd be a disappointment if they don't continue playing at the hot pace they've shown through 18 games. They want to make a return to the NCAA tournament.
No, the disappointment in the U.P. might end up being Northern Michigan, which had three of the six players on the Preseason All-WCHA team entering the year in goalie Atte Tolvanen, forwards Adam Rockwood and Troy Loggins and defenseman Philip Beaulieu.
Sprinkle in a handful of role players who returned for junior and senior seasons, and this was supposed to be the Wildcats team to compete for not only a WCHA title but a national championship. They're still on pace to contend for a conference title (fourth place, five points back), but they have a 9-10-0 record and have looked tepid against ranked opponents like Notre Dame, Cornell and Bowling Green.
Also surprising is how competitive Lake Superior State has looked (tied for fifth in the WHCA with Bemidji State).
The Lakers have the third-best scoring offense in the league and have been clutch in the third period, scoring 18 goals in the final 20 minutes of WCHA games, which is No. 1 in the conference. Coach Damon Whitten is in his fifth season at Sault Ste. Marie, and, finally, every player on the team is one he's recruited. He's finally got his stamp on the program, and already this season they're only six wins away from 15, which would be a career-high for Whitten at LSSU.
2. Ferris State
At the beginning of the season, coach Bob Daniels really thought the Bulldogs (4-13-1, 2-9-1 WCHA) could compete for a WCHA playoff spot, but they haven't won a game since Nov. 3, a 10-game stretch that includes just one tie.
They currently sit ninth in the conference standings.
So why are they so bad?
It's not the offense. They're fifth in the WCHA in goals, averaging 2.58 goals per game in 12 conference games. No, the culprit is defense. They're last in scoring defense (allowing 4.0 goals per game in conference play) thanks to some unlucky injuries to key starters.
Injuries have hampered veteran goalie Justin Kapelmaster. He's played in only five games, putting sole netminding duties on freshman Roni Salmenkangas, who carries a 3.55 goals-against average and .878 save percentage. Welcome to Division I college hockey, rookie.
The injury bug has also kept defenseman Ryker Killins out of the lineup. He had a breakout season as a junior, collecting eight goals and 14 assists in 36 appearances. He's made it on the ice just seven times as a senior. Daniels was expecting Killins to be a contributor not only on defense but on offense, too.
Hopefully, for the Bulldogs' sake, they can return to the full strength and salvage their season before they run out of time.
3. Bowling Green
The Falcons have never finished better than third since joining the WCHA in 2013-14. But here they are, ranked No. 12 in the most recent USCHO poll and only one point behind first-place Michigan Tech in the conference standings.
Last year, they put together their best WCHA regular-season finish, going 17-6-5 under coach Chris Bergeron.
A conference title would be Bowling Green's first since 1986-87 (CCHA), a season that saw the Falcons make it all the way to the NCAA quarterfinal round. But they've made only one WCHA title game (2016-17). So if they can continue this pace, they'll still have some work to do in the WCHA playoffs.