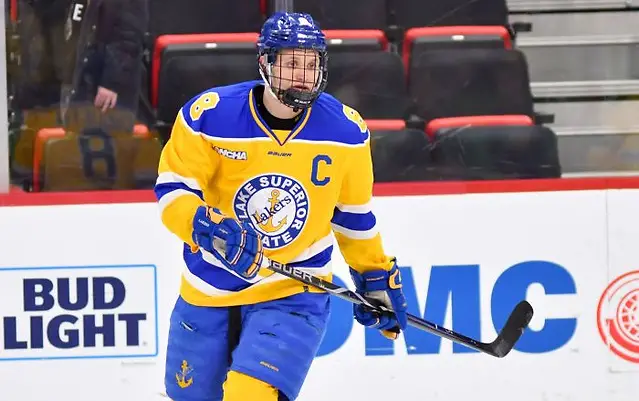 There isn't much the Lake Superior State hockey program hasn't done in its long history.
On New Years Eve, in front of 7,000 fans in Detroit, the Lakers were finally able to check another important thing off their bucket list: A Great Lakes Invitational title.
"It's pretty tough to do something at Lake Superior state with the hockey program for the first time ever with our history and tradition," LSSU coach Damon Whitten said. "There aren't that many things that hadn't been accomplished at the highest level. So it's big for Laker hockey."
The Lakers beat Michigan State 4-3 in overtime during a thrilling semifinal comeback before beating Michigan Tech 6-3 in the championship game.
"It's huge for our program," said Lakers senior captain Diego Cuglietta, who scored two goals in each game of the tournament, including the game winner in overtime against Michigan State. "I was really proud of the boys for sticking to our systems and getting the job done because to win the GLI, it's a pretty prestigious tournament and the first one in our history."
"I'm a Michigan native, our staff is all Michigan natives, we have four Michiganders on the team, so it's a big deal in the state of Michigan," added Whitten. "It's one of the oldest tournaments out there, so there are always a lot of eyes on it. It's a big, big win."
It was quite a way for the Lakers to ring in the New Year — especially considering how successful the first half of their season has been. They've taken points from every series they've played so far aside from one (a pair of road games at Minnesota State) and their 11 wins in the first half of this season have already surpassed their entire victory output in 2017-18, in which they went 10-22-4 and failed to make the WCHA playoffs.
Whitten said the key difference this season has come down to better chemistry within the locker room.
"Our culture has improved and our seniors have helped with that," Whitten said. "It's the strongest locker room we've had. I can't tell you how enjoyable it is to come in every day with a group that gets it and does things the right way.
"We have a great leadership group. Diego is having a real good year, Gage Torrel does so much for us, Anthony Nellis and Nick Kossoff, these guys have done a great job building us up and helping us be successful."
Cuglietta especially is having himself a season. The senior center from Kamloops, B.C., was named GLI MVP after his performance in Detroit, and is one of the main reasons for Lake State's resurgence. He is currently the WCHA's leading goalscorer, with 13, and also won the most faceoffs of everybody in the conference (252).
"He makes everyone around him so much better," Whitten said. "I think it starts with him being a centerman and being one of the top faceoff guys in the country. Whether we're on the penalty kill and he wins a faceoff to get a clear, or on the power play or five on five, we start with puck possession quite a bit when he's on the ice. His faceoff prowess has been important for us this year."
Cuglietta has played almost every game for the Lakers since he arrived as a freshman, and Whitten said he was able to power through being a freshman going against other team's best players.
"When he came here four years ago, he played top-six minutes and on our power play and penalty kill from Day 1," Whitten said. "He went against the best players in the country as a freshmen. We took our lumps a little bit because we were so young, but now it's paying off. He's now one of the best seniors in the country. He's scoring, he's killing penalties, and he's doing the little things, having a great senior year along with his classmates."
That said, Cuglietta admitted that his great season so far isn't about him, really.
"It's always nice to score and help out that way, but the team comes first," he said. "I'm mostly just happy the way we're playing right now. We're doing well as a unit, we're not just one guy. I'm looking forward to seeing what we can do the second half.
"I think we have better depth this year. We have good depth throughout our forward lines, our back end is doing really well and I think we have solid goaltending. That chemistry altogether, I think, is getting us the wins here."
That must be very encouraging to see for Lakers fans hoping to see the program return to the upper-echelon, powerhouse days of yore. That's been Whitten's long-term goal ever since he took over as head coach in 2014–15 — make the team relevant again, both nationally and in the state of Michigan.
Winning this year's GLI was a big help in achieving both goals.
"I grew up in Metro Detroit going to this tournament, listening to the bands, and it was my first real experience with NCAA hockey and all our Michigan guys feel the same way," said Whitten. "We've all grown up going to this tournament. It felt like a homecoming for a lot of us. Like I said, there's not many firsts here, with our national championships, our Hobey Baker candidates, with everything that's been done here.
"Winning this one was big for Laker hockey. We want to be great in Michigan recruiting, and there's a lot of eyes in this state on this tournament."