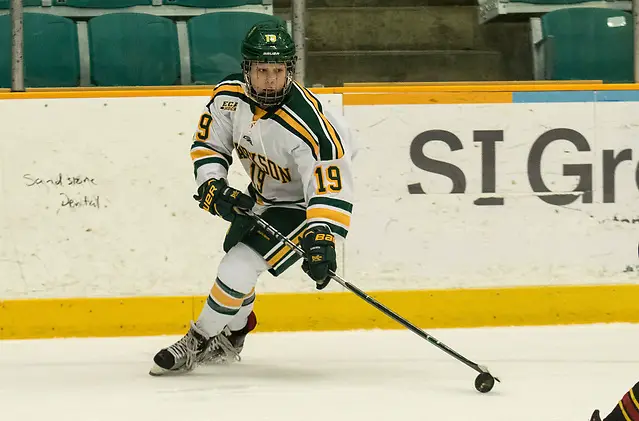 The second half starts in earnest this week, and teams have somewhere between seven and nine weeks of regular season games left to play. With most teams playing about 20 games before the break, and with about 14 games left before the postseason, the season is more than halfway over.
Robert Morris and Mercyhurst are neck-and-neck atop the CHA, with just one point separating them. They split their early-season series and have one more set of games the second-to-last weekend of the season, which may decide the whole thing.
Princeton is five points clear of Cornell atop the ECAC and seems to be in the driver's seat toward a regular-season title. There are just six points separating third-place Colgate and eighth-place Harvard, so how the ECAC tournament seedings and home-ice advantage shake will be one of the more interesting plot lines to follow over the final two months.
Northeastern is six points clear atop Hockey East and also seems to control their destiny in terms of the regular-season crown. They head to Northern Ireland to play Clarkson this weekend, and I think they could use the PR boost of a win or two there. The Huskies have moved up to third in the national rankings, but it feels like folks might not be sure if they're for real.
In Hockey East, Connecticut, Maine, and New Hampshire would currently make the postseason — they each have nine points. Vermont is just behind with eight points. Last year's Hockey East tournament showed what kind of chaos is possible, and how the four teams shake out and who they match up with in the opening round could make for some very interesting games.
Minnesota currently has one more point than Wisconsin atop the WCHA, but the Badgers have two games in hand over the Gophers, Ohio State, Minnesota Duluth, Bemidji State, and Minnesota State, as well as four games in hand over St. Cloud State. That top spot in the WCHA gets a bye, making it a bit more important than the one seed in the other conferences.
Wisconsin comes out of the break with trips to Ohio State and Minnesota, the results of which will likely play a big role in how the final standings of the WCHA shake out. The Badgers stumbled in Columbus last year, suffering their first-ever sweep at the hands of the Buckeyes. Both teams will have a lot on the line, both standings- and emotions-wise, which is why that series is the one I'm really looking forward to watching.
There isn't a clear, odds-on favorite for the Patty Kazmaier Award thus far, in my opinion. Clarkson senior Loren Gabel is the only player in the country averaging 2.00 points per game, while her teammate, sophomore Elizabeth Giguère, leads the country with 35 total points.
There are five players with 30 or more points through the first half, and I'd expect all of them to be named top-10 finalists. That means Gabel and Giguère, plus Providence's Maureen Murphy — who leads the country with seven game-winning goals, Boston University's Jesse Compher, and Robert Morris' Jaycee Gebhard.
I think we'll see Wisconsin's Annie Pankowski, who's third in the country with 14 goals and has three game-winning goals and two short-handed goals.
Megan Keller is the country's top-scoring defender, and she is tied for the national lead among all scorers with five power-play goals.
In my opinion, those seven are pretty sure choices. From there, I think there are excellent cases to be made for probably another half-dozen players.
Michaela Pejzlová has the scoring resume to be on the list, but I'm not sure there will be three Clarkson players honored this year. How Clarkson finishes out the season could have a bearing on Pejzlová's position. As it's been made clear how much the scoring falls off after the top line, I'm not sure if voters will reward all the members of that first line.
History was made last year when Daryl Watts won as a freshman, but in the past it has seemed as though voters aren't disposed to giving this honor to rookies. Northeastern first-year players Chloè Aurard and Alina Mueller are among the top scorers in the country, and they're leading the Huskies in a historic season, which may be in their favor in terms of assessing their importance to the team's success. Another player that could see honor is Huskies goalie Aerin Frankel. The biggest thing that may keep her from the list is that she's split time -– she has just nine games played where many of the other top goalie choices have 15 or more games to their resume.
If voters want to see a goalie on the list, I'd guess it'll be Providence senior Madison Myers, though freshmen Abigal Levy from Minnesota State and Lindsay Reed from Harvard could also each make a case for inclusion.
Princeton's Carly Bullock and Sarah Fillier are among the leaders in points per game, as are Minnesota's Nicole Schammel and Grace Zumwinkle. Colgate's Jessie Eldridge is the highest goal-scorer that hasn't yet been mentioned.
It's a pretty wide-open race and seems likely to be decided in the second-half. The average season-high over the past five seasons is 76 points, so the leaderboard right now is slightly behind that average. Big time players tend to step up when the pressure is on, so this season's Patty Kaz winner just may be the player who makes the biggest impact for their team heading towards March.