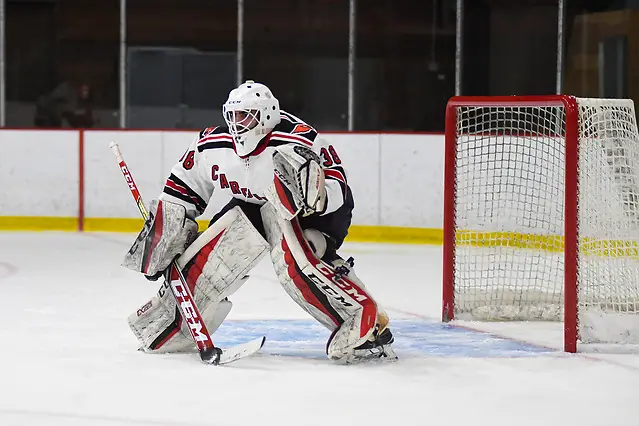 The weekend was a mixed bag for many teams and a virtual disaster for some who saw key losses in conference play and wins by nearby competitors eat into their lead in the standings. Massachusetts-Boston and Plymouth State dropped a couple of points in their respective races, while Wesleyan remained unbeaten in NESCAC play without surrendering a goal in their two games. There was a lot of nonconference action as well that provided some great hockey, including Utica and Oswego in an overtime 3-3 tie. Here is a recap of the action.
CCC
The University of New England traveled west to face Buffalo State on Friday and skated away with a 6-1 win over the Bengals. Ryan Bloom and Brady Fleurent each had three-point games, while goaltender Tate Sproxton stopped 29 of 30 shots to pick up his third win of the season. On Saturday, UNE made it a clean sweep of SUNYAC opponents with a 7-3 win over Morrisville. Bloom and Tyler Seltenreich each had a pair of goals for the Nor'easters, while Jeff Eppright recorded three points in the win.
Curry enjoyed a three-win week with Tuesday's 4-1 win over Plymouth State and a weekend sweep of Bryn Athyn. The Colonels were led by Zachery White's two goals and four total points in Saturday's 6-2 win. On Sunday, Billy Rizzo posted a goal and an assist in a 4-1 win that moved Curry to 9-5-2 on the season.
Independents
Canton faced Potsdam on Saturday and rallied from a 3-1 deficit in the final five minutes of regulation to tie the game at 3-3 before winning it in overtime on Tyler Bullard's goal less than a minute into the extra session. Tyson Bruce cut the deficit to one goal before Jake Mayette scored with the extra attacker on the ice and 45 seconds remaining in regulation. Goaltender Michael Cerasuolo stopped 46 of 49 shots as the Kangaroos were outshot 49-33 for the game.
MASCAC
Plymouth State has seen a sluggish start to the new calendar year and on Thursday lost to Fitchburg State 2-1 on home ice. The Falcons took advantage of goals from Nick DiNicola and Ricky Kramer as well as 43 saves from netminder Brian McGrath to earn the key conference win over the Panthers.
On Saturday in nonconference action, four goals from Sascha Figi wasn't enough for a Falcons' comeback as they dropped a 7-5 decision to Wentworth. The Leopards were led by Georgy Gorodetsky's hat trick.
Massachusetts-Dartmouth picked up three big points with a 5-1 win on Thursday over Salem State and a 3-3 overtime tie with Plymouth State on Saturday. Against the Panthers, late power-play goals from Kai Kapossy and Steven Leonard rallied the Corsairs from a 3-1 deficit to earn the tie and point in the standings.
NE-10
Assumption and St. Michael's split their weekend series. The Purple Knights won the opener on Friday with Zach Sullivan picking up the game-winning goal in the third period. On Saturday, the Greyhounds needed Devan Sheth's overtime goal with just nine seconds remaining in the extra session to earn a 3-2 win and split of the two-game set in Vermont.
Saint Anselm moved to 5-1-0 in NE-10 play with a weekend sweep of Stonehill. Following a 2-1 win on Friday, the Hawks took advantage of two goals from Sean Verrier and three points from Anthony Iacullo in the 5-2 win that moved them to the top of the conference standings.
NEHC
New England College continued its hot play by beating Massachusetts-Boston, 3-2, on Friday night. The loss for the Beacons was their first in league play. Adam Zollner, William Riise, and Connor Fries staked the Pilgrims to a 3-0 lead, and goaltender Anthony Pupplo stopped 36 of 38 Beacons shots to pick up the win. On Saturday, the Pilgrims skated to a thrilling 4-4 overtime tie with Babson. Each team came back from a one-goal deficit twice in the game, with Nick Rosa's third period tally earning the deadlock.
Three power-play goals in the second period broke open a scoreless game at Hobart and helped Norwich on the way to a 4-2 win over the Statesmen, who suffered their first loss in 2019. On Saturday, the Cadets couldn't hold onto a 3-2 lead in the third period as Skidmore's Matt Wolf scored in the final five minutes of regulation to earn the Thoroughbreds a 3-3 tie.
NESCAC
Wesleyan and goalie Tim Sestak continued their hot play in Maine with a 5-0 win over Bowdoin and a 0-0 overtime tie at Colby. Sestak stopped all 47 shots he faced in the two games to earn two more shutouts, and the Cardinals remained unbeaten in NESCAC play, moving to 6-0-2 on the season.
Williams earned a pair of nonconference wins with a 6-3 decision at Manhattanville and a 4-0 shutout over Plattsburgh on Saturday night. Marcus Mollica and Roberto Cellini staked the Ephs to a 2-0 first-period lead, and Will Somers and Bobby Beniers added second- and third-period tallies respectively to support Michael Pinios' 24-save effort.
SUNYAC
Oswego hosted a talented Utica squad on Friday night in a seesaw affair that ended in a 3-3 overtime tie. The Pioneers took a 2-1 lead in the first period on goals from Joey Rutkowski and Conor Landrigan, but Josh LeBlanc tied it for the Lakers in the second period at. The third period saw Utica's Josh Haskin and Oswego's Derek Brown exchange goals just 69 seconds apart early in the final period for the final scoring of the contest.
Geneseo took a pair of wins over UCHC opponents by downing Lebanon Valley, 6-2, and Stevenson, 7-0. In the Saturday win over the Mustangs, the Knights got two goals from defenseman Mitch Ferguson along with single goals from five other players. Devin McDonald made 19 saves to record his eighth shutout of the season.
UCHC
Nazareth raced out to a 4-0 first-period lead that included Brian Miller's hat trick on their way to a 5-1 win over Cortland. The nonconference win moved the Golden Flyers to 8-4-4 on the season.
Neumann picked up its first win of the season in a 6-1 rout of Anna Maria on Friday night. Six different players scored for the Knights, who went 3-for-8 with the man advantage. On Saturday, Neumann skated to a 1-1 overtime tie with Chatham in UCHC play. Despite outshooting the Cougars 44-34, including 5-0 in the overtime period, neither team could find the game-winning goal in the 3-on-3 overtime session.
Three Biscuits
Brian Miller, Nazareth: Miller scored a first-period hat trick as Nazareth raced out to a 4-0 lead on the way to a 5-1 win at Cortland on Saturday.
Sascha Figi, Westfield State: Figi tallied four times, giving him 18 on the season, in the Falcons' 7-5 loss to Wentworth. Two of the goals came with an extra attacker on the ice, but the late rally fell short in the loss to the Leopards.
Georgy Gorodetsky, Wentworth: Gorodetsky posted a hat trick for Wentworth in a nonconference win over Fitchburg State on Saturday. The three goals give Gorodetsky 10 on the season.
With just a few weeks remaining on the regular season schedule, the conference play is really going to heat up during the upcoming weeks. There continue to be surprises each and every week, so the race to the finish is going to be very exciting.