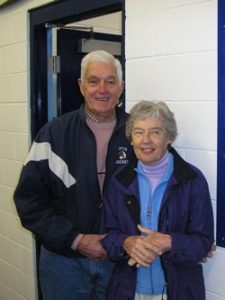 Ben Sands, a 1954 Tufts graduate and the recipient of the athletic department's first Brown and Blue Award last April, passed away following a brief illness on Jan. 11.
A native of North Reading, Mass., Sands was a former hockey player and coach of the Jumbos who as an alumnus worked tirelessly to keep the program in good standing.
He was a defenseman in the 1950s before the hockey program was dropped in 1960. He was instrumental in bringing the sport back to campus first as a club team and then at the varsity level in 1986. He was head coach for six seasons, compiling a 73-63-4 record and earning ECAC Coach of the Year in 1988.
When budget cuts again threatened the team's status in the early 1990s, he established the Friends of Tufts Hockey to support the program. That led to a healthy future for the team, which included joining the NESCAC in 2001.
On Feb. 14, 2009, prior to a Jumbos home game at Valley Forum in Malden, Mass., Tufts dedicated its new locker room in honor of Sands.
As part of the inaugural Tufts Athletics Hall of Fame induction ceremony and dinner last April, Tufts presented Sands with the Brown and Blue Award, which recognizes alumni, donors, benefactors, and supporters who have made significant contributions to the success of Tufts athletics.
"Not one to seek out or accept credit for his work, Ben quietly spearheaded fundraising efforts to underwrite our hockey program during tough times," Tufts coach Pat Norton said in a statement. "His generosity of spirit is a model for others to emulate."
Sands also led his 50-year reunion class at Tufts in raising more than $10,000 for the Medford Public Schools to purchase books for the district's libraries. He was also president of the Jumbo Club, a class reunion committee leader and vice president of the Tufts University Alumni Association.
Ben and his wife Judy spread their generosity locally and around the globe. Ben and Judy married in 1954 and raised five children. They have 12 grandchildren. He was active in North Reading town government, serving as a selectman for six years and many years as chairman of the housing authority. In 2005, Ben and Judy turned the annual winter training trip for Tufts' women's swimming and diving team into a grand humanitarian effort, organizing the donation of nearly 5,000 pounds of supplies to children in the Dominican Republic. They also took yearly trips to Guatemala bringing toys to children in remote villages.
"Ben Sands was a tremendous supporter of Tufts athletics for many, many years, but more importantly he was just a wonderful human being," Tufts director of athletics John Morris added. "He loved and appreciated life and showed that by giving back in so many ways. We were lucky to have him on our team at Tufts."
Visiting hours will be 3-7 p.m. on Friday, Jan. 18, and the funeral will be 10 a.m. on Saturday, Jan. 19, with both being held at the Church of the Good Shepherd in Reading, Mass.