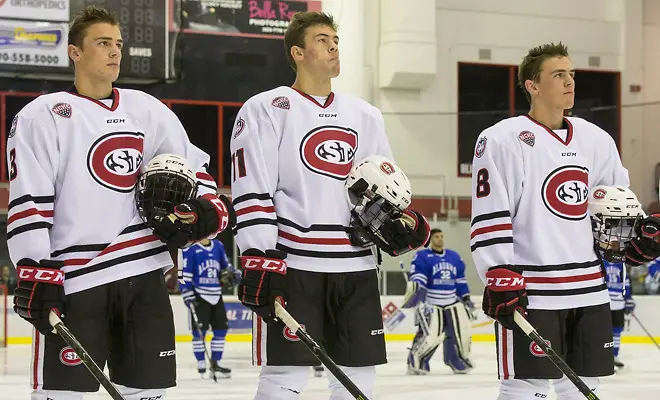 After a dominating first half that saw them lose only one game, eyebrows were certainly raised when St. Cloud State lost 7-2 to Union in its first game of the second half, the opening game of the Three Rivers Classic.
Certainly, that loss cost them the top spot in the polls, and though they rebounded to beat Robert Morris the next night, St. Cloud followed that with a split of Minnesota Duluth the next weekend.
Whatever rust they had, it wasn't evident last weekend as St. Cloud swept red-hot Western Michigan, winning the first game 3-0 and following that with a 5-3 win in the next.
According to coach Brett Larson, aside from the Union game, the St. Cloud coaching staff had been happy with the team's performance prior to the Western Michigan series.
"We thought the two games with Duluth were two of the best college hockey games we've been a part of, so we felt we played well," said Larson. "After the Pittsburgh tournament, we felt we were playing really good. We knew that having Western come in on 10-game win streak going to be a tough challenge. So, the thing I think our staff is excited about is the guys were able to rise up to a couple of really good challenges with the Duluth and Western games and probably play some of our best hockey of the year."
Against Western, the Huskies opened with a solid 3-0 win the first game, but then trailed 1-0 after one period on Saturday. Larson said the team didn't get rattled.
"I think the part that our staff was most excited about was we felt we had a really good first period and played really well, played to our game plan, but, obviously, against a good team sometimes that's just not enough," said Larson. "Western still had a 1-0 lead, so I think the fact that we didn't show any frustration and stuck together as a team, the way we just tried to stick to playing the right way, was a really good thing. And it paid off for us in that second period. We didn't get frustrated just because we were down 1-0 after the first even though we had played well."
St. Cloud regrouped after that first period, going on a four-goal tear in the second, but Western made a push, pulling within two goals when Jack McMullen scored at 12:02. The game wasn't decided until Jack Poehling scored an empty-netter at 17:54.
Larson pointed to the play of goaltender Dávid Hrenák as a big reason for the team's success.
"Obviously, good goaltending helps — Dávid made some big saves, Western made a big-time push," Larson said. "They're one of the fastest teams we've played all year, so they really put us on our heels at times. I just thought we did a nice job of taking away second and third opportunities because they were creating a lot off the rush, but we were able to kind of collapse and help Dávid around the net in that third period. I think it came down to our goaltender stepping up, making some big saves in the third, and keeping us in there when they were making a big push."
The Poehling brothers played together on a line all weekend, and really helped the team with scoring. Jack had two goals and three assists on the weekend, Nick had a goal and an assist, and Ryan had two assists.
"That line, obviously we played all the brothers together," said Larson. "And you know what? They were good on the score sheet, but they were also good just with their energy level and work ethic, playing the game the right way. I really thought that line set the tone for our weekend for kind of how our whole team followed."
Special teams play has been important to St. Cloud's success this season. The Huskies have the seventh-best power play in the country and third-best penalty kill. Against Western, the PK was perfect on Western's five power-play opportunities on the weekend, and the power play scored two goals Saturday.
Despite that, Larson still sees room for improvement.
"You're always trying to get better on your special teams," said Larson. "I was happy with the penalty kill. I thought the power play created enough opportunities both nights and felt good about burying a couple on Saturday, but you know with this league, as tight as it is five on five, and pretty much even every night, you know you have to win the special teams battle. If you don't, you're probably not going to win the game. It's one of those things where you just never let off the gas, you need to keep working on special teams every week."
Despite ascending back to the top spot in the polls, Larson said the team's focus is only on North Dakota, their opponent this weekend, not where they are in the polls or PairWise.
"That's the one thing about this league, is you can never sit back and feel great about an accomplishment for very long because when Monday morning rolls around, you know you're going to one of the toughest places to play in the country, and you better start getting ready for it," Larson said.
"North Dakota is a team that's coached the right way, they play the right way, and traditionally they just continue to get better throughout the year. So I think the biggest thing for us is we know we have to bring our best to have a chance at that. If we don't, we're going to be in trouble."