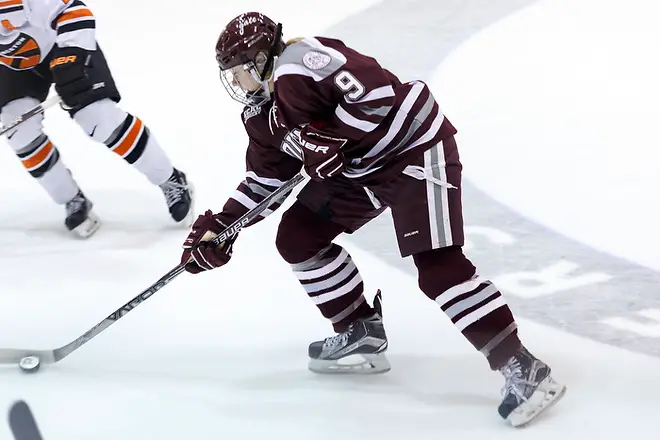 Arlan: This weekend may ultimately prove costly for a couple of ranked teams.
Ohio State may have seen its dream of hosting an NCAA quarterfinal slip away when Minnesota Duluth repaid the Buckeyes' sweep from November. OSU dropped two spots in the Ratings Percentage Index, and as it gets later in the year, it takes longer to climb than it does to fall.
Providence was looking to rebound from a sweep at the hands of Boston University as it hosted a series versus New Hampshire. Friday night's 4-0 win was fine; Saturday's 5-0 defeat was not. With a pair of games against suddenly resurgent Boston College looming, the Friars will need to figure things out quickly.
The country's top two teams split this weekend's series, producing a split of their season series for the third time in the last four years. That result seems to benefit Wisconsin more than Minnesota, as it retains its advantage in the PairWise and the WCHA race.
No. 3 Northeastern took care of business with a home-and-home sweep of Connecticut. Clarkson continued to feast on second-division teams in the ECAC and has now won four straight. Cornell didn't allow a goal in sweeping Dartmouth and Harvard, while Colgate wasn't as clean defensively but also took four points from that duo.
What result either has the greatest impact or is the most informative? I tend to think it is Ohio State losing twice. Now that the Buckeyes have fallen behind both Princeton and Clarkson in the battle for a seed into the NCAAs, I think that they'll have a hard time moving back into the top four. How do you see this weekend's results?
Candace: I agree that in the big picture, Ohio State's loss is the biggest one of the weekend. It has to be bitterly disappointing too, coming off a split with Wisconsin the previous week that had seemed to solidify the Buckeyes' position.
OSU is now seventh in the PairWise, which as we noted two weeks ago is not a safe position for making the NCAA tournament with upsets likely in the conference tournaments. They are barely behind Cornell, so they can still move up, but Colgate and Boston College are nipping at their heels as well.
I didn't see the games, but it looks like defense and goaltending was an issue. Andrea Brändli, who has been solid all season in net, started the first game, gave up four goals in the first period, and got pulled in a 5-2 loss. She was replaced by Lynsey Wallace, who finished the game and also got the start the next night in a 6-3 loss. I wonder if Brändli got hurt, or if Nadine Muzerall was just giving her a rest.
There were, as you mentioned, several other interesting results. Providence seems to have fallen off the pace quite a bit. The Friars split with New Hampshire, and their 5-0 loss did not look good. Meanwhile, Boston College has won three in a row. BC is in second place in Hockey Ice, and I think the Eagles are at least going to have a home ice spot.
What do you think about the fortunes of BC, Providence, and some of the other teams in the conference?
Arlan: This year's Hockey East has a similar feel to what we see for a team like Ohio State in the WCHA. The Buckeyes work hard to earn points against Wisconsin and Minnesota and stay even in head-to-head action, but then they lose ground to those teams when they play the rest of the conference. With first-place Northeastern having lost to otherwise-winless Holy Cross, the old cliché regarding "On any given day …" has never been more true.
For all of its struggles so far, BC looks to be well-positioned to finish in at least a tie for second in the league. The conference games have all been played that match the top three teams in the circuit: Northeastern, BC, and BU.
Providence would still be right in the mix with the Eagles and Terriers, if not for the fact that the Friars have a far tougher slate remaining, with a pair of games left versus BC and NU, plus one more at BU. Recent results hint that this is not a good time for the Friars to be overcoming a schedule disadvantage. The defensive zone seems to tell the tale for PC. In its last 11 wins, it has only once allowed multiple goals, but opponents have scored at least four times in each of its four losses since the second half started. That doesn't bode well with a home-and-home series versus the potent Eagles on the horizon.
Trying to predict what will happen in Hockey East is complicated by the presence of up-and-down teams like New Hampshire. UNH was unbeaten in nine straight on the heels of a nine-game winless skid, and then lost three in a row before blowing out Providence on Saturday. The Wildcats sit a precarious eighth in the league, only one point ahead of Vermont, with two thirds of their schedule completed. Two of their remaining games are against Holy Cross, but Vermont will see the Crusaders three times. After its next three games, UVM will be done with the top half of the league. Meanwhile, UNH plays current top-five teams in its final five contests. If the race for the final playoff spot ultimately comes down to these two, it will be a lot closer than it might appear a week into February.
In years past, I think we've looked at most of the best-of-three quarterfinal series as being up for grabs in the pairing involving the fourth and fifth seeds, the possibility of an upset existing when No. 3 hosts No. 6, but rather routine where the top two seeds were involved. Do you see this changing this year, i.e., could we see a major upset in a league quarterfinal?
Candace: Looking at how the standings are right now, I could see it in Hockey East, with Boston College falling in an upset because of how inconsistent the Eagles have been, but I don't think it will happen in the ECAC, and nobody is going to beat Minnesota or Wisconsin in a two-out-of-three. Two-out-of-three allows the better teams a mulligan, and with the talent levels on the top teams, I don't think it would happen. Even with Boston College being as inconsistent as it has been, I still think the Eagles have too much talent to fall in a quarterfinal, so I guess that's my long-winded way of saying, "Not yet."
The CHA doesn't have a two-of-three anymore, which seems to make the teams even more vulnerable. Given that Mercyhurst lost to RIT and Robert Morris split with Syracuse, I think that league autobid spot is even more in flux than it has been in previous years. Honestly, it feels like any of the teams could win that tournament at this point.
What did you think of the CHA results this past weekend?
Arlan: RIT has clearly improved as the season has progressed. Chad Davis might wish his squad could have a do over on its games from September and October. RIT was just 1-4-3, primarily against teams that stand at or near the bottom of the other conferences. Other than the final game before the break versus BU, where the scoreboard clearly got away from the Tigers in an 8-0 debacle, they've been at least competitive in every contest since then in an 8-6-1 stretch. So while RIT coming from behind twice to beat Mercyhurst wasn't anticipated, the result wasn't some strange outlier.
I haven't watched the Tigers as yet, so I can't tell you exactly how they are improving, but I'm guessing that it is bit by bit, all over the ice. With a weekend left in January, the team scoring totals look similar to how they did at the very end of last season. Kendall Cornine led the way last year and is doing so again, but she has help from forwards Brittney Gout, Mallory Rushton, and Kathryn Kennedy, and defender Ellie Larson, all of whom have recorded double-digit points. Junior goalie Terra Lanteigne's statistics suggest growth from her and in the team in front of her. She's raised her save percentage from .911 as a sophomore to .939 this year, and that's dropped her goals-against average from 3.56 down to 2.12. That all factors into RIT having already more than doubled its win total from a year ago and given itself a realistic shot at a first-round bye.
It was a bigger surprise to me that Syracuse was able to split with RMU. The Orange came into the series on a 10-game losing streak. Once the Colonials dug out of an early two-goal hole, I'd have thought they'd salvage a minimum of one point. I guess Lindsay Eastwood had other ideas.
Overall, I agree with you, that no matter who finishes in which spot in the CHA, the tournament will be difficult to predict. Lindenwood has lagged behind the others and only scored once in getting swept at Penn State, but the Lions may still have a run in them as well.
If RIT has been a pleasant surprise in the CHA, Rensselaer has played a similar role in the ECAC. The Engineers have already equaled their victories from last year and seem to have a playoff spot in their sights. How have they improved, and how high could they climb this season?
Candace: How have they improved? Two words: Lovisa Selander. The senior netminder has a .942 save percentage and 2.03 goals-against. Considering that the Engineers do not have a single player averaging a point a game, defense is what is going to win for them. Blake Orosz leads the team in scoring with 19 points in 23 games. Until the game against Union on Friday, every one of RPI's wins have been by a single goal, with several of them 2-1 or 1-0 decisions. The Engineers also have three 1-1 ties to their record. It's simple: if Selander can keep the team in striking distance, they have a chance. Even some of their losses have been close decisions by 2-0 or 3-1 scores.
As for how high they can climb? They won't get home ice in the first round of the ECAC playoffs, but beyond that, it's almost impossible to tell. The Engineers are in seventh, but only a point behind Quinnipiac and St. Lawrence with a game in hand on the Saints and three games in hand on the Bobcats. On the plus side, the Engineers play Yale, Brown, and Union over the next two weekends, games that are winnable. On the negative, they have two each against Cornell and Colgate.
The Engineers have already beaten Quinnipiac and St. Lawrence this season, so there's no reason they can't beat the Bobcats again in a couple of weeks. St. Lawrence still has two games each against Dartmouth, Harvard, and Quinnipiac. In the end, I'd guess sixth is the highest the Engineers can get in the ECAC. They could also finish as low as eighth, given that Harvard has two each against Brown and Yale, plus a game with Union. The Crimson were also not too far behind the Engineers in their loss.
Clear as mud? I think so.
I know you covered the series for us over the weekend, but I was wondering if you have any more insight on the two games between Minnesota and Wisconsin and what those results mean ahead of the postseason. Has Minnesota gotten into Wisconsin's head enough? The Gophers seemed to get a more convincing win on Saturday, and they were right there in Friday's game. Wisconsin seems to be more vulnerable to me, simply because they try to win with a smothering defense and close scores.
Arlan: Overall, I'd give a slight edge to Wisconsin. There are probably those in the Wisconsin camp who think that the Badgers were a bit unlucky to not win both games. Yes, one can look at it that way anytime you get such closely contested contests. Sophie Skarzynski's first goal Saturday was kind of a seeing-eye shot through traffic, but so was Maddie Rolfes' game-winner on Friday. Nicole Schammel's second goal on Saturday for the Gophers went off of Kristen Campbell's mask and straight up into the air before bouncing off her into the net. Sophie Shirley came right back to the other end and put a shot up high off of Sydney Scobee, and the rebound came right back to Shirley for a second-chance goal. Over the long term, the bounces tend to even out, and sometimes, it doesn't even take very long.
Friday, I thought the Badgers won almost all the close races for the puck, they supported the puck better, and they attacked more cohesively on the forecheck. Minnesota improved in all of those areas on Saturday. Wisconsin generated more shots both days, but I think we've seen in recent years against top competition that sometimes its shots are just shots, nothing more. I felt that the Badgers had enough good scoring chances over the weekend that they should have scored more than three goals. I've now seen it enough times that I'm coming to accept that it just may be how things are for this generation of Wisconsin players.
On the plus side for the Badgers, they held the country's best offense to a single goal in each of the first three meetings. The recipe? Don't allow many quality looks. Campbell has the nation's best goals-against average, but her save percentage isn't quite as stellar. Even if she isn't quite the next Ann-Renée Desbiens, Wisconsin does such a good job of supporting her that it is often hard for the opposition to tell the difference.
On the weekend, Wisconsin was better balanced, getting scoring from its first, second, and fourth lines, with the first-line goal coming on the power play. At the other end, only the Gophers' top line did damage, but it struck four times, with Schammel earning a point on each and scoring three of them. I'm not sure that she is the Minnesota player that opponents focus on heading into each series, but her 33 points lead the Gophers and are more than any Badger has produced. She has a lot of moves in her toolbox, even if she is a much different type of player than Grace Zumwinkle, who skates the other wing on that line.
I remember at about this point in the 2009 season after Wisconsin played a series in Minnesota thinking that the two teams, which featured rosters loaded with offense, were about dead even. When they played again in the WCHA tournament, the Badgers were fairly dominant and won the NCAA title without having to play Minnesota again. Like a scene in the middle of a movie, I think that this weekend just set up what is to follow, without revealing the ultimate ending in any way.
After a weekend where none of the heavyweights in the ECAC collided, Cornell and Colgate meet twice this weekend. What do you expect to learn from that encounter?
Candace: I'd say the obvious answer is which is the pretender, and which is not. A sweep by either team would likely knock the other out of PairWise contention such that only a win in the ECAC tournament would get them into the NCAA tournament. It's kind of surprising when I look at the standings, because in my head both Cornell and Colgate have been a little inconsistent, especially the latter, but in the ECAC at least, Colgate has the same amount of points as Clarkson, and each trails Cornell by a point for second place in the ECAC.
In the PairWise, Colgate trails Cornell by a hundredth of a point for seventh. Colgate has four more losses overall, and has lost three games that kill the Raiders in the PairWise: to Penn State, to Brown, and to Mercyhurst. Luckily for Colgate, Cornell also lost to Brown, but Cornell's only other loss is to Princeton, and that doesn't hurt them.
Interestingly enough, both Colgate and Cornell have struggled against the CHA this season. Cornell has three ties against CHA opponents and two wins. I'm not sure what that says about the Big Red, and what it says about the CHA overall.
In addition to Colgate versus Cornell, the obvious big battles this week are Minnesota versus Ohio State and Boston College versus Providence. The Friars have been very inconsistent of late, but they did tag BC with a loss earlier in the year which in retrospect may have hinted more at the Eagles' vulnerability than we thought. At the time, I think we both blew it off because BC was missing several players to the Four Nations Cup.
With Minnesota and Ohio State, the two split earlier in the year back in Minneapolis, so the question is whether Ohio State can shrug off its losses to Duluth and whether Minnesota can regroup following an emotional series with its biggest rival.
Do you agree with me on the importance of those series? Any insight on them either way? And are there any other ones you are looking at this weekend?
Arlan: In terms of the math, every series and every game is important for teams like Ohio State, BC, and Providence that are on or near the tournament bubble. Losses aren't going to help any of them improve their prospects of reaching the national tournament. Both the Buckeyes and Friars have dropped three games the last two weekends, and both need to establish some momentum in a positive direction now, or things can quickly spiral out of control. Also, both come into the weekend with defenses that are suddenly leaking, and they'll need to plug some holes, because top-10 offenses are skilled at finding them.
For the Eagles, a three-game winning streak might not seem like a lot, but it is a vast improvement on where they were previously. The memory of that dark place must be very fresh, so one would expect that they'll do anything to avoid a return to their losing ways. This is especially important for BC, because this season was never about trying to find some way to limp into the NCAA tournament; the goal was to win it. I'm sure that is the goal in Columbus and Providence as well, but those teams have only been to the dance once previously. BC is going to graduate several key players who have reached a final and aren't looking to depart with any consolation prize.
In the case of the Gophers, these aren't must-win games for seeding, but they need to make a statement. After not losing to OSU for many years, they've now dropped five of their last seven versus their former assistant coach's team. They have had similar stretches against teams like North Dakota, Bemidji State, and Minnesota Duluth in recent years. It is difficult to convince others, and especially yourself, that you're the best team in the country if some opponent owns you. So they'll need to put aside all excuses like having just played an emotional series and believing that the rink in Columbus is a difficult place to play, and decide if they are a championship team or just a collection of talented players.
As for other important games, one sees Harvard at Clarkson, and it looks like it should be a bigger game than it likely will be. Do you think that the Crimson can ever get back to being a team that is capable of more than just losing a close decision to some contender?
Candace: It's sometimes hard to remember that when I first started following hockey, Harvard was THE team out East. They consistently got Olympians into their lineup. However, the days of Harvard being able to get players like Angela Ruggiero and Julie Chu to play for them seem to be a distant memory. Those players are going to places like Boston College and Clarkson in the East, or Wisconsin or Minnesota in the West.
However, just four years ago, Harvard went to the national championship game. That's what good coaching can do when you have good, but maybe not exceptional, players and a lot of depth. The Crimson were also helped by having Emmerance Maschmeyer in the lineup in that year. Harvard got better over the course of the year and peaked at the right time to make the championship.
I suppose Harvard could return to its former position of glory, but the odds are against it. It's been many years, and the Crimson just can't get those players consistently enough. While the school has a lot to offer, it's also one of the most difficult schools to get into, and has demanding academics.
As for this weekend, I think Clarkson will roll. That top line of Lauren Gabel, Elizabeth Giguère, and Michaela Pejzlová is just terrifyingly good and very difficult to shut down.