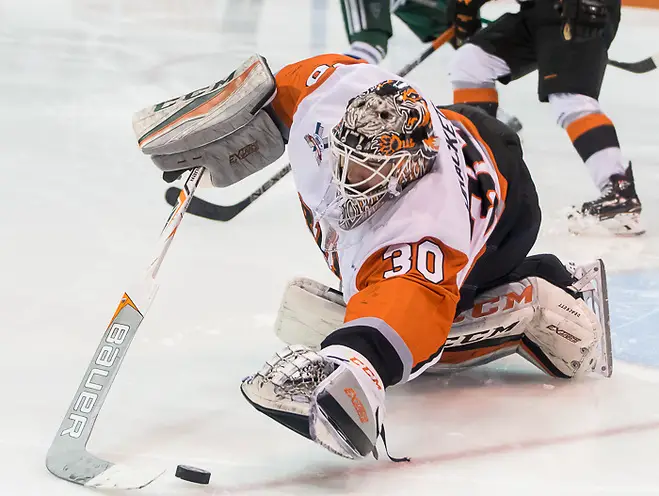 With just five weeks left in the season, the Atlantic Hockey standings are the usual hot mess.
The margin between teams is slim, and a swing of just a few points can mean all the difference for first-round byes and home ice.
So when a team gets on a roll, there's no guarantee how long it's going to last. Right now, first-place American International (4-1 in its last five games), sixth-place Bentley (5-0-2 in its last seven) and third place Rochester Institute of Technology (6-1-2 in its last nine) are looking to keep things going.
The RIT Tigers are coming off a pair of 4-2 wins over Army West Point last weekend, and will look to maintain momentum down the stretch with Arizona State coming into the Gene Polisseni Center for a pair of games this weekend.
One can make a case that these games are far more important to the Sun Devils than the Tigers, with Arizona State sitting at No. 12 in the Pairwise Rankings, certainly in the mix for an at-large berth in the NCAA tournament. RIT is No. 31 in the PWR, the highest ranked Atlantic Hockey team but well out of the running for at-large consideration. The Tigers will have to win their way into NCAAs via the Atlantic Hockey tournament.
But RIT coach Wayne Wilson says that despite these games having no impact on the standings, it's important to stay in a rhythm of winning.
"They're just as big for us, wanting to continue to play well," he said. "We don't want to do anything differently. You look at the number of teams, ours included, that have fallen into a rut competitively at times during the season, so we want to keep that confidence and mental edge."
The recent stretch of success for RIT is in part due to the resurgence of leading scorer Erik Brown. The senior tallied 29 goals last season, tied for second nationally. This season, Brown, like RIT, has been hot and cold. He had just seven goals though RIT's first 18 games of the season, but has lit the lamp five times in his last six games, including a pair of goals against Army West Point.
"He's the kind of player that scores a lot of garbage goals," said Wilson. "He's always around the net and has a nose for (scoring). It's instinctive, and guys like that can run hot and cold."
RIT's goaltending features the same three netminders as last season, but has shown a marked improvement. Last year, the Tigers had the lowest save percentage (.872) of any team in Division I. This season, RIT goalies are stopping .910 percent of shots faced, which translates into almost a goal less allowed per game.
Most of the credit goes to sophomore Logan Drackett (.913 save percentage, 2.54 GAA), who has started all but three games. But Drackett was injured at Bentley two weeks ago, and fellow sophomore Ian Andriano filled in capably in the sweep of Army West Point, posting a .943 save percentage in the pair of wins.
"(Andriano) deserved a start," said Wilson. "He's worked hard in practice. We haven't given him anything; he's worked for it. Last year, no one really stepped up, but this year, all three goaltenders have shown big improvements."
When asked if having multiple solutions in net is a good problem to have, Wilson said there's no goalie controversy. Drackett will start when he's healthy.
"There's zero problems," he said. "Drackett's our No. 1."
This weekend, the Tigers will face Arizona State and one of the best goalies in the nation in Joey Daccord (.930 save percentage, 2.23 GAA with seven shutouts).
"He handles the puck really well," said Wilson of Daccord. "He's a big kid and fills the net well. For us, it's about getting pucks and people to the net. And it's just as important to take care of things defensively and not press on offense.
"They are probably going to be 2-1 games, so we need to make sure we're doing the work in our end and be good defensively."