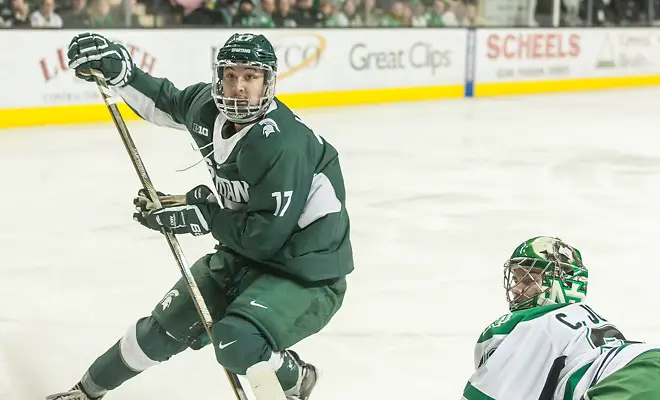 Michigan State's Taro Hirose doesn't spend a ton of time thinking about the fact that he leads the nation in points and assists.
But he does have a family member that acts as his personal statistician.
"I know my dad, for sure, he's keeping track and letting me know what's going on," the junior forward said.
Hirose's 42 points, 29 of which are helpers, are good enough for the top spot as the calendar turns to February.
"It's sort of surreal for me right now — I never expected to be in the Hobey conversation or leading the nation in points," he said. "It's crazy what's going on right now, but I just really focus on what the team's doing and trying to help them win."
The Calgary native isn't the Big Ten's only representative at the top of the points list, though.
Penn State's Evan Barratt and Alex Limoges are third and fourth respectively, Ohio State's Mason Jobst is tied for sixth and Patrick Khodorenko, Hirose's linemate, is tied for eighth. That talent level from his opponents helps add fuel to the fire, according to Hirose.
"For sure, every time I go out there I want to be the best player on the ice," he said "There's a lot of unbelievable players in the Big Ten, so every time I step on the ice against those guys, it's sort of a competition with them and making sure that I can prove to myself that I can play better than those guys."
Hirose says that he views himself as a pass-first player and that his teammates have learned how to turn that into an advantage for themselves.
"Even when I'm in high-scoring areas, a lot of guys are looking to go down and block shots and get in lanes, so I try to look off of guys' heels and in between their sticks and legs for openings where my teammates are," Hirose said. "My teammates know that I like to play that way, so they're good at just getting open and finding space, and hopefully I can find them."
Khodorenko has 14 goals this season and third linemate Mitchell Lewandowski has 11. The KHL Line, a play on the first letter of each last name, has been the engine that drives the Spartans this season. Hirose said that each player brings something different to the table.
"Pat (Khodorenko), he's sort of a workhorse, he's a bigger guy in the lineup so he does a lot of work down low," he said. "Off the rush, he's really fast and likes to take the puck to the net. He's probably the shooter on our line. Then (Lewandowski), he's got unbelievable vision and poise with the puck, he's not going to just throw pucks away, he's looking to hold onto it and make a lot of plays anywhere on the ice. That gives us the chance to enter the zone with speed and create chances off the rush."
Even while playing the role if dish-master, the junior has lit the lamp 13 times himself this season, one more than his total from last season. Trying to put the puck on net has been more of a priority this year.
"Scoring was something that I wanted to focus on more this year, and be attacking more and shooting the puck," he said. "I've learned a lot about how to get shots through and where the big scoring areas are for me. That's been a huge thing for me, so far, being able to contribute in that way."
Hirose has improved his numbers each season and the team has generally followed suit. The Spartans were a seven-win team his freshman year and won 13 games last season. This year Michigan State owns a 9-13-4 record.
"There's been a lot of improvement since I got here," Hirose said. "The pace of play, the guys are playing a lot faster, and in the offensive zone, the defensemen are jumping in and creating chances for us. I've always said we're a lot better team when our defensemen are getting pucks through and jumping in on the rush. We've got guys that have a lot of skill and skating ability and when we utilize that, we're a lot more dangerous."
That being said, the alternate captain knows there's a lot of work left to do before the team is where it wants to be.
"For the rest of the year, we need to focus on the defensive end, when we're breaking out the puck and being a little more clean with it," he said. "I think that will lead to faster transitions and we can use our skill and speed to attack off the rush and create plays."
Hirose gave a lot of credit for Michigan State's improved results to head coach Danton Cole and his assistants Chris Luongo and Joe Exter. All three joined the program before last season.
"They bring an intensity that wasn't here before," Hirose said. "Every time we go out for practice, or games or anything that we're doing, all the guys are all over us and making sure that we give 100 percent effort.
"They know that we can make mistakes, and those are going to happen, but as long as we're working hard and being intense with it, we can overcome those mistakes. That's been a huge aspect for us, and the teaching aspect. Making sure guys are learning to play the game the right way and doing things right every day has been a huge aspect for the whole team."