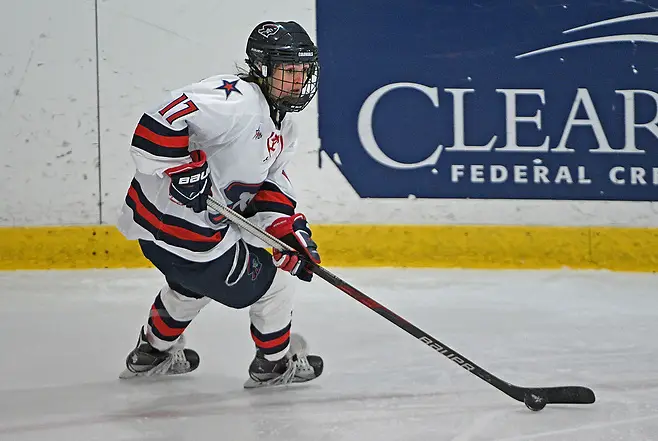 Nicole: Well after a few weeks of crazy outcomes, this week's games looked pretty much how we expected them to. Vermont gave Northeastern a bit of a scare, and Merrimack fought to a tie with Boston University, but otherwise the higher seeds prevailed. The most shocking outcome for me this weekend was how thoroughly Minnesota dominated Ohio State in Columbus. They had traditionally done pretty well at home, especially against ranked opponents. They swept Wisconsin and Minnesota in Columbus last year, but they've not been able to replicate that this season. After losing the second game of the series to Wisconsin and getting swept in Duluth by Minnesota Duluth and at home by Minnesota, the Buckeyes have now lost five straight — they'd had just six losses the rest of the season.
They were outscored 30-10 in these five losses, giving up an average of six goals per game. For a team that seemed a shoe-in for an at-large bid about 10 days ago, things have upended rather abruptly.
Do you have any thoughts on what's going on with the Buckeyes? We expected there to be drop-off in net after the departure of Kassidy Sauvé, but until this recent skid Andrea Brändli had been serving them well. Tatum Skaggs had the highest-scoring season of any freshman in team history last season, but her numbers aren't that high this season. She had 23 goals last season and just six this season, something the Buckeyes are certainly missing. Before the last two weekends, they were going OK, and these losses definitely can't be pinned on any one player.
What's happened to Ohio State, and do you think they can rebound from this and get themselves back in NCAA postseason contention?
Candace: As I said to Arlan last week, I think a lot of it is defense. The Buckeyes just aren't as strong in their own end. Part of that could be goaltending, but given that Brändli only gave up three goals in the first game and two in the second against Minnesota, I think more of it comes down to team defense.
Prior to giving up five goals against Wisconsin, Ohio State had been strong defensively, giving up one or two per game usually. That blowout loss to the Badgers seems to have shaken the team's confidence.
I think youth is at play as well. Brändli is a freshman, and prior to getting pulled against Duluth had played every game in net. I wonder if the length of thee season is taking its toll. The blue line corps is also young, with three freshmen and a sophomore. Senior Jincy Dunne can't do it all, and neither can senior Lauren Boyle.
Last week, Arlan and I were discussing whether Ohio State's chances at hosting in the NCAA tournament were shot. Now, you and I are discussing whether they will make it all. If the Buckeyes can regain some confidence, I still think they can. The PairWise is very volatile right now, and there is very little difference between the teams from fifth to ninth.
Of course, some of Ohio State's difficulties can be chalked up to a very strong Minnesota team that to me might even be the favorite in the postseason. What is your opinion of the Gophers, and can your beloved Badgers stop them if they meet?
Nicole: Absolutely last weekend's outcomes say as much, if not more, about Minnesota than they do about Ohio State, and if those were the only two bumps in the road, I'd not have thought too much about it other than wondering if OSU could do much in the postseason. Unfortunately for OSU, their series against Minnesota isn't the only issue. The thing that has me scratching my head about the Buckeyes is how up and down they've been. I made excuses early on about needing to learn how to handle themselves as a top team, but I don't know that those hold up at this point in the season.
You think they still have a shot at the NCAAs, but it's definitely not an easy path for them. They have six games left, playing at St. Cloud State, at home against Bemidji State, and in Madison against the Badgers. The Buckeyes were swept by the Beavers earlier this season, and ending the season with a lot on the line at Madison is pretty much the toughest ask any team will face that weekend. Ohio State was super battered the past few weeks, so I'd think regaining confidence will be no easy feat.
As for Minnesota, I assume that if the Badgers and Gophers meet in the NCAA tournament, it'll be a toss-up. Right now, they're virtually interchangeable in my opinion. Both teams have the ability to have a massive game where they shut you down, and both have had games where I thought they could do more. Head-to-head, they split both series, and each of them responded to a one-goal loss with a bigger win the following day. I don't know how anyone could confidently pick one over the other — the margin between the two, if it even exists, is incredibly slim.
Switching conferences, Cornell has narrowed the gap in the ECAC and is now just two points behind Princeton with an equal number of games played. The Tigers __________ (enter info from Tuesday's game against Penn State). It had been more than two weeks since they last played, and they're heading into one of their two toughest weekends remaining. They have their first of two weekend series with St. Lawrence and Clarkson. Cornell does have one more weekend against those two teams, but otherwise faces Rensselaer, Union, Yale, and Brown. Do you think the Big Red can catch and/or pass Princeton and take the regular season crown?
Candace: Well, the Big Red are only two points back, and they have the easier schedule, but Princeton does own the head-to-head, so Cornell would have to win it outright. I imagine the Big Red will be cheering hard for Clarkson to win both games against the Tigers, but then again, if the Golden Knights do that, I think Clarkson will end up winning the ECAC again. Perhaps the bigger question is whether Cornell can hold off Clarkson for second, and in that regard, I'm unsure. The Golden Knights have looked very good the last couple of weeks, and that top line is so difficult to shut down.
Maddie Mills is providing good scoring for Cornell, and Kristin O'Neill is also playing well, but after those two the scoring drops off, and Cornell's success comes down to Marlene Boissonnault in net. She is strong for sure, but Kassidy Sauvé of Clarkson and Rachel McQuigge of Princeton both have better numbers than her, and I think the defenses in front of those two goalies are deeper and stronger. Cornell is a threat, but I'm not sure they are a Frozen Four team.
For me, one of the surprise results of the weekend was Quinnipiac defeating Minnesota Duluth. At one point over the weekend, Boston College was ninth in the PairWise behind Boston University, even though the Eagles swept Providence and the Terriers had a tie with Merrimack on Saturday. Now the Eagles are seventh, just ahead of Ohio State. Scoreboard watching becomes very big right now. What did you make of that result?
Nicole: Both Quinnipiac and UMD are teams who I've been totally unable to get a read on, so in that way, I'm never surprised by their outcomes. I really, really don't know what to make or expect from the Bulldogs. We've been talking of their handling of Ohio State — there is clearly a ton of talent and possibility with the team, but they also have some seriously head-scratching losses. Quinnipiac doesn't really have that marquee win, but their losses to top teams have been close. They tied Colgate and have one-goal losses to Ohio State, Cornell, Providence, and Princeton. What they're really missing is a dominant top line. Melissa Samoskevich cannot do it alone. Kenzie Lancaster has been a solid foil for her, but I'm not sure those two are meant to be the type of players leading a team. It's definitely interesting to think about what this team would look like had T.T. Cianfarano not transferred.
We tend to focus on results as they happen, but that detail on BC harkens back to the series they played with UMD to open the season. That's hard to imagine, but it's also why every single period is so important in the long season. Of course, winning the conference tournament and getting an auto-bid are exciting, but that's the result of winning a handful of games over two weekends. Coaches and players really love winning that regular season title because it says much more about the program and a team's body of work over the course of the long, grueling season. A team can get hot toward the end and make waves, but that regular season crown really tells us something about the makeup of a team.
Northeastern scored in the final three minutes and then in overtime to earn a win over Vermont on Friday. The Huskies are strong, but they've also won a few games thanks to some really great late-game heroics. When you're going good, the puck usually bounces your way, but do you think there's anything for Northeastern to worry about in terms of letting teams stay in the game too long? It makes me think they might be vulnerable to a late game upset as the postseason goes on.
Candace: Here's my interesting thought on Northeastern: I have been wondering what direction their season might have gone in had Chloé Aurard not scored at 18:39 of the third to tie the game with Boston College on Nov. 27, which subsequently set up the game-winner in OT by Mia Brown. I feel like that game gave the Huskies a ton of confidence. Of course, had Northeastern lost to BC, perhaps the Huskies don't then fall to Holy Cross a week later, but still, that win over BC I think gave Northeastern the self-belief to throw off that loss to Holy Cross and rebound well.
That Vermont game really was the first in a while where the Huskies had been challenged. Yes, they lost the offensive shootout game to BC on Jan. 12, 7-5, but aside from that, the Huskies have been winning fairly comfortably. What I think will be a good test for them comes next week when they face Boston University in the first game of the Beanpot. The last time they faced the Terriers, it was a 2-1 decision in October back when BU was still struggling along; I feel like BU has become another team since sweeping BC in December. As you discussed in your column recently, Jesse Compher has been a key cog in that resurgence, and the Terriers look dangerous.
Getting back to Northeastern, I feel like the Huskies are very, very good defensively, with Aerin Frankel being super solid in net. She has a .946 save percentage, so not too many pucks get by her. The Huskies have depth at forward, solid defense, and strong goaltending. Of course, I've thought that about BC too in the past, and look what happened to the Eagles last year in the Hockey East and NCAA tournaments. It's hard to remember sometimes, but Northeastern is a fairly young team, and as discussed earlier, I wonder if they might tired as the season progresses.
One league we don't talk to much about is the CHA. Robert Morris sits atop the conference, but they aren't too far ahead of Mercyhurst; the Lakers trail by three points, but have a game in hand. They play a series on the penultimate weekend of the season that could decide the regular season crown. And while you correctly pointed out that season-long performance tells us a lot about a team, in the CHA especially the top teams have been vulnerable to upset when it comes to securing the automatic bid to the NCAA tournament. Do you think Robert Morris can do the double in that league this season?
Nicole: If I answer without thinking how about it, my gut says to go with Mercyhurst in the tournament. I'm not entirely sure why, but I feel like the Lakers are better in those pressure situations.
I feel like I don't talk much about the CHA because no one has seemed to want to take the lead, and I didn't know how to keep asking which team was going to step up. There's not been much to separate the teams, and that makes it difficult to predict anything or understand how it might play out.
Mercyhurst hasn't been the team they once were, but I give credit to the history of that program and the knowledge and experience Mike Sisti brings. I think that might make a difference for them down the stretch.
I agree that head-to-head series will likely be the deciding factor for the regular season title, but I still believe at some point one of these programs has to decide they want this. The tournament title is there for the taking of most any team that buckles down and goes for it.
I thought your point about Northeastern's youth is an interesting one. I do believe one reason they've been so good is that their star rookies are older than typical freshmen and come with international experience, but I don't know that those things matter down the stretch. The fatigue and mental battle of the final weeks and postseason can't really be replicated, and their relative youth may really come into play.
Princeton is also a younger team. Do you think they or anyone else has to worry about fatigue these final few weeks?
Candace: I think everyone has to worry about fatigue to a certain extent. It's a long season. The players are getting on the ice in September, and the season goes through March, so it's seven months of trying to bring your mental focus and keep your physical strength up. That's a lot to ask of anyone. I think with youth, especially when a player hasn't experienced a season like that before, you often see players struggle to bring the same level in the latter part of the season.
With Princeton, Sarah Fillier and Maggie Connors have shown no signs of slowing down yet. While the Tigers are young, most of the other players are sophomores, so they at least have experienced the season-long grind. The question in my mind is sophomore netminder McQuigge, who stepped into the starter's role after Steph Neatby got hurt. McQuigge has played 14 games so far this season, and will be counted on over the next two months. As a first-year player, she only played one game. As long as her level stays where it is, I think that Princeton will be in good shape.
Fillier is one of only two players averaging two points per game. We are still three weeks or so out from the announcement of the 10 finalists for the Patty Kazmaier Award, but do you think she could make that list? If we are looking at first-year players, I lean toward her more than Northeastern's Alina Mueller. Are there any other players you think are locks?
Lastly, next week the Beanpot first-round games pit Harvard against Boston College and Northeastern against Boston University. I grew up watching that tournament, as I went to college in Massachusetts. Do you find that tournament of interest? Who do you favor in it?
Nicole: I'm wary of saying she's a lock, but I'd definitely be surprised if Fillier isn't on the list. I think one of the things working against Princeton overall is how much time they've had away from the ice here in the second half. They had a long winter break and another gap here in January. They've played 20 games, while Minnesota has played 28, and Fillier herself has only played 16 games where most of the other women under consideration have played 26. That's a big difference, and if the metric we're going by to say she deserves to jump ahead of some other more prolific scorers is points per game, you definitely have to think about how that would be affected had she played 10 more games. That being said, she played 10 fewer games and has just three fewer points than Mueller. I'm guessing Loren Gabel, Elizabeth Giguère, and Jesse Compher are locks. I'd also think Michaela Pejzlová is on there, as well as Megan Keller. I think that's as far as I'd go in terms of feeling confident on who'd make the list. There are good arguments to be made for about 10 women for those final five spots.
I understand the pride and school spirit that drive the obsession, but I don't have any connection to the Beanpot, so for me it's just another set of games.I'll be interested this year because it's the first in a while where I think most anyone can win. It feels like the most competitive field there's been for years where it doesn't feel predetermined which team will take the crown. The tournament brings that extra level of attention, and the teams get really hyped, so it's always been one of those things where relative talent isn't necessarily the most important thing — teams find a new level in the Beanpot — just look at how last year's Terriers pushed BC to overtime. It'll definitely give us all a good read on where each of these teams are with just a few games to go, and if I'm a team looking to the NCAA tournament, I'd be taking copious notes. The level of intensity these teams bring this weekend will be similar to what they have in the postseason.
That Northeastern versus Boston University opening round game is the crucial one. Whoever wins that game takes the tournament, I think. I feel like I have to give the edge to Northeastern, but honestly, it's a coin flip.
Who's your pick to win the Beanpot? Do you think anyone beyond the five women I mentioned are Patty Kaz top-10 locks?
Besides the tournament starting on Tuesday, what games are you keeping an eye on this weekend?
Candace: In the Beanpot, this one does feel pretty wide open. I too lean toward Northeastern, simply because they have been the most consistent team overall. I don't think Harvard is really in the running as much as the Hockey East teams, but even the Crimson have a shot with Lindsay Reed in net; her .941 save percentage is outstanding.
With the Patty Kazmaier, beyond who you mentioned I think Nicole Schammel of Minnesota is a lock. She's a senior and is putting up big numbers, much bigger than any of her other three years, and I think voters like recognizing players in their final year. I'm also fairly sure Jaycee Gebhard gets a nod; she's been prolific offensively, and is a huge part of Robert Morris' success.
Beyond that, it gets trick. I think Jessie Eldridge is definitely in the hunt. She's having a good senior year. What works against her is that she hasn't been able to lift the Raiders to quite the same level of success they had last year. As long as her numbers stay strong though, it'd be tough to not include her.
As for games this weekend beyond the Beanpot, the obvious choice is Clarkson against Princeton. That one is going to be huge in terms of telling us where each team is. I'm also curious to see how Minnesota does against Minnesota Duluth. That too is a rivalry game, and in rivalry games past success isn't a guarantee of current success.