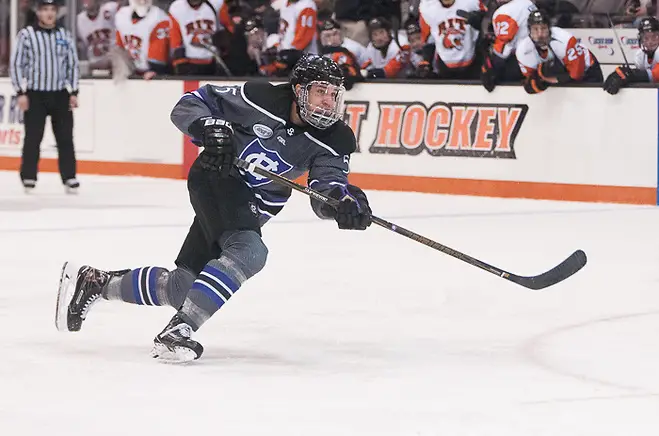 At a surface level, Holy Cross coach David Berard would have lacked causation for celebration during the holiday season.
His Crusaders were a one-win hockey team, and that lone victory came in the first game of the season. December started with a second consecutive loss to American International, dropping the team to a 1-10-2 record, squarely looking up at the rest of the league.
Instead of feeling sorry, though, the team dug its collective heels into the ground and went to work on fixing what they could control, day-by-day. Now two months later, that approach has the Crusaders above the league's last-place spot with a second three-game unbeaten streak and a long homestand pushing potential for home ice in the Atlantic Hockey postseason.
"We dug ourselves into a pretty big hole in the first half of the year," Berard said. "It was a little bit of unchartered water where we were at the bottom looking up. So we had to change a little bit of our approach to get better every day, improving in the areas where we had to improve. When you're losing game, it's easy to focus on the result and focus only on winning, instead of playing the right way to win."
The Holy Cross rally started quietly in the last weekend of the first half with one victory. The Crusaders lost the opening game of a weekend series at Robert Morris, running the streak to 13 games without a victory, before rallying for a 2-0 victory in the second game.
"It sounds cliche (in) the way you need to go about it because you're not going to dig yourself out in one weekend," Berard said. "We changed our focus after Thanksgiving, probably right after AIC. We just focused on getting better going into Robert Morris, to be better in practice, (forgetting) about the record and the opponent. We focused on ourselves, on improving and (hoped) it produced better effort, better execution and better preparation. We wanted to get better shift-by-shift to string enough together to get results."
It kicked off a run where the Crusaders took points in five of six weekend series. They split with Mercyhurst to start January, then took three points from Niagara. A sweep loss to AIC was the lone setback before a split with Sacred Heart and last weekend's three-point home series win over Army West Point. That .500 record in conference play boosted them out of 11th place this past weekend and put them within a weekend's work of eighth.
It involved a battle-hardening on full display this past weekend against the Black Knights. On Friday night, Holy Cross trailed, 1-0, after two periods of play. It was the sixth time in conference play that the Crusaders were down after two, having lost the previous five as part of a larger 0-8 situational run.
On Friday, though, Holy Cross rallied, taking a 2-1 lead before surrendering a game-tying goal in a one-point game.
The next night, Holy Cross built a 2-0 lead in the first period and held a 3-1 lead early in the second before the Black Knights stormed back to tie the game. With under three minutes remaining, though, Kevin Darrar scored to retake the lead into the locker room. Marshal Plunkett again tied the game early in the third, but freshman Anthony Vincent's third goal of the season propelled the host team to victory.
"Both games could have gone either way," Berard said. "(Army West Point) is a very good team, and every time we play them, it's always tight and physical. It was probably the most physical weekend we've had to this point. Fortunately, we came out with three out of four points, and we were happy with those results."
It's the most vivid product of the team's internal shift from earlier this season. The one-win Crusaders would have had every excuse to pack in their season. They dealt with a rash of injuries, and forward Matt Barry transferred after one semester. It came across a stretch of hockey that included non-conference games against Massachusetts, Providence and, later, Quinnipiac.
It all galvanized the roster into an internal rally, and instead of rolling over, the team came together and started developing its own brand of hockey for the season's second half. Goaltender Erik Gordon, for example, held a 3.77 GAA and .871 save percentage on December 1. Last Saturday, however, was his first game with four or more goals allowed in seven games. His goals against average is now below 3.00, and his save percentage creeps closer to .900 each week. On January 26, he made 33 saves with only one goal allowed in a 4-1 win over Sacred Heart.
Forward Anthony Vincent has two goals in the team's last three games and 17 points overall, one point behind senior defenseman Johnny Coughlin. Three other players have six goals apiece, and Holy Cross will likely register multiple 20-point scorers this season, continuing a trend that's touched every season in Atlantic Hockey.
"We wouldn't play the way we wanted to play in the second half if we didn't have attitude where it needed to be," Berard said. "I'm most proud of our leadership with our captains and our senior class, specifically spearheaded by Michael Laffin, Johnny Coughlin and Peter Crinella. They've exhibited outstanding leadership through really difficult times. We've had to deal with a lot of different things.
"Through it all, it would have been easy or even excusable for guys to lose their way or have a different attitude," he said. "But I'm really excited about this group's resiliency. They do the work. They get frustrated just like I get frustrated when something happens, but they regroup the next Monday and think about what needs to happen to get better. Through the adversity, we've gotten tougher, we stuck together and we're resilient. Our leadership and positive approach, we've started seeing some results from the process."
Those results have Holy Cross in position for a run at home ice in the postseason. The Crusaders' home games last weekend kicked off a string of six straight games, and the team won't leave Massachusetts until the last weekend of the season. Home games against RIT this weekend lead to a rematch with Robert Morris next week, and a home-and-home with Bentley precedes the last road trip to Air Force.
The games collectively represent opportunity, but Holy Cross is insistent on an individualized approach where one game, in its 60-minute form, is most critical.
"We need to take care of our own business and what we're doing today," Berard said. "We had a good weekend last weekend. Guys felt good about it, but we have to get ready for RIT. There are eight games and 16 points as a reality, but to get points, we have to keep staying with our approach. We just need to be better when RIT comes (to Worcester). They're hard and physical and an excellent team, so we have to have a game plan to be ready to play this weekend."