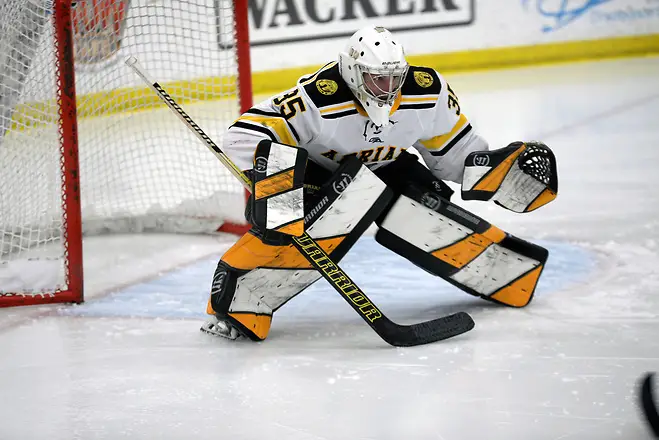 Kevin Entmaa is destined to go down as one of the best goalies in Adrian history. However, his season took an unexpected twist earlier this season when he went down with an injury in January. He missed nearly a month.
Now back on the ice, Entmaa couldn't be happier. Reflecting on the experience, he said it proved beneficial to him to a degree.
"No one wants to get injured, especially in your senior year, but I made sure that I would gain something from my weeks out of the lineup," Entmaa said. "I took some time to step back and evaluate my game, looking at things I've been doing well and things I could work on for when I was able to get back on the ice. I believed it has helped me be honest with myself and continue to grow as a player."
Entmaa is a three-year starter for the Bulldogs. He made an immediate impact as a freshman, winning 14 games and fashioning a save percentage of .933, the best in the country that year.
That set him up for future success. Entmaa won 15 games as a sophomore and stopped a career-best 39 shots in an NCAA tournament game against Wisconsin-Stevens Point. Last season, Entmaa notched 16 victories and sported a 1.88 GAA. Both were career highs.
"I feel like the biggest thing I was able to take away from my early success in my college career was just the confidence that my team has in me," Entmaa said. "Every team wants to have a goalie behind them that they are confident in, and sometimes it takes a while to grow. I was happy I was able to show them what I am capable of early on in my career here at Adrian to gain that respect quickly."
Despite being injured part of the season this year, he's still managed to win 12 games and fashion a GAA of 2.12, helping Adrian once again position itself for a run at the Harris Cup and the national championship.
Being a great goalie, though, isn't easy. It takes time and effort to be one of the best.
"To be a great goaltender, you must have a tool bag of skills that you have acquired over your career and know when to use each," Entmaa said. "Goaltending is a position that has a lot to do with repetition, especially in practice, so you face no surprises in games. To be a great goalie, you have to take your time and work on things that you believe you need to improve. This means that you have to be honest with yourself, even sometimes if that is hard to do. I believe that you have to be your biggest critic to be your best possible self as a goaltender."
There is no question Entmaa has proven he's learned how to be a great goaltender, and he's learned to deal with the ups and downs that come with playing the position that he does.
"My career up to this point has had its ups and down, as any athlete would have while playing a sport for as long as I have," Entmaa said. "The key to continued success is to not get too high or low from any scenario that could arise and to trust the process that every experience helps you be a better player and a character. This is something that is always stressed in our locker room at Adrian."
Not only is Entmaa a standout hockey player, he isn't bad in badminton and tennis either. He played both in high school. Both have benefitted his game.
"Badminton and tennis in particular are big ones that I play quite a bit because of the hand-eye and footwork needed in those sports can help build tools for goaltending as well," Entmaa said. "I like to play any sports I can in the off season to stay competitive over our summer break. I feel like that is a very important thing for any type of athlete to do."
As the regular season winds down and the postseason emerges into the picture, Entmaa and the Bulldogs are preparing to be at their best for it.
"Our expectations are the same this time of the year as they are throughout the entire season, and that is success," Entmaa said. "We need to take it game by game and not worry about weeks down the line or other things that we can't control. Personally, I need to continue to prepare myself to be the best goaltender that I can be in order to help my team win games in and out."
After college, Entmaa would love to play at the next level. He notes that being part of a successful team has opened up that possibility to him.
"Professional teams want players where winning is a standard to bring success to their perspective teams as well," Entmaa said. "With team success, you open more doors of opportunity for you and your teammates."
Five things to know about the West Region
Cory Dunn of Adrian is tied for 15th in the country in assists, racking up 18 on the season.
Alex Rodriguez of Augsburg is tied for 10th in the nation in scoring. He has come through with 18 goals and 14 assists on the season.
Connor Ryckman of Wisconsin-Stevens Point is third in the nation in goals-against average, sporting a 1.39 GAA. He has won 19 games, the most in the country.
Hamline and Bethel both still have a shot at making the MIAC tournament. The Pipers are just a point out of sixth place, while the Royals sit just two points out of sixth. Gustavus currently holds down the sixth spot. The Gusties have 13 points.
Trine is still in the hunt for a conference playoff berth. The Thunder are 9-12-2 overall and 5-10-1 in the NCHA heading into the final weekend of play and close out the regular season on the road against Concordia and the Milwaukee School of Engineering. Trine already has three more wins than it did in its inaugural season.
In the Poll
Wisconsin-Stevens Point remains the No. 1 team in the nation. The Pointers are one of five teams ranked in the top 10 this week. Wisconsin-Eau Claire is third, and St. Norbert is fifth. Augsburg and Adrian are sixth and ninth, respectively.