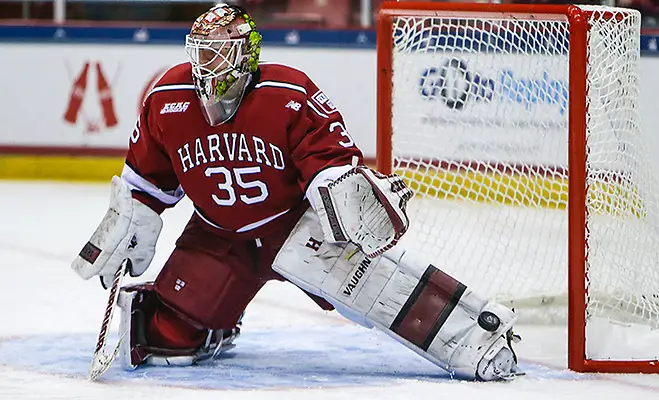 Although he's a senior, Harvard goalie Michael Lackey has plenty in common with his younger teammates.
Lackey entered this season with only 16 games played, thanks in part to an injury that sidelined him for the entire 2016-17 season. And when he was healthy, he was behind Merrick Madsen, an NHL draft pick who started the majority of Harvard's game during his final three collegiate seasons.
Like Harvard's underclassman, Lackey has improved as the year has progressed. And that's helped the Crimson move up the ECAC Hockey standings entering the final weeks of the season.
"I think a lot of the experiences that we've had are the first time for a lot of these guys, including our goalie," Harvard coach Ted Donato said. "I think we have the type of team that has the capability of improving a great deal throughout the year. I think collectively and individually, we're showing some signs. We still have a long way to go, but we're starting to be a little more consistent game in and game out."
The Crimson lost to Boston College Monday in the opening game of the Beanpot but have won four straight league games entering Friday's matchup against Union. Harvard is tied for Clarkson for fourth, two points behind first-place Cornell, although every other team in the league has a game in hand over the Crimson.
That ascension has coincided with a rise in Lackey's play. The Washington D.C. native has started all but one game this year for Harvard, but got off to a rough start, allowing eleven goals in his first two starts. Since then, he's posted a .939 save percentage in 18 games.
"I think as a coaching staff, we've always had a lot of confidence in him," Donato said. "Merrick Madsen was a very talented guy here. Between Merrick carrying the ball and Michael have a full season off due to injury, it hasn't been an easy road for him. I think that he' s really turning into a heck of a goalie and a guy that throughout the season has really stared to perform in a way that's given our locker room a lot of confidence."
That confidence is important for a team that is continuing to develop as the season has gone on.
"The first game (a 7-6 season-opening loss to Dartmouth) was tough," Lackey said. "It was a learning experience and you've got to build on top of it. At the end of the day, that's what all the games are; they're learning experiences. The more you learn, I feel like the more prepared and confidence you are going into the next game."
Of course, it doesn't hurt playing in front of a talented Harvard defense that consists of four NHL draft picks, including Hobey Baker candidate Adam Fox.
"Every single night, I know they are going to do their job," Lackey said. "They do an excellent job getting sticks on the puck. That allows me to play a little more aggressively on the rush, knowing there won't be a guy crashing backdoor that I have to worry about. They've been doing a wonderful job, especially lately with blocking shots and getting their sticks on pucks."
After hosting Union Friday, the Crimson will only play two more games at home for the rest of the year. That's a challenging stretch for a young team, but Harvard appears ready to go.
"You've got to be harping on guys that it's hard to win every single night," senior captain Michael Floodstrand said. "I think guys are really starting to come around and have a great attitude every single night."