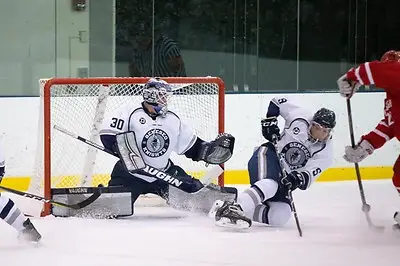 For Geneseo senior goaltender Devin McDonald, the 2018-19 season has already been a special one in terms of team success and personal achievement. With 11 shutouts already on the books, McDonald is focused on adding to his newly minted NCAA single-season record, but only as part of helping his team win and in pursuit of some important titles come February and March.
"I think the most important stat for any goaltender is wins," said McDonald. "I am kind of a numbers geek — a stats guy — but the number that matters most is the wins number. That means you are doing your job, and the team is being successful. After that, I think save percentage is more a measuring stick than a goals-against average. You can have a good goals-against, but not stop a high percentage of shots, and that is what I focus on. It's what every goalie I think focuses on in terms of not wanting to let any goals in at all, regardless of the shots."
For the second-ranked Geneseo Knights, McDonald has been a fixture in goal since his freshman year, where he helped take them to just their second Frozen Four in school history. Despite some ups and downs over the past two seasons, McDonald and his teammates have been laser focused on results this season in pursuit of another SUNYAC title, and perhaps more on the national stage.
"He is a true competitor," noted coach Chris Schultz. "'Dough,' that is his nickname, might be the most competitive guy on our roster. It drives him to be great and focused. He really gets disappointed sometimes if he gives up a goal because he believes he can stop everything. That is not an ego thing, but more a confidence right now in his game and his teammates who know he has their back when they make a mistake. Last week in Canton, when he set the shutout record, we got a little too absorbed in the offensive zone and gave up a couple of breakaways. He was right there to make those big saves, and the team feeds off that. We came back to score one, and then the floodgates opened up a bit, but he truly expects not to give up anything to any opponent."
So far this season, McDonald has played 20 games, going 18-1-1 and surrendering just 17 goals for a microscopic 0.85 goals-against average to go with a .958 save percentage and those 11 shutouts. All those numbers lead the nation statistically. While the numbers are ridiculously impressive, McDonald gives full credit for his success to the rest of his team.
"I am really lucky to have played on great and talented teams, and this team may be the best defensive group we have had in my time here," noted McDonald. "We work together really well and have a defense-first mentality around transitioning the game from our defensive end into offensive opportunities. Coach drills the philosophy into us all the time about taking care of the back end, so even our most talented offensive players know that we pay attention to the defensive end of the ice first."
"He often acts like a third defender back in our end," noted Schultz. "He is very vocal with the defensive players on the ice and really handles and moves the puck well to help us back there with possession and transition out of the zone. I think it is part of his game that has evolved over his time here where he knows when to play the puck and what to do with it much better than when he first came to Geneseo. It is a part of his game that has helped him and us."
"I think when you are a smaller goaltender, you need more things in the tool box," stated McDonald. "It definitely helps to be able to move the puck well and help to transition the puck out of the zone and break down the opposing team's attack and forecheck. I think I have always played the puck well, but maybe now I am just smarter about when to do it and where to distribute it. I think the biggest area of improvement for my game has definitely been the mental game. I struggled with giving up two, three, or four goals back in my sophomore and junior years. Yes, the team was winning, but that was not in my comfort zone to give up so much, and I struggled with my own version of letting the team down. I don't like to give up any goals, but know that I need to beat the guy in the other crease for us to be successful. That isn't a hard thing to project, since most of the opposing goalies are much bigger than me."
So finally, where does the "Dough" nickname come from?
"When I was younger, not saying that I was chubby, but I had a goalie coach that used to call me 'McDough' — it was never McDonald or Devin," laughed McDonald. "When I got to customize my equipment and put my name on it, it was never McDonald, but 'McDough,' and over time it got shortened to just 'Dough.' It has stuck around, and I always get called by it."
McDonald and Geneseo have a chance to clinch the SUNYAC regular season title this weekend, but will need key wins over a tough Cortland team and Oswego to accomplish the goal.
"It is a big weekend coming up, but they pretty much all are now," said McDonald. "Cortland has great special teams, and their goalie has been amazing for them this year, so I expect a big battle on Friday night. Yes, we can clinch the top seed with a sweep this weekend, but right now we are focused on Friday night, and I am focused on beating the guy in the other crease."
It has all worked for "Dough" so far, and it will be interesting to see how far he can backstop the Knights in his final season.