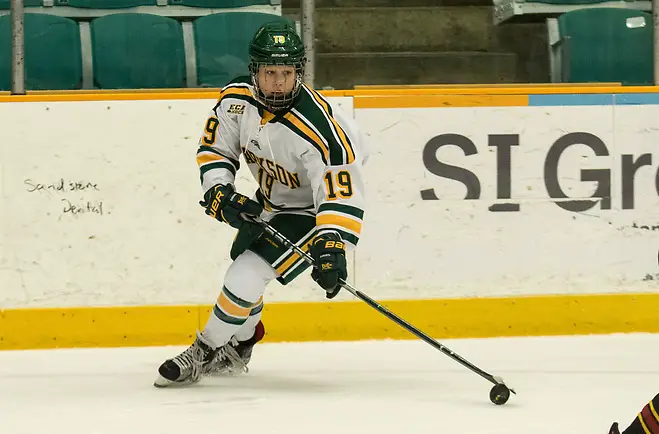 There might not be another player as low-key about her talent as Clarkson senior Loren Gabel.
When asked in September to describe herself as a player, she said, "I guess I'm a pretty dynamic player."
Then she went on to talk about how she's improved on defense, though she hopes to get better.
Not to downplay her 200-foot game, but through 26 games this season she is leading the country with 30 goals and 25 assists. She's one of just two players averaging at least two points per game. She has seven more goals than the next closest player and is fifth in the nation in assists.
I appreciate her commitment to improving her backcheck and blocking opponent's shots, but "pretty dynamic" is about as big an understatement as could be used to describe Clarkson's all-time career points leader.
Last season as a Patty Kazmaier top-three finalist, she tied for second in scoring and third in goals nationally. Her 36 goals and 75 points were new single-season records for the program. Coming into this season, she was already ranked sixth on the Golden Knights' all-time scoring list with 144 points in 122 games. Already this year she's set a new standard for career points at Clarkson, bypassing the record of 181 points previously held by 2014 Patty Kazmaier winner Jamie Lee Rattray. She currently sits at 199 points on 106 goals and 93 assists in 148 games.
The 106 goals (and counting) have her tied for 17th in the NCAA career record book. Nine more goals would put her in the top 10 in the history of NCAA women's hockey.
What's so impressive about Gabel's career is that it didn't start out with a bang. She had a perfectly respectable and serviceable rookie campaign of 18 goals and nine assists for 27 points, but instead of merely building on those numbers, Gabel doubled them, and then she once-again basically doubled her output the following season. Her sophomore year, she had 22 goals and 20 assists for 42 points. Last season it was 36 goals and 39 assists for 75 points.
She can score. She's a playmaker. And somehow she not only keeps improving, she gets exponentially better.
A native of Kitchener, Ontario, Gabel said she knew from the time she was playing Bantam that she wanted to play in the NCAA. She committed to Clarkson in fall 2014, meaning the Golden Knights had just won their first-ever national championship, but she admits it wasn't even something she realized at the time. Clarkson's small campus appealed to her, and she said she loved the teammates and the atmosphere.
Success for Gabel is pretty straightforward. Put in the work, do what the coaches say, and the results will come. Though there are big target goals like winning another title, she said before the season that her personal goal was to emulate former teammate Cayley Mercer in every practice — giving it her all, pushing it that extra step.
Mercer, she said, was so aggressive in practice that none of her teammates wanted to go against her.
"She was always really hard on the puck. I've worked on that throughout the last season, being how hard she was on the puck all the time," Gabel said. "I definitely have taken my game to the next level each year. I hope to do that again this year and have my best season yet. I think it's just that hard work component of everything and giving it your all. Even in practices, you've got to give it your all, because that translates to the game."
Gabel said the Golden Knights know they have a very big target on their back this season as the two-time defending national champions, and they don't take a return trip to the postseason for granted. Maybe more than anyone else in the country right now, they know how difficult it is to win it all. Last year's results do little to help the team return to the top, and they ensure that every team they face will be trying their hardest to beat them.
"We have to work hard and give 150 percent every shift, and if we don't, we obviously won't come out on top," she said. "Our coaching staff always puts into our head that we are going to have teams playing their hardest against us. We just need to forget that we won and just put it all on the ice again this season."
Clarkson's road to the championship has never been without its bumps, but Gabel and her senior classmates have played in the Frozen Four in each of their first three seasons and don't plan to let that streak come to an end. They wear the target on their back as two-time defending national champions as a badge of honor. It does not guarantee future success, but sure serves as a warning that they've put in the time and work that it takes to be the last team standing at the end of the season.
As teammates, they push each other during the week and know that they aren't going through the pain alone. At the end of the year, there may be another team that bests Clarkson and keeps them from a three-peat, but Gabel is intent to make sure that no other team on the ice outworks them. That work ethic, which has been ingrained in them from the coaching staff and embodied by women she's played with, is the thing that Gabel says gives the Golden Knights an edge.
"We're always hounding the puck. We're always going in corners and working our hardest, and some teams don't always do that for every shift. We have been taught by our coaches to go get that puck and always keep your feet moving. We definitely do that every single game, and that's definitely what helps us.
"I know that in order to be a great hockey player, you have to do everything and put in that extra effort to get where you want to be."