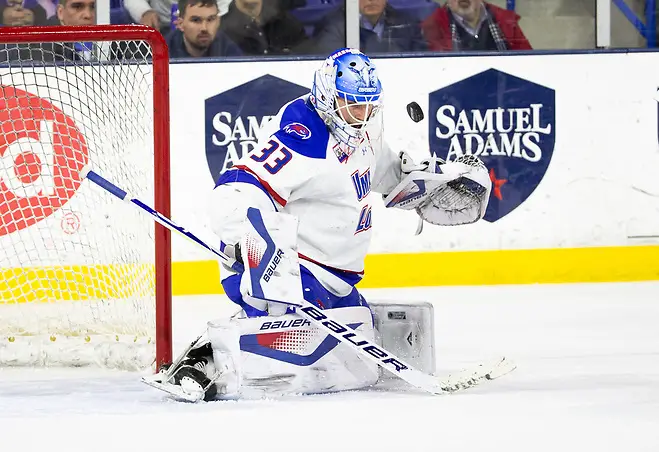 It was a night dominated by goaltending as seven different goaltenders posted shutouts, including the nation's top goaltender Quinnipiac's Andrew Shortridge. That highlighted a night where many of the nation's top team emerged victorious and seven different games needed overtime.
No. 1 St. Cloud State 2, Colorado College 2 (OT)
Jack Poehling's goal with 11:43 remaining in regulation allowed the nation's top team, St. Cloud State, to rally for a 2-2 tie at home against Colorado College.
The host Huskies jumped to an early 1-0 lead on a goal by Jack's brother, Nick Poehling, at the 1:14 mark of the first. But Colorado College responded with two goals in the opening frame from Trevor Gooch and Erik Middendorf.
After a scoreless overtime, Ryan Poehling scored at the 1:00 minute mark of 3-on-3 overtime to earn the extra point in the NCHC standings.
No. 2 UMass 4, Boston University 2
Host UMass scored three second period goals to erase a 1-0 deficit on its way to a 4-2 victory over Boston University.
The win completes the two-game sweep of the Terriers on games played across back-to-back Fridays.
Marc Del Gaizo, Jack Suter and John Leonard each posted a goal and assist for the Minutemen. Filip Lindberg earned the victory making 25 saves.
No. 3 Ohio State 2, Wisconsin 1 (OT)
Matt Miller's goal with 10 seconds remaining in overtime sealed a come-from-behind victory for Ohio State.
The Buckeyes trailed after Mick Messner's goal at 2:28 of the second and were unable to even the game until John Wiitala knotted the score at 1 at 8:48 of the third.
The win is the fifth straight for the Buckeyes.
No. 4 Quinnipiac 4, Yale 0
Host Quinnipiac dominated crosstown rival Yale in every aspect, outshooting the Bulldogs, 50-23, while earning a 4-0 victory.
Andrew Shortridge earned the shutout, his fifth of the season, while Nick Jermain led the scoring with a goal and an assist.
Check out this passing 👀 pic.twitter.com/i2043isgVO

— Quinnipiac Men's Ice Hockey (@QU_MIH) February 9, 2019
No. 10 Cornell 5, No. 9 Clarkson 0
Jeff Malott scored twice and three other players added single goals as No. 10 Cornell blanked No. 9 Clarkson, 5-0, in ECAC play.
The Big Red defense was stifling, limiting Clarkson to just 17 shots on goal. Matthew Galajda earned the shutout.
No. 15 UMass Lowell 3, Boston College 0
The host River Hawks scored three goals in the second period as Tyler Wall earned his seventh career shutout by making 28 saves in a 3-0 win over Boston College.
Ryan Dmowski, Nick Marin and Ryan Lohin score the goals for the River Hawks who extended their unbeaten streak to nine games (8-0-1) and move past the Eagles for second place in Hockey East.
Bentley 3, Canisius 2 (OT)
Bentley's Jonathan Desbiens goal with 1:30 left in overtime lifted the Falcons past Canisius, 3-2, and extended their nation's best unbeaten streak to 10 games (8-0-2).
The Falcons trailed 1-0 and led 2-1 before Canisius' Austin Alger forced overtime scoring on the power play with 4:39 remaining in overtime.
Unbeaten = 🔟@BentleyHockey knocks off Canisius in dramatic fashion in OT to keep its nation's longest unbeaten streak alive! pic.twitter.com/Ra215Aplec

— NCAA Ice Hockey (@NCAAIceHockey) February 9, 2019
Bentley moved past an idle Air Force team into sole possession of second place in Atlantic Hockey.
Omaha 3, Miami 0
Evan Weninger stopped 38 shots for his fourth shutout of the year with the Mavericks prevailing over Miami 3-0. It was also his eighth career shutout, moving him past Dan Ellis as the school's all-time leader in shutouts.
No. 11 Providence 1, Maine 0
Hayden Hawkey stopped 28 shots to record his program-record 14th career shutout as No. 11 Providence downed Maine 1-0 at Alfond Arena.
Hawkey also set the program's single-season record with his sixth shutout of the season.
Bryan Lemos scored for the Friars.
Jeremy Swayman stopped 29 shots for Maine.