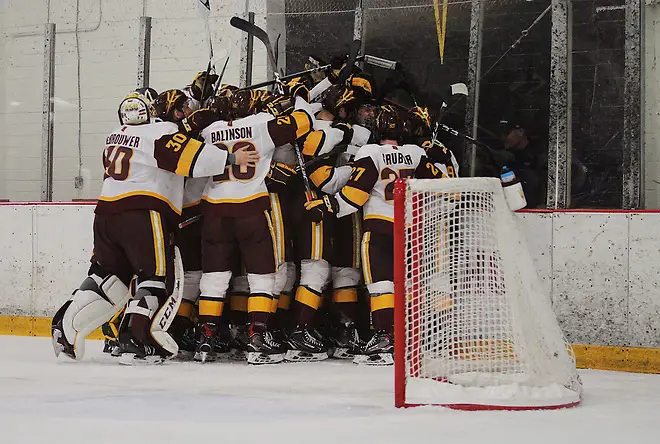 TEMPE, Ariz. — Capping off the home portion of what has become a dream season, Arizona State honored their seniors and defeated the Atlantic Hockey-leading American International Yellow Jackets in overtime, 5-4.
About a minute and a half into overtime, sophomore forward PJ Marrocco finished off the game on a backhand feed from junior defenseman Brinson Pasichnuk. The Sun Devils completed their home schedule going 12-2 at Oceanside, with both losses coming in October to then-top ranked Ohio State.
In a pregame ceremony, No. 12 Arizona State (21-10-1) showed the love to its first fully-Division I senior class. Four of the five seniors had family in attendance, and the other had family watching live in the early hours of the morning in Sweden.
American International (17-14-1, 17-8-1 Atlantic) hosted the Sun Devils for one game back in December 2016, and closed out their grueling non-conference schedule with their first trip to the desert. Despite being swept, head coach Eric Lang said it wasn't for nothing.
"It stings to come out here and we don't get anything. However I thought for two straight nights, I loved the way our guys competed." said Lang. "I loved the way our guys battled. We dug in and we'll be better for it. That's a fact."
A critique of Friday night's game by Arizona State head coach Greg Powers was his team's slow start. The Yellow Jackets scored within the first two minutes on a play where forward Joel Kocur was behind the Sun Devils defense.
Saturday was a different story. Just over five minutes into the first period, sophomore forward Filips Buncis started the scoring, and junior forward Tyler Busch deposited a tic-tac-toe pass on the power play. Each team added another score, making it 3-1 ASU after one.
Both teams brought the physical play in the second period, resulting in 21 combined penalty minutes. Yellow Jackets top scorer Blake Christensen and Sun Devils top scorer Johnny Walker took matching minors, and Steenn Pasichnuk earned a five-minute major for checking from behind during a delayed penalty. Pasichnuk was given a game misconduct and ejected from the game.
"A little bit. We were smart with the way we played, and I guess they kind of weren't," said AIC senior defenseman Ryan Polin. "So we got a lot of power play opportunities, which helped us come back in this game." Polin went on to score his first goal of the season on that five-minute power play.
With the score at 4-2 entering the third, Arizona State went back to the box three times in a little more than six minutes. AIC capitalized on one of them, bringing the score to 4-3. Despite the displeasure from the Sun Devils' bench and fans, the team's inability to adjust to the referees was something that assistant coach Mike Field said was crucial to the Yellow Jackets' comeback.
"I don't care if you like the calls, don't like the calls, whatever. At the end of the day, it's on us to adjust," said Field.
The Yellow Jackets called timeout at with 1:13 left in the third. Lang pulled goalie Zackarias Skog for an extra attacker, and at the next drop of the puck, sophomore forward Tobias Fladeby, the team's leading goal-getter, notched the game-tying goal off of a set play to force overtime.
The seniors weren't the only ones who had a special weekend. Field is an alum of American International, where he played under Lang while the current boss was an assistant. Field would later become an assistant there himself, before a stop in USHL Dubuque led him to Tempe.
"I'm going to see, I'm sure, at least a couple of their guys recruiting tomorrow or Monday or Tuesday," Field said with a slight smile. "I'm sure we're all going to be at the same event. And it's going to be great."
One of the keys to the series for the Sun Devils was neutralizing an AIC power play that was clipping at 23.9 percent during the second half of the season. Entering the weekend, the Yellow Jackets had scored at least one power play goal in their last 12 games.
The Arizona State kill was able to fend AIC off on Friday, but allowed two power play goals on Saturday in a penalty-filled game – one that Lang thought was getting out of hand.
"I'm not going to make any comments on their group over there. All I can control is my group. But that felt like a game from 1970," said Lang. "It was like the Wild Wild West out there, and at one point, I had to mention that I thought the game was bordering unsafe. I'm not going to hold back my feelings on that."
Powers and the five seniors spoke in the post-game press conference, where they were finally starting to realize, at least outwardly, that their season may be extended.
"These five kids, they came in with a pretty big class. These were the ones that made it through, said Powers. "They did everything right, they didn't falter, they bought in, they believed, and from day one, all six of us said before they leave, we're going to go to an NCAA tournament. And people laughed at us, and people laughed at them. And we're still not there yet, but things are looking pretty good."
Around the Nation
Minnesota 4, No. 3 Ohio State 3
The visiting Golden Gophers used a quick start to jump out to a 3-0 lead and then held off a rally by No. 2 Ohio State to earn a 4-3 win and sweep the weekend series.
Tyler Sheehy was the only multiple point scorer for the Gophers potting a goal and assist. But the hero of the game was goaltender Mat Robson who stopped 43 shots including 20 in the third period.
Saturday nights alright for sweepin'. https://t.co/DNAAZJX5gx

— Minnesota Men's Hockey (@GopherHockey) February 17, 2019
Yale 5, No. 8 Cornell 2
Curtis Hall scored twice and Robbie DeMontis registered three assists as Yale upset No. 8 Cornell, 5-2.
Six different players for the Bulldogs recorded multiple-point games as Yale won twice over the weekend to climb into third place in the ECAC, one point behind second-place Quinnipiac and two points behind league-leader Cornell.
#ROLLDOGS #BOOLABOOLA pic.twitter.com/Uliw2AiwKP

— Yale Hockey (@YaleMHockey) February 17, 2019